Courtesy Of Myra Hudson Photography
Samantha Granger and a Scottish Highland cow
Even before Landgoes Farm became an official wedding venue in 2016, plenty of couples chose to get married there. High on a hill in Tunbridge, with open views of Mount Abraham to the west, Landgoes is the kind of setting where people naturally want to exchange vows and host a party, where the beauty of their love is matched by the beauty of the land and sky.
John O'Brien, a filmmaker (Vermont Is for Lovers, Man With a Plan, Nosey Parker) and Democratic state representative, was born on the farm in 1962 and has lived and farmed sheep there for most of his life. Emily Howe grew up about a mile away. They can't remember when they first met each other — "At the dump or at a wedding," Howe guessed — but when they decided to tie the knot, doing it at Landgoes was the obvious choice.
So, in August 2015, they cleaned out the big hay barn for the reception and held the ceremony outside on the lawn. The transformation from working farm to one-off wedding venue was so spectacular that many of their guests suggested they host more weddings there.
O'Brien and Howe, who were barely breaking even with the farm business, liked the idea a lot. Howe posted their wedding photos on Facebook and invited inquiries from couples seeking a wedding venue. They hosted two weddings that year, as a proof of concept, and the farm has been booked solid ever since, hosting about a dozen weddings annually between Memorial Day and Indigenous Peoples' Day.
The unique setting, of course, is part of the reason for their success, but Howe and O'Brien rely on their own savvy and sweat to make Landgoes a viable business. As a justice of the peace for many years, O'Brien had seen scores of weddings. So had Howe, as a wedding photographer.
"We both knew what works and doesn't work — and what's really memorable for people," Howe said.
Their formula blends the charm of a working farm and a petting zoo with the simple elegance of a clean, rustic barn that can be dressed up to their guests' desires. Gentle English Romney sheep graze on a pasture just beyond the wedding bower. A Scottish Highland cow is available to give her blessing to the wedding dress. A neighbor takes guests on horse-drawn wagon rides. There are nature trails to explore, an adult tree house, lawn games, Adirondack chairs and a firepit.
"For a lot of our guests, it's like a big reunion," Howe said, "so we've made a lot of hangout spots where people can separate off and have mini reunions."
While it would seem that having a wedding on a farm is a timeless tradition, it's also become quite trendy. Judy Risteff, owner and founder of the Vermont Wedding Association, has noticed five or six unused barns and farms purchased every year for the past few years and turned into wedding venues.
Courtesy Of Chip Allen
Langdoes Farm at night
"As we begin 2023, 'barn' is still the buzzword for many couples," Risteff said. "Farms are also becoming quite desirable, as stepping back in time remains on the top of the list for so many couples."
For Samantha and Chris Granger, what set Landgoes apart from other venues was its authenticity. The couple, who live in North Clarendon, looked at other farm-like destinations and came away disappointed.
"One had a barn with a chandelier, where no animals had ever been," Samantha said. "Another was a real barn, but it was so used we couldn't envision it being clean enough for a wedding."
They were also, in no small part, drawn to the sincerity and friendliness of Howe and O'Brien. Her ancestors settled in Tunbridge in the 18th century; his father purchased the abandoned Landgoes property and home for $600 in 1940 and returned it to its farming roots. When the Grangers realized they couldn't afford the high-end wedding of their dreams, they also found they had the choice to spend their hard-earned money with people they wanted to support.
"John and Emily just fit that," Samantha said. "They're such great people who work really hard, and they were also flexible and made us feel like family."
Howe and O'Brien don't compromise their authenticity by cashing in on it. They charge $3,900 for the use of their property and barn, which seats 200 people comfortably and has taken on many identities at weddings over the years, including Mexican cantina, enchanted forest and hunting lodge. According to O'Brien, that's cheaper than renting a tent of a similar size — and the barn comes with tables, chairs and benches, which usually aren't included in a tent rental.
They also handle all the coordination on the day of the wedding so that couples don't need to worry about directing their DJ, caterer and photographer. On wedding days, Howe and O'Brien are up at 5 a.m. and working until two the following morning. They acknowledge that their rates are on the low side and say that's intentional.
"If we raise our prices, we're going to price out the locals," Howe said. "I feel like we'd still be booked, because we do get enough people from other states. But I don't want to be a business in our town that people in our town can't afford."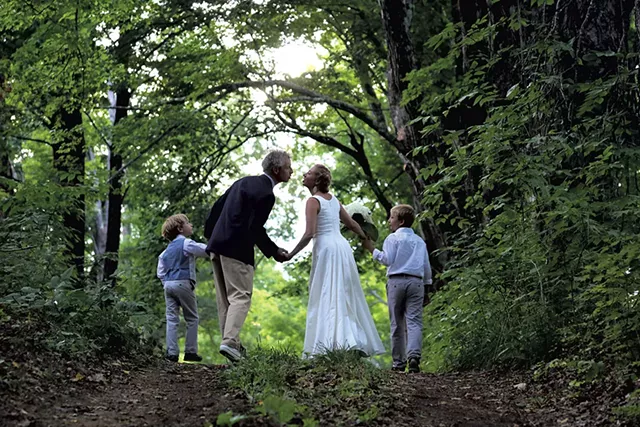 Courtesy Of Myra Hudson Photography
John O'Brien and Emily Howe with their sons, Eli and Ira
Hannah McMeekin grew up in nearby Randolph and now lives in Yakima, Wash. She and her partner, Keally Cieslik, wanted to get married near McMeekin's parents' home and found Landgoes through a family friend. They were looking for an unpretentious, airy wedding venue; when they saw Landgoes and learned of its price, they stopped their search.
"Weddings can get stupidly expensive fast," McMeekin said. "Landgoes just felt like a very sweet, simple spot to gather our community."
McMeekin's sister was going to help the couple decorate the barn, but when she saw it, she said, "This place is stunning; we don't need to do anything."
McMeekin and Cieslik were married on a sunny day in early September last year. The ceremony took place in front of a sheep meadow, with the Green Mountains in the background. At some point during the vows, the sheep started making noises and frolicking around, and the wedding guests loved it. The reception was catered to great acclaim by Pim's Thai Orchid, from Lebanon, N.H. There was dancing, toasts and a flash mob, fueled by peanut M&M's, s'mores and ice cream cake.
O'Brien considers it an honor to be a part of these gatherings. Each is different from the next, but every single one is an intensely romantic moment that he and Howe get to bring to life. They've had their share of high-maintenance mothers of the bride and at least one near disaster when a caterer backed out at the last minute (saved by Big Fatty's BBQ in White River Junction).
Over the past seven years as a wedding host, O'Brien has learned what augurs a good time. "The best ones are always when the couple is relaxed, and they're not so worried that everything has to be perfect," he said. "When your attitude is We are going to have a party, and we're so in love — those are the great weddings."