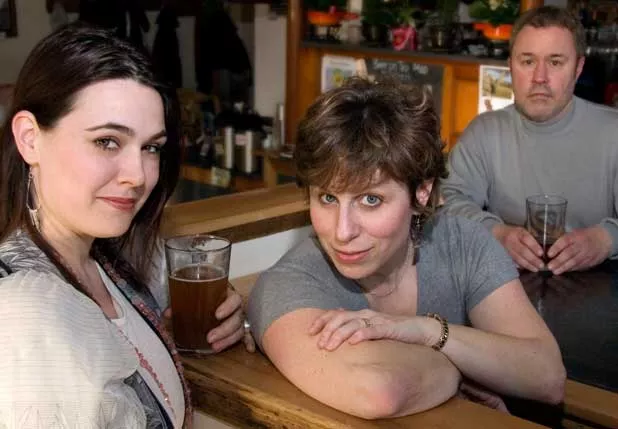 Left to Right: Mia Adam, Wendi Stein, Ben Ash
According to the People's Almanac, the first personal ad was published in 1727 by The Manchester Weekly Journal - Manchester, England, that is - and submitted by a woman named Helen Morrison. It drew a response, sure enough, but from the Lord Mayor of the city, who found such bold self-assertion not just unladylike but criminal. He confined Morrison to a lunatic asylum for four weeks.
To anyone who has tapped his or her knee nervously against the bar at the Daily Planet, awaiting the arrival of a personals blind date, an asylum might not seem such a bad place, really. The safe distance of the word exchange is about to dissolve; the flesh-and-bone part of the show about to begin.
Burlington writers Chris Caswell, Marianne DiMascio and Geeda Searfoorce also recognize power in the personals; not so much in their immediate results as in the stories and characters such spare bits of copy can convey. They culled ads from sources such as the Harvard Review, trekpassions.com and Seven Days and used them as inspiration for Seeking . . ., a romantic comedy that will premiere at the Waterfront Theatre on April 23 for a four-night run. A collection of encounters with wildly disparate outcomes, the play is set in Burlington and combines scenes of searing discomfort and cavernous conversational silences with real tenderness. Which is pretty much par for the course on a decent blind date.
"I was torn between two subjects when the three of us sat down to discuss writing a play," DiMascio says. "It was either going to be about nuns or personal ads."
"I mean, both topics are so rich," Caswell adds, laughing. "But we actually found that personals really are these amazing stories in and of themselves. They are an endless source of character inspiration; from who finds whom hot at the checkout line in City Market. . . to someone posting an 'I Spy' just to say how pissed off they are that someone smashed into their car . . . to simple, naked need. They are a gold mine."
Ads may be a vein of good material, but it was worth asking just how liberally one can crib from actual personals copy. DiMascio is quick to point out that the women's sources were "for inspiration only. We'd get a place like a coffee shop from one ad, a random sighting on the street from another. It's all a blend."
The trio was confident they had a great idea, but had no backing or venue. So they applied for, and received, a New Art Space Assistance (N.A.S.A.) Grant from the Flynn Center. After a well-received work-in-progress show on February 15 at the FlynnSpace, the script for Seeking . . . was tightened up and some of its more improvisational elements edited. Jenn Jarecki, also of Burlington, was brought on board to direct.
"A four-night run is all we can handle financially and emotionally right now," Caswell adds. "But we all hope that this is not the end. Even though the play is set in Burlington, I think we can take it on the road just fine. Anyone who has read the personals with half the fascination we have . . . they'll plug right in."