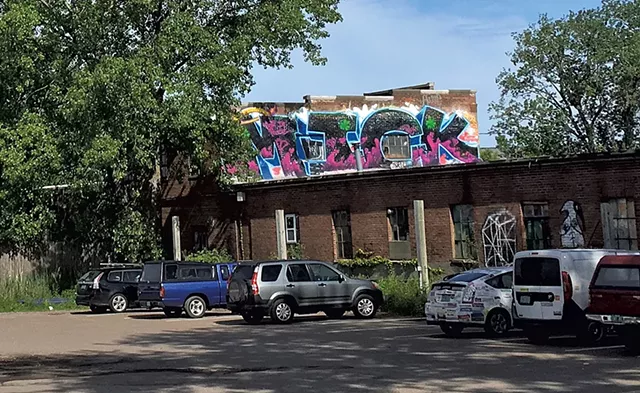 Rachel Elizabeth Jones
The South End Memorial to Mick
A new public memorial of sorts recently appeared in Burlington's South End: the name "Mick," emblazoned in all-capital purple and black letters on the second-floor exterior of 339 Pine Street. Over the M, written in smaller, cursive letters, are the words "Rest in Peace." The unsanctioned commemoration rises above the inconspicuous tractor trailer yard where Michael Deloreto — known as "Mick" or "Mickey" to friends — lived.
The tribute is suitable. Though Deloreto was not an artist, the legacy he leaves is largely an artistic one. He used his role as an informal gatekeeper of the truck yard to support the work of a handful of local artists and makers living and working in the South End — an area whose character and affordability is inexorably changing.
Artist Clark Derbes' "Truck Lot Gallery" is likely the highest-profile and most visible creative use of the space. In 2009, the Burlington artist approached Deloreto about using some of the lot's storage trailers as ready-made surfaces.
"I expected him to say no," Derbes said. But Deloreto said yes. Eight years later, Derbes has made dozens of original, site-specific paintings on trailers in the lot, from abstract op-art-esque works to the declaration "Marriage is nice!" With Deloreto's permission, Derbes transformed the yard into what he refers to as "a giant outdoor sketchbook." He has since documented the work in limited-edition artist books.
"[Mick was] the toughest dude I've ever associated with," Derbes said, adding, "he was really sweet and really kind underneath the abrasive surface."
Derbes recalled that Deloreto would offer candid critiques of his work, such as, "That one's good, I like that" and "I hate that one — you can paint over that one."
Deloreto's special brand of fierceness and generosity is a recurring observation by those who knew him. Burlington maker Pete Talbot of the Cardboard Teck Instantute paid Deloreto to park his retrofitted bus at the lot. Talbot said that, when he was preparing to take the vehicle on its first cross-country venture, Deloreto insisted on arming him.
A seemingly gentle sort, Talbot resisted Deloreto's various offers of weaponry but finally accepted what he called "the 'ought not' stick." Talbot described the instrument as a leather lanyard attached to a wooden ax handle with the caution "You ought not fuck with me" written on it in Sharpie.
At a June 4 memorial service held for Deloreto, Derbes suggested the truck yard is "the last wilds of the Burlington waterfront." Amid controversy and speculation about the South End Arts District's future — particularly in terms of its friendliness to working artists — Deloreto was a critical, if under-the-radar, figure.
"Mick kept [the lot] in this perfect area between being totally homogenized and turned into condos, and being completely [lawless]," Derbes said.
As artists know, inexpensive spaces play a vital role in creative economies.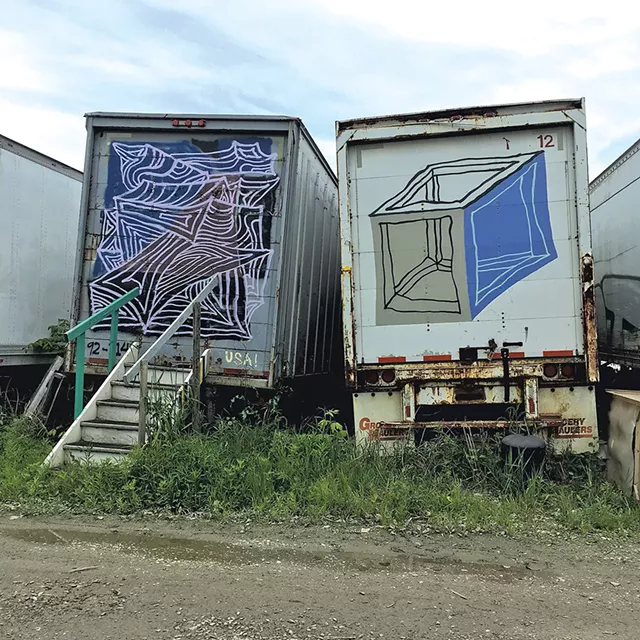 Rachel Elizabeth Jones
Clark Derbes "Truck Lot Gallery"
Aaron Stein of Revival Studio in Burlington first encountered Deloreto in 2014, when Stein was seeking a place to display his large-scale work "The Big Hit." That summer, Stein entered his car, dubbed "Eunice Bloom," in the Champlain Valley Fair's Demolition Derby, with the intent to exhibit the mangled, post-demo masterpiece at that year's South End Art Hop.
Talbot connected Stein with Deloreto. "[Mickey] was so excited," Stein recalled in a phone call. "He wanted to put it on top of one of the tractor trailers."
Though the work was ultimately not displayed at the truck yard, it did win first place in the Art Hop's juried outdoor sculpture exhibit — and was a catalyst for Stein and Deloreto's friendship. The following year, Derbes' "Truck Yard Art Museum" took first place in that same Art Hop competition.
"Mickey was a patron of the arts through his energy," Stein said. "He didn't have any money, and he didn't have any property, but, man, he supported us."
In late fall 2014, Deloreto encouraged Stein to rent one of the trailer storage units. Located near his studio in the Soda Plant, Stein was delighted to have the opportunity to expand for just $90 a month.
Citing the recent loss of Brickwork Art Studios and Backspace Gallery, he explained, "the days are numbered" for financially viable artist workspaces in the South End. For this reason, Stein hopes to turn his rental unit into a mobile studio — he's already hooked up a solar panel and generator to the 50-foot-long trailer.
Stein described his friendship with Deloreto as one of creative support and exchange beyond just business. "If I threw out an idea," the artist said, "he'd be like, 'Oh, my God, you're a genius.' Artists love when people like their ideas and want to help them."
Stein also noted that he was impressed by Deloreto's own form of intellectualism: "We talked about art and a lot of things that surprised me," he said. At the memorial service, Stein told a story about a night the two had spent talking; whenever Stein said a word that Deloreto didn't recognize, he would look it up in a small dictionary he kept in a briefcase.
Other artists who had relationships with Deloreto include metalworker Aaron Grossman and craftsman Brian Merrill. Like Stein, Merrill keeps a separate studio but needed additional space for tools and supplies.
"Economically, [the lot] was perfect, and its location was ideal, too," Merrill said by phone. He added that, for many area artists, economic survival means "finding these out-of-the-ordinary resources, [and] Mickey was a crucial part of that."
While the future of the South End remains open to speculation, Sean Havey intends to keep the truck lot as storage for the time being. It's clear that Deloreto made the most of this "last wilderness," for himself and for those to whom he took kindly. In so doing, he became the unlikeliest of art champions. As Derbes put it, "He was his own folklore."