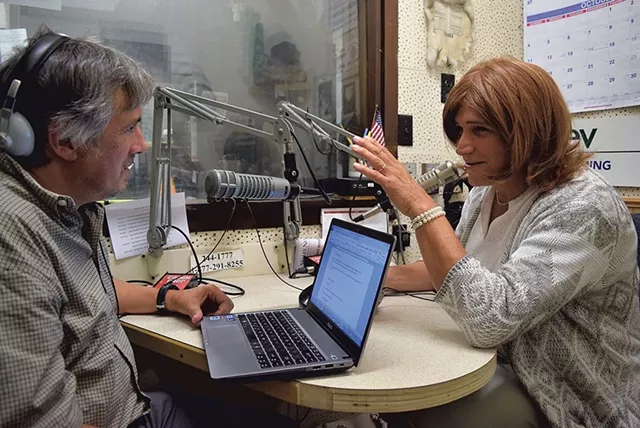 File: TERRI HALLENBECK
Christine talking to WDEV radio host David Goodman
Last November, Danica Roem of Virginia became the first openly transgender person in the nation to win a state legislative seat. This November, Vermonters may get the chance to elect the first openly transgender governor in American history.
Christine Hallquist, CEO of the Vermont Electric Coop, will only say she is "seriously considering" a run for governor as a Democrat — but she talks as though her mind is already made up.
The 61-year-old Hyde Park resident is nationally known in electric cooperative circles and is a respected expert on energy matters in the Vermont Statehouse. But she'd never been a go-to person on politics ... until President Donald Trump took office.
"There are strong headwinds from Washington that threaten [Vermont's] way of life and finances," she said. "I'm a strong leader. I can handle headwinds. I wouldn't be running otherwise."
And now she is on the cusp of challenging the popular incumbent Republican Phil Scott. That is, if she can win a primary against 13-year-old Ethan Sonneborn and environmental advocate James Ehlers — which, at first glance, seems like a pretty good bet. Party leaders welcomed Ehlers' candidacy but have also continued to beat the bushes for candidates with a better shot at winning.
"We're extremely excited about Christine's potential candidacy," said Conor Casey, executive director of the Vermont Democratic Party. "It's a matchup the governor should be nervous about." Casey cites Hallquist's business success, her deep ties to the state and her personal qualities: "She's charismatic, intelligent and she has heart."
Hallquist was known as "David" until late 2015, when she began living openly as Christine. Since then, she has confronted the implications of living as a woman.
"I had no idea of the gender hierarchy in our society," she said, reflecting on her nearly six decades of living as David. "As a man, nobody ever told me to smile. Within a few days of my transition, a stranger on the street told me to smile. It happens a lot. Something about that really bothers me."
Hallquist had been approached about running for governor by "a number of people over the last year or so," she said. But it was a recent experience that brought her to the brink of candidacy — the January 20 Women's March in Montpelier, which focused on the concerns of youth. "That really moved me," she said. "Those of us in privileged positions should stand up for future generations."
Hallquist has long been prominent on policy issues, but politics? Not so much. She voted for Scott in 2016. "I like him," she said. "He's a real likable person. He is a great manager."
But...?
"What I bring to the table is visionary leadership," she said.
Ouch.
When asked what other qualities she would bring to the corner office, she said, "Constancy of purpose. I don't get rattled. I have a clear vision, and I can create excitement in the workplace."
That self-confidence is born of a successful career in engineering and business. She's spent the past 20 years at VEC and has been its CEO since 2005. It was in financial distress when she arrived.
"They were in bankruptcy," she recalled. "The state was ready to pull its certificate of public good. It had fallen to junk bond rating." Hallquist stabilized its finances and built a renewable energy portfolio; by 2016, only 3 percent of VEC's power came from fossil fuels.
Politically, Hallquist is a little tough to pin down. She's in favor of single-payer health care and full legalization of cannabis and believes in a robust social safety net. But when asked if she identifies with a particular party, she cited the Republican former governor and senator George Aiken as "my favorite Democrat. He's the kind of person I want to emulate."
She's a fiscal disciplinarian with an emphasis on efficiency. "I was one of the first American experts in lean manufacturing," she says of the waste-minimizing, production-maximizing approach pioneered by Toyota — and touted by Scott as a way to reinvent state government. "Lean has been part of my whole life."
That hint of ideological polymorphism doesn't bother Casey. "I hear her talk about economic justice," he said. "It will resonate with all members of the party. She's not wearing a Che Guevara T-shirt, but she's definitely a Democrat."
Even if some progressive Vermonters are skeptical of an efficiency-minded corporate type, it would be awfully tough for them to actively oppose the first transgender gubernatorial candidate for a major American party. Moderates, who might otherwise be skeptical of a transgender candidate, would be heartened by her business credentials.
"She will help us up and down the ticket," said Tim Jerman, a former state lawmaker and former vice chair of the VDP. "This was shaping up as a boring election in Vermont. This will energize other candidates and attract donations."
The race is a long shot for the Dems because Scott remains popular, and first-term incumbent governors almost never lose. Politicians with hopes of climbing the ladder have shied away from the race as a career killer. But Hallquist has nothing to lose and history to gain.
She should be able to raise enough money to be competitive. And Jerman is right: The race definitely wouldn't be boring.
Would her gender identity be a drawback? Sure, with some voters — but mostly those who would have voted for Scott anyway. Casey isn't worried. "I believe that we're an accepting place," he said. "How Christine identifies won't have much bearing."
Before Hallquist makes an official commitment to running, she'll hold a family meeting this weekend. And she'll seek the VEC board of directors' permission to take a leave of absence; they next meet on February 27.
But make no mistake: Hallquist is on the launchpad. And living through a very public transition has prepared her for the inevitable uproar over her candidacy.
"I'm ready for the circus to come to town," she said. "That's how we make change."
Dollars for Scholars
Last year's legislative session closed with a protracted sputter as the administration and the legislature wrangled over public school financing. But since then, lawmakers have been quietly working toward a reform plan that could attract support across party lines.
And by gum, they're almost there.
In the early weeks of the 2018 session, the tax-writing House Ways and Means Committee has been hard at work, consulting with experts, lawmakers and administration officials. "Everybody put their ideas on the table," said committee chair Janet Ancel (D-Calais). The panel's working plan can be read online; introduction of actual legislation is expected within a week.
Basically, the idea is to substantially reduce property taxes and create an education income tax on households earning more than $47,000 per year. That would give lower-earning taxpayers a break. Those earning between $47,001 and $100,000 would pay three-quarters of a percent more. Those between $100,001 and $2 million would pay 1.4 percent more; the tax would be capped for those earning more than $2 million. The overall tax burden would not change.
"It's simpler, more transparent and at least as progressive as the current system," Ancel explained. It will also, she added, provide "a more direct connection between school spending and your taxes."
That's a big deal for Rep. Scott Beck (R-St. Johnsbury), a Republican leader on school funding reform. "It's a huge improvement on what we have," he said. "It seems like something that Republicans, Democrats, liberals and conservatives can agree on. I've even seen some Progressives nodding their heads."
Which leaves the $1.6 billion question: What about the administration? Scott has been highly skeptical of tax-reform plans even if they don't raise new revenue, in part because there are always winners and losers any time you tinker with taxes.
House Speaker Mitzi Johnson (D-South Hero) argues that the administration needs to take an active role. "I told the governor, 'We're serious about this. We need your feedback before the committee votes.'"
The administration seems to be tapping the brakes.
"Discussion of a new funding formula must be coupled with cost-containment strategies," wrote Scott spokesperson Rebecca Kelley in an email. "It is premature to offer reaction to any one idea until it has been fully vetted."
So they're waiting to see what happens. Maybe that will work — or maybe it'll set the stage for another unproductive standoff.
Vets Against Trump
Dr. Dan Barkhuff is an impressive guy. He's young, articulate and athletic, and his eyes practically drill holes through you. Barkhuff is a former Navy SEAL who's now an emergency room doctor at the University of Vermont Medical Center. He and his wife, Whitney, have three children ages 5 and younger. And in his spare time, he's trying to launch a movement to counter the Trump presidency
Barkhuff is president of Veterans for Responsible Leadership, a new organization that wants nothing to do with Trump.
"It's less about policy issues," he explained. "We feel he embodies none of the traits of leadership that, when we were 19 years old in boot camp, we were taught. Honesty, integrity — he doesn't have any of that."
It all started shortly after Trump's election. "There was a nucleus of guys who I knew from the Naval Academy or SEAL teams who expressed frustration and decided to form a Facebook group," he said. They realized the concept was resonating and formed a political action committee with a board of directors and Barkhuff as president. It now has about 500 members and is just beginning some serious fundraising.
"The strategy is not intended to be national," he said. "It's to go after veterans who voted for Trump in 2016 in Pennsylvania, Wisconsin and Michigan and convince them to vote for someone else in 2020."
Those three states handed Trump the presidency by razor-thin margins and could turn the tide next time around.
"I think we'd support a turnip if it ran against Donald Trump," Barkhuff said. Or even a Democrat, although the organization's target audience skews conservative.
There is a plan for this year: Support two veterans running for Congress, one Democrat and one Republican. But Barkhuff is having trouble with the latter. "Finding one who's willing to buck the trend and go against Trump has been very difficult," he said. "In fact, there's another SEAL who's running. I had some conversations with him, and he said, 'Look, in my district I can't say anything against Trump or I won't be elected.' And I said, 'OK, you're not our guy.'"
Barkhuff is concerned about the current political climate — and the future. "Hopefully [Trump] doesn't have a second term, but in eight years, he's gone," Barkhuff explained. "But Trumpism — that kind of populism with authoritarian tendencies, destabilization of democratic norms — that's a big problem and it's here to stay. [We want to be a] nonpartisan group that tells the truth and calls people out when they're not acting in the best interests of the country."
Noble goals, to be sure. And nobility is in short supply nowadays.