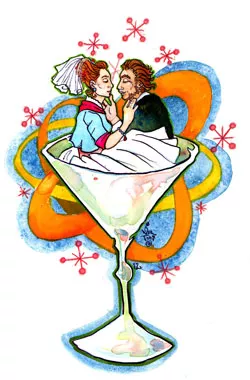 When Tiffany Brigham was choosing flowers, favors and music for her summer wedding at Sugarbush, she had an additional detail to work out: the couple's signature cocktail. It's something that brides weren't thinking about even a decade ago. But these days the betrothed are often looking for "something you couldn't get every day in a bar," as Brigham puts it; something to make the day even more memorable.
Brigham and her now-husband, Billy, loved the Jolly Rancher-infused vodka at the Burlington bar Drink, so they tried infusing some themselves. They discovered that a handful of differently flavored Jolly Ranchers would dissolve in vodka within a few hours, lending the booze a pale-yellow hue. Brigham paired this with Sprite and poured it into a Mason jar, popped in a striped straw and dubbed the drink "The Sweetheart." But state liquor laws prohibited her and her fiancé from bringing their vodka to the event — all booze has to be handled by a caterer or venue.
So the Sugarbush staff re-created the Sweetheart on the big day, which turned out to be steamy and sundrenched — an ideal afternoon for the whimsical, sweet drink. "It was unique, and just about us," Brigham recalls. And popular: "We only made 50," she notes, "and they were gone in 10 minutes."
Over time, as weddings have evolved from straightforward fêtes with cake and Champagne to events where every detail becomes an act of self-expression, brides and grooms have also moved from the simple tipples of yore to more imaginative, rarified and decorative drinks. The cocktails might be as simple as bar standards based on their favorite spirit, or as complex as infusions of simple syrups with rare herbs and seasonal fruit.
Rick Bellows has seen that evolution over the 15 years he's owned and operated Wünder Bar & Company, a Grand Isle-based beverage catering company. When he began tending bar at weddings, most were "pretty simple, with just beer and wine and a few cocktails," Bellows says. Gradually, more and more couples began requesting signature cocktails, albeit simple ones such as mojitos or Bloody Marys. Bellows started guiding clients toward funkier cocktails using infused spirits, fresh fruit and herbs, and layers of flavors.
Besides the obvious draw — that a bride and groom's choice can reflect them as a couple or a key moment in their courtship — a signature drink can also keep the bar catering bill in check by providing staff with a stronger sense of what and how much booze to buy.
Bellows usually asks a couple what they like to drink and builds from there. "Vodka is usually a favorite," he says, and so he's crafted a custom cocktail menu heavy on martinis, some infused with offbeat ingredients such as basil or lavender. He's created a popular Cotton Candy Martini mixed with lemon vodka and served with a fluffy ball of cotton candy on top; and "Something Blue," an elixir of blueberry vodka and lemonade topped with splashes of blueberry juice and simple syrup, garnished with a skewer of fresh blueberries.
Serving up custom martinis at a wedding may sound like a recipe for bacchanalia, but Bellows likes them because he can adjust the amount of alcohol in each drink. "You don't want them too strong, because you don't want people fading out on you at eight o'clock, or you don't want to remember it as the day Uncle Bill wrapped a car around a tree or drove the golf cart into the lake," he quips. After all, Bellows is ultimately liable for guests harming themselves while under the influence. "My job is to make sure it's a safe event."
At the Inn at the Round Barn Farm in Waitsfield, event sales manager Samantha Buczek says the cocktails that couples request are often closely aligned to something they've shared together in the past. "[The couples] are usually pretty clear about what they want. They give me the recipes, and we figure out how much we need to make a batch," she says.
During the summer, Buczek says, "everyone" wants minty mojitos, while the guests at a recent fall wedding imbibed the Dark 'n' Stormy, a blend of rum, ginger beer and lime. Buczek has also seen plenty of "drinks in Mason jars with fun straws," and the staff sometimes has to tackle unusual simple syrups, such as the honey-rosemary version that serves as the base for a Ruby Roy, the signature drink at the February wedding of Jevan Soo and Ryan Maliszewski. The couple created the cocktail themselves, and they were specific about its details. "It is made from whiskey, a favorite liquor in our household during the winter, wintry and cozy flavors such as honey and rosemary, and the name is a fun twist on the classic Rob Roy — just as our experience planning a wedding has been a search for creative and personal twists on tradition," writes Soo in an email.
Soo and Maliszewski were kind enough to share it with Seven Days on the eve of their February 4 wedding. Prost!