Luke Awtry
Soda Plant owner Steve Conant
A century ago, the Soda Plant in Burlington's South End housed exactly what you might expect: a bottling plant for Venetian Ginger Ale. For the last two decades, the building at 266 Pine Street was home to ReSOURCE, a used home-goods store. Then, in 2018, the Soda Plant was transformed once again, this time into an exciting collection of food and drink businesses, as well as studios for artists and craftspeople.
Luke Awtry
Steve Conant's rocket ship sculpture
Visitors to the property are now greeted by a set of sensory clues — the motorized whir of juicing machines, the aroma of roasting coffee, splashes of deep purple wine — that alert them to the new enterprises within. Let's take a tour, shall we?
At Tomgirl, the offerings include fruit and veggie juices in bold and earthy colors, as well as salads, soups, smoothie bowls and baked goods. For Gabrielle Kammerer, who founded Tomgirl in 2014 on nearby St. Paul Street, the Soda Plant inspires collaboration and growth.
Luke Awtry
Brio Coffeeworks
"I think it's an opportunity to express ourselves further than we have before," Kammerer said. "This is a place where we get to make those special attempts at realizing our bigger vision, and enjoying the surprises that happen along the way."
She was experimenting that afternoon with a forthcoming menu item — rainbow lattes — at Brio Coffeeworks, a roastery and coffee shop also in the Soda Plant. Kammerer tested recipes with ingredients including turmeric, spirulina, cayenne and dragon fruit. Brio assisted by steaming milk and mixing it with the powdered ingredients.
"It's like being in college again," Kammerer said, "and having lab partners."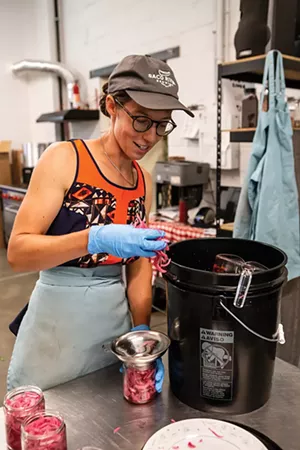 Luke Awtry
Pitchfork Farm & Pickle
Down the hall is a living lab at Pitchfork Farm & Pickle, where fermenting veggies bubble in tubs in the cooler. Samples on the counter offer tangy tastes of beets, sauerkraut, dill pickles and more. The pickles, available for retail sale, are also serve-yourself toppings for rice bowls prepared by Pitchfork. The produce is grown at its Intervale farm in Burlington's North End.
Perhaps the most unusual product made at the Soda Plant is the creation of brothers Aaron and Sam Wisniewski, owners of Alice & the Magician. The company creates edible scents — sometimes inspired by personal memories — that are spritzed onto cocktails to enhance the drink's flavor profile.
Luke Awtry
Alice & the Magician
Sample those scents, and then head to Co Cellars, a tasting room shared by Shacksbury Cider and ZAFA Wines. The Vermont beverage makers use local fruit to produce their drinks. In the small barroom, you can sip ZAFA's Before Sunrise, a sparkling crimson wine, surrounded by grapes and apples fermenting in 15-gallon glass vessels and 30-gallon wooden barrels formerly used to age Vermont gin.
Luke Awtry
Shacksbury Ciders and Zafa Wines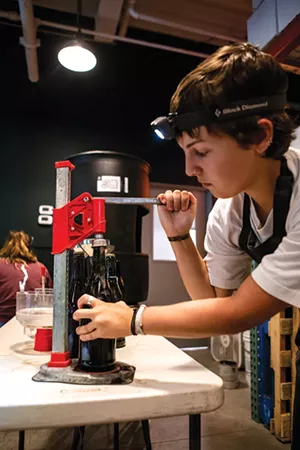 Luke Awtry
CO Cellars
If you're lucky, your visit to CO Cellars will coincide with the bottling process. The "disgorging" of the wine, in which natural sediments and yeast are removed via sieve, leaves pools of purple on a worktable and splattered on the floor. And it leaves a drinker wondering about all that transpired on the wine's journey from a vine in Vermont to a glass in the Soda Plant.
This kind of in-house consumer education is one reason Shacksbury Cider was interested in a Soda Plant tasting room, cofounder Colin Davis said.
"The other part is," he said, "it's a stimulating space full of other people doing interesting things."