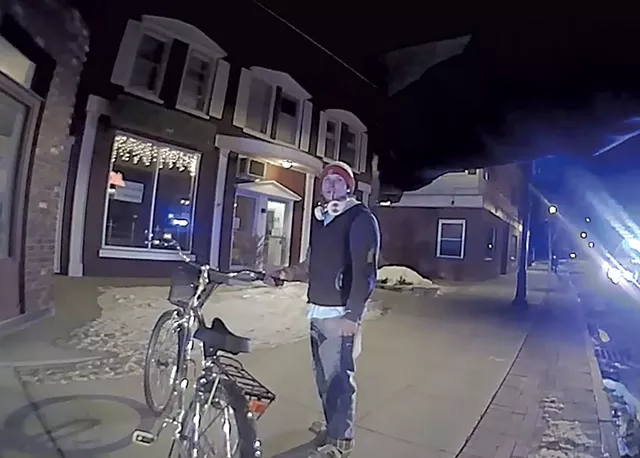 Still From Bodycam Footage
Vincent Ford as captured on bodycam footage
One Thursday night last February, St. Albans police officers received a call that a man had broken the glass door of a downtown pub and left on a bicycle.
Cpl. Mark Schwartz drove down Main Street to find him. He spotted a man on the sidewalk, stopped his cruiser and flicked on its blue lights. The man turned away and strode to a nearby bike.
Dashcam and bodycam video obtained by Seven Days captured what happened next.
As Schwartz exited the car, he yelled, "Hey, get over here!" at the man, later identified as Vincent Ford. "Stop! Get on the fucking ground! Get on the fucking ground!" Schwartz continued as he pulled out his Taser and pointed it at the 22-year-old man.
Ford stopped moving. Standing with a lit cigarette hanging from his mouth and one hand holding the bike, he asked Schwartz, "What'd I do? What'd I do?"
"Get down! Taser! Taser!" Schwartz exclaimed as he aimed and fired the weapon at Ford, striking him with its probes.
Ford's body stiffened, and he toppled onto the bike, which broke his fall. Two other officers rushed in and helped handcuff him.
The time elapsed between Schwartz stepping from his cruiser and firing his Taser was a mere five seconds.
The incident is the latest violent interaction to surface involving a member of the public and a St. Albans police officer. Last August, Seven Days reported that a shift supervisor, sergeant Jason Lawton, slugged a handcuffed woman in the face. The department didn't investigate until the American Civil Liberties Union of Vermont requested video of the haymaker. Lawton was ultimately fired and has been criminally charged.
That prompted Chief Gary Taylor to reform the department's internal review process.
Ford filed a handwritten complaint about his arrest later in August. He argued that he had been Tased "without justification."
The department used Taylor's new internal review process to consider Ford's complaint and "exonerated" Schwartz in a three-sentence decision. Based on a review of the dashcam video, Lt. Jason Wetherby wrote last September, the Taser was used "in adherence with proper and appropriate police procedures."
Jay Diaz, a staff attorney at the ACLU, disagrees. He and other civil rights advocates say the agency's response, coupled with other recent cases of alleged police abuse, shows that St. Albans has a systemic problem of using excessive force.
"It makes you think there may be a significant need for retraining and culture change," Diaz said.
Tasers are considered a "less-lethal, but not necessarily nonlethal" alternative to firearms, according to a policy directive from the state Criminal Justice Training Council. Vermont has uniform, statewide guidelines for when cops at any agency can deploy them — rules that state lawmakers enacted in 2014 after a man experiencing a mental health crisis died of cardiac arrest when Tased by Vermont State Police. Cops must file a report with the state every time they aim a Taser at someone, even if they don't fire it.
According to the state policy, officers may only use the weapons on people "exhibiting active aggression or who are actively resisting in a manner that, in the officer's judgment, is likely to result in injuries to others or themselves." The policy specifies that the act of fleeing alone is not grounds to use a Taser.
Cindy Taylor-Patch, director of training at the Vermont Police Academy, confirmed to Seven Days that merely refusing an officer's verbal order from a distance does not justify their use, either. She declined to review any specific use-of-force incident, citing the Criminal Justice Training Council's formal oversight responsibilities.
The ACLU provided video of the Ford incident to Seven Days because the organization was disturbed that departmental leadership condoned Schwartz's use of force under its new internal review, Diaz said.
"It seems obvious to the eye that the policies don't contemplate using a Taser in this situation," he said. "Once again, we have St. Albans police officers going pretty much straight to force to resolve a situation when somebody doesn't immediately obey their command."
Chief Taylor said that the "totality of the circumstances" — Ford's "fleeing," the fact that he was believed to have just committed a crime, and his noncompliance with verbal orders — justified the Taser use.
"It was pretty obvious that he didn't have any intention of complying, which was likely to lead to a physical struggle," Taylor said.
Asked about how rapidly the officer used force, Taylor conceded, "I found the quickness concerning."
Tasers are used infrequently compared to most other types of force available to police. In a 2019 report, for example, Burlington police recorded firing Tasers 65 times during the previous seven years. Over the same period, officers used pepper spray 300 times and employed force without weapons 1,000 times. Vermont State Police, the state's largest patrol agency, used Tasers 15 times in 2018, the most recent year for which records were available, the agency said.
St. Albans officers deployed Tasers 22 times over the last three years, according to figures provided by the department. Schwartz, who was hired in August 2017, accounted for six of those times, according to a review of use-of-force records obtained by Seven Days.
Schwartz used his Taser again two weeks after the Ford arrest, the records show, during an altercation outside a supermarket in which the officer was bruised. Three weeks after that encounter, he pointed a Taser at someone else, a citizen complaint alleged.
Schwartz also used a Taser and pepper spray on a suspect in 2016 while working for the Shelburne Police Department. At the request of town officials, Chittenden County State's Attorney Sarah George later reviewed whether the force used was appropriate and cleared Schwartz of wrongdoing.
Ford isn't the first person to accuse St. Albans police of using their Tasers inappropriately. Marlene Lambert criticized the department in 2017 after an officer used the weapon on her 15-year-old son inside a gas station, where he'd allegedly stolen drinks and punched a clerk, WCAX-TV reported at the time. Lambert told Seven Days that the officer who Tased her son was Cpl. Joel Daugreilh.
Daugreilh later resigned while under investigation for behavior toward a different suspect. Vermont Public Radio reported last week that Daugreilh pepper-sprayed a handcuffed man in a holding cell in November 2017. Attorney General T.J. Donovan had initially declined to prosecute Daugreilh but reopened the criminal investigation last month, saying he'd discovered "new information" while preparing to release video and other case documents requested by VPR.
"I think I might have gotten this wrong," Donovan told the news outlet.
The number of questionable use-of-force incidents by a department with fewer than 30 sworn officers suggests deeper problems, civil rights attorney and former Vermont Human Rights Commission executive director Robert Appel said.
"When there's this much smoke, there's probably fire. There's just been a rash of problems within that department, and you've got to wonder why," he said. "Is it a lack of accountability, a lack of leadership? I'd venture to say probably both."
Rosie Chase, Ford's Franklin County public defender, said his case isn't the only one in which she believes St. Albans officers abused one of her clients.
"It can't be isolated incidents of rogue police officers, as Chief Taylor would like everyone to think," she said. "It's a systemic problem, and reform is needed."
Chase said the city needs independent oversight of all use-of-force cases and of citizen complaints filed against the department. A Seven Days records request turned up eight citizen complaints against St. Albans cops during the first 10 months of 2019. Half of them accused Schwartz of using excessive force.
Taylor said he doesn't believe there's a "culture of police violence" but is considering whether any additional training might be useful. "There are a fairly significant, high number of physical resistance incidents," he said, referring to the actions of the people his officers arrest.
Both Taylor and city manager Dominic Cloud emphasized that the incidents garnering media coverage are few compared to the total workload of the department, which serves both the city and the surrounding town.
The department is busy. Officers made 1,037 arrests last year, department data show. Burlington's municipal force, which is more than three times the size of St. Albans' and serves triple the population, made 1,574 arrests last year.
Plus, Cloud said, the city's small department, like many around the country, struggles to recruit officers. As a result, recruits with the wrong temperament, or undetected mental health problems, can sometimes slip in.
Rather than evidence of a problem, those factors are proof that the media, and Seven Days in particular, have provided a distorted picture of the St. Albans PD, Cloud said. He claimed the newspaper's coverage of the agency showed an "alliance" with the ACLU. He invited the advocacy organization to sue the city if it believes police there are using unlawful force.
"I just feel like, with all due respect, they're playing you guys," he said.
Burlington and Rutland have empaneled citizen police commissions to provide additional review of police conduct — though the effectiveness of those mechanisms is under scrutiny in Burlington. Cloud said such outside review isn't necessary in his city.
"These are concerns that are driven by an interest group and a media agency," he said.
"Our citizens aren't asking whether we should disarm the police," Cloud added, referring to a Burlington city councilor's recent proposal. "Our citizens are asking whether we need more."
Video of Ford's arrest provides some support for Cloud's position. Once Ford was loaded into the cruiser, Schwartz entered 84 Main Sports Grill to speak to managers and take witness statements. A customer can be heard telling Schwartz that Ford had been drunk and "mouthy" before he walked out and broke the glass door.
"Thank the officer that Tased him!" another patron called out.
"You're welcome," Schwartz replied, prompting the bar customers to break out into cheers and applause.