Hannah Palmer Egan
Cotechine, lentils and polenta
In the sheer drizzle of an unseasonably cool late-May evening, Alessandra Rellini stood amid her hogs. A massive sow sauntered over, pushing her nose through the gate. Of the dozen or so people crowded into the open-air barn, most skittered away from the beast, but one man reached down and gave her pink nose a hearty scratch. The animal snorted and squealed with pleasure. "That's the mating pen," Rellini said. "They're in there getting ... serviced."
The petite pig farmer's 20 breeding sows — along with two boars, a modest flock of sheep and a harem of chickens — represent the basis of Agricola Farm, which moved from leased land in Chittenden County to a permanent home in Panton in June 2014.
Hannah Palmer Egan
Agricola pigs
The operation began as a homestead project five years ago, but the Agricola brood now produces about 80 piglets annually. Rellini — who grew up in Italy and learned meat cutting in Tuscany — butchers most of the animals herself at the Mad River Food Hub in Waitsfield.
"[Butchering] has informed us so much in our farm practice," she said. Inspecting each carcass from the inside out, cutting through muscle and tendon, fat and bone, allows her to see how her studies in swine nutrition and breeding manifest in meat form.
Hannah Palmer Egan
Alessandra Rellini
And, while the animals live pastured lives filled with vegetarian, non-GMO feed and lots of affection, Rellini's bottom line is quality meat. While she offers much of that for sale at the Burlington and Jericho farmers markets, she reserves some for a monthly Sunday-night supper club. It's private, but anyone can join. Along with a chance to meet the meat, May's $70 membership fee included a five-course farm dinner and discounts on Agricola meat and any upcoming workshops.
This reporter was on the farm to partake in that dinner, which Rellini hatched last winter with Burlington-based chef Richard Witting — principal at Firefly Catering and formerly of ¡Duino! (Duende) and Isole Supper Club.
The dinner club's story mirrors that of the farm itself. Rellini is a clinical psychologist and tenured associate professor at the University of Vermont. Neither she nor her husband, Charles Hubbard, who oversees finances at American Meadows in Williston, planned to become farmers. But lacking a source for reliably good Italian pork products, Rellini started raising pigs — and cutting and curing the meat — herself.
"I wanted to bring back flavors from my homeland because I was missing it," Rellini told Seven Days by phone last week. "I couldn't go another year without coppa. Then things kind of spiraled out of control."
She hosted dinner parties with friends and family, but "almost felt guilty," she recalled. "We were eating such good food, and our animals are treated so humanely. But we didn't get to share it with anybody [outside of] our circle of friends." When people kept asking to buy the meat, Rellini said the decision to go commercial made itself.
She and Hubbard built the business on leased land in Hinesburg, Monkton and Williston. Four years in, the farm was supporting itself. They qualified for financing from the Vermont Economic Development Authority and the USDA Farm Services Agency in Middlebury, and bought the Panton farm last summer.
Rellini was most interested in the property — 60 acres of fertile, rolling farmland — and the spacious, solid barn. But the 1850s farmhouse was perfect for entertaining. "This beautiful house had two dining rooms connected to this modern kitchen," Rellini said, "and I was like, OK. This is it."
In the barn prior to the May dinner, Rellini walked her guests through architectural layers of farm history.
This section of the building — still whitewashed and splattered with cow manure — is original, she said; that over there, with long, corrugated cement floors, is newer. Here, you can see where the old barn burned. Rellini said her neighbors — many of them involved with the property at one time or another — have filled her in with tidbits from their own memories. "The family who owned the farm before us lives in the next house over," Rellini said, pointing down the road. "The whole community knows this farm, so that's nice.
"But," she interrupted herself, "is anyone hungry?" The crowd responded with enthusiasm, and our host took her leave, inviting us to convene in the house shortly for dinner.
Walking back through the barn's long central corridor, the guests began to mingle. Two men discussed the preservation of agricultural properties from a structural standpoint. In the misty gloaming, they wandered past the hogs and chickens, across the road and up the old stone steps into the house.
A Farmhouse Dinner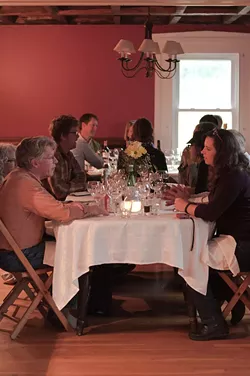 Hannah Palmer Egan
In the dining room at Agricola Farm
"Should I take my shoes off?" The query echoed through the foyer as each guest entered and became aware of his or her muddy footwear. The question went unanswered. Soon we were all in stocking feet, taking our seats at two long tables set with sparkling bottles of San Pellegrino and many, many glasses — for tasting wines, water and aperitifs, and whatever beverages the guests chose to bring.
When Rellini and Witting launched the meal series four months ago, they planned for about 28 guests. That number quickly expanded, filling both of the railroad dining rooms. But May's menu, themed "The Whole Beast Nose to Tail," drew a smaller crowd. Many club regulars skipped the meal, which featured ears and jowls, tongue and heart, feet and fat. But as dinner began, guests chattered in gleeful anticipation of courses to come.
Rellini — who transformed from farmer-butcher to graceful host with the removal of her boots — circled the room offering petite pours of Amaro CioCiaro, a dark and bitter liqueur befitting the evening's weather. "Feel free to leave whatever you want on the table," she said, preemptively dispelling guilt over uncleaned plates, then ducked back into the kitchen.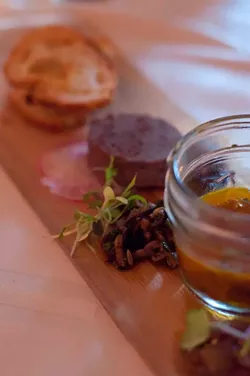 Hannah Palmer Egan
Charcuterie and preserves
"Does anyone mind if I say grace before we start?" asked Rellini's neighbor, whom she invited after hearing his wife was away for the weekend. Though many at the table nodded their approval, he offered thanks in silence as our hosts delivered wooden shingles laden with Rellini's charcuterie and Witting's preserves.
A small jelly jar held tender hunks of tongue meat suspended in collagen-rich trotter gelée. As we spooned the silky aspic onto bread alongside wild-pheasant's-back-mushroom conserva, grilled grapes and spring grape leaves (harvested that day around the farm), and slices of a peasant-y pig's-heart pâté, conversation wove from the fare to food and culture to gardening to community. Wine flowed and personal stories found their way into the chatter.
Middlebury metalsmith Judi Danforth, who with her husband, Fred Danforth, resurrected Danforth Pewter in 1975, talked about her plans to establish an edible forest garden at their Lincoln home.
Outside, the landscape faded from a cerulean blue to deep indigo. Rellini placed flickering kerosene lanterns on the tables and talked us through the wines — paired by Paul Gibson at Burlington's Dedalus Wine — and offered brief lessons in pork anatomy.
Hannah Palmer Egan
Pasta carbonara
Before serving bowls of carbonara, Rellini explained how, lacking a defined neck, the pig's jowl flows into its belly and shares similar physiology. Italians prize the jowl for its fat content and robust flavor. Mixed with egg and cheese, guanciale (often dubbed "face bacon" by anglophonic gastronomes) forms the basis of a traditional pasta carbonara.
On this night, Witting nested whole egg yolks into mounds of Rellini's hand-rolled semolina crescents. Guests moaned in delight as they freed the yolks from their membranes, flooding their bowls with glowing yellow richness.
Such a pleasure would never fly in Italy — not because it's not good, but because that's not how it's done. "In Italy we are so narrow-minded," Rellini said via phone, days later. "It's non si fa: We don't do things like that. A lot of times Richard will say, 'Let's do this,' and I'll be like, 'No.' Why? Because we don't do things like that."
While native Italians still debate the correct way to make carbonara, serving it with a yolk intact isn't part of the equation. But you sometimes see it that way in high-end New World kitchens like the ones in which Witting plied his craft.
Such details testify to the push-and-pull tension that elevates Agricola dinners from tasty to fascinating. When a Vermont chef persuades an Italian to make changes to one of her homeland's most iconic dishes, the resulting plate represents an evolution for both cooks, who constantly trade student and tutor roles.
And while Witting — who is pursuing a food-focused anthropology degree at UVM — has spent much of his career working with world cuisines, he said the Agricola collaboration is his first experience working with Italian tradition. Rellini is willing to check her non si fa impulses — sometimes — to create a living bill of fare that honors this place and the people and animals that thrive here.
"We're not just trying to emulate traditional Italian food out of context," Witting said in an interview. A meal may begin with specific dishes and pairings, but incorporating Vermont's native ingredients using both cooks' culinary tool kits makes each menu an adaptation rather than homage.
"[The club] is being its own thing," Witting said.
Rellini finds meaning in the discourse between her heritage and the place she's chosen to build her life. "I am the product of my past generations," she said, "but I've assimilated a lot from here."
Hannah Palmer Egan
Crispy pig's ear salad
Post-pasta, a salad of crisp greens, wild-foraged lamb's-quarters (a common Vermont weed) and edible flowers came topped with a tumble of crispy shredded pig's ear. As any Italian will tell you, consuming a bit of greenery after complex carbohydrates kick-starts digestion, making way for the next course.
Hannah Palmer Egan
Grandma pie
After finishing off slices of earthy Cotechino sausage with creamy polenta and lentils and several glasses of wine, we spooned through a delicate, honeysuckle-infused panna cotta encased in pastry (crostata della Nonna, or "grandma pie"). Our hosts joined us as we lingered over coffee.
"It's nice to do this because you break down some of the walls," Witting said — the dinner-party format allows open communication between dining room and kitchen.
"You trust us," Rellini added, "and we make you things we think are great."
Full from the night's hours-long gastronomic journey, guests and hosts chattered away long after the last plate was cleared, even though it was Sunday and many of us had miles to drive before bed.
"I really think there's something special in this house," Rellini said later. "The room comes alive during these meals. People are sitting in this place where generations of large farming families sat before and talked about the hardships and how to make it through. To have two full dining rooms full of that energy — it gives us a high every time. Even when we work till midnight and afterwards." She paused a moment to find the words: "It's magical."