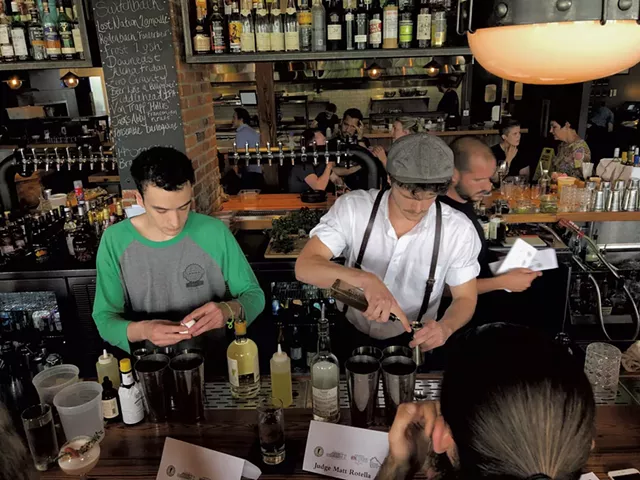 Danny Decelles (right) working with his barback, Alex Carrol
Last Wednesday, eight bartenders filed into Winooski's Waterworks Food + Drink for the fifth annual Great Shakes competition. Light streamed through the tall windows overlooking the river as DJ Craig Mitchell warmed up the crowd with casual dance numbers. The barkeeps fretted, prepping garnishes and ingredients so everything would be primed and ready once they jumped behind the bar.
They would need to impress both their peers and the crowd at this annual competition cohosted by Vermont Wine Merchants and the state chapter of the U.S. Bartenders' Guild. Part of the Burlington Wine & Food Festival, Great Shakes has taken place at Waterworks for the past five years.
Each bartender is assigned one of a variety of Vermont liquors around which to construct a cocktail. A panel of bartenders and the crowd judge the final products, handing out two awards.
Lined up at the bar with their backs to the raging river, this year's judges were Eddie DiDonato, vice president of the guild's Vermont chapter and bar manager at Monarch & the Milkweed; Emily Morton, bar general manager at Deli 126; and bartender Matthew Rotella of Misery Loves Co. Waterworks owner David Abdoo noted with pride that all three have worked behind his bar in the past.
Earlier, Sam Nelis, president of the guild's Vermont chapter and former Waterworks bar manager, had gathered the bartenders at the back of the restaurant to go over the contest's rules. This year's lineup featured representatives of eight restaurants and bars, most of which are in Burlington: Jim Martin of A Single Pebble, Danny Decelles of the Archives, Antoine Lefevre of Monarch & the Milkweed, Milo Ryerson of Pizzeria Verità, Bryan Buley of Waterworks, Tyler Mello of Butch + Babe's, Peyton White of Honey Road, and Celia Savoie of the Bearded Frog Bar & Grill in Shelburne.
Most of the competitors wore casual attire — collared short-sleeved shirts on the men, plus shorts and practical closed-toe shoes. Decelles contributed to the hipster vibe with a white collared shirt, black suspenders and a wool newsboy cap.
"Getting bartenders together is like herding cats," Nelis said to the circle. He attributed the herding skills responsible for assembling this particular group to Nadia Womble, Waterworks' current bar manager.
Nelis explained that, while the competition wouldn't be timed, bartenders shouldn't "build their drinks one at a time." (Each bartender would make four of the same cocktail: one for each judge and one for photographers.) Essentially, they were told to get in, get it done and present their creations.
From the moment the bartenders exited the back room, the competition moved along at a steady pace. It was a smooth operation. One bartender would hop behind the bar to mix four drinks, then present them to the judges and move down the line to craft a tray-load of samples for the crowd. The next competitor filed in to begin the whole process over again.
Rotella showed this reporter the Bartenders' Guild scorecard used to evaluate each drink, with points awarded for taste, appearance, aroma and creativity. Sure enough, we were in for a full sensory experience.
Barbecue Berry by Jim Martin, Blindsided by Peyton White and Nine Juan Juan by Antoine Lefevre
The first competitor behind the bar was Martin, who used Smugglers' Notch Distillery Maple Bourbon Whiskey to craft his Barbecue Berry. The rich combination of Solerno, whiskey and smoked-strawberry maple syrup got a grassy, herbal twist from a thyme garnish.
With that simple addition, Martin was the first of many competitors to demonstrate the powerful impact of aroma on taste. The thyme gave complexity to what might otherwise have been an overwhelmingly fruity concoction.
Judge Morton saw a trend there; in an interview after the competition, she noted that garnishes are receiving more attention for their impact on the cocktail experience. "People were using flowers, floral notes," she said. "A lot of them were edible. If you have a flower in there, that kind of adds flavor. It's not only visual, it's not only aromatic; it contributes to taste."
Decelles demonstrated the power of garnishes with his Herb Spiral, using Caledonia Spirits' Barr Hill gin. Speaking to the audience before he popped behind the bar, the 23-year-old barkeep said he "always wanted to make a gin egg-white sour that didn't taste like paper."
To create it, Decelles used a whopping 15 ingredients, including the smoke released by burning cinnamon and cardamom. The pungent, homey smell of those spices filled the air as he charred them lightly in rocks glasses, then set a coupe glass on top of each glass to capture the smoke. As he held a blowtorch to cinnamon sticks and charred them into a garnish, the air lit up with the scent.
While warm, spicy tones were certainly present in Decelles' finished cocktail, they were balanced by the sweet floral notes of his edible pansy and violet garnishes, as well as by hibiscus and lavender tinctures in the drink. Somehow, as these floral and woody notes commingled, Barr Hill Gin's distinctive hint of honey shone through.
Another intriguing garnish was the foamed sour cream in Lefevre's cocktail — which, unfortunately, dissolved after the first sip from the flute glass. Savoie's cocktail, Remix to Ignition, was topped with flaming absinthe in tiny sugar-cane boats.
Some cocktails, such as Buley's Lav & Cori Ander, relied on their garnish for punch. An inch of cilantro and a sprinkling of lavender petals finished off this green concoction — and the aroma hit your nose like a verdant brick.
Buley's cocktail was the People's Choice at the end of the evening. The judges, after lengthy deliberation, selected Decelles' concoction.
"It was a close call," DiDonato said by phone after the competition, "but, from a presentation standpoint, highlighting Bar Hill and attention to detail — smoking out the glass with all the different aromatics, [and] the flavors went really well together — it was a very balanced drink. And appearance and presentation go a long way when you're talking about a competition cocktail."
Abdoo lauded the judges after the competition. "They're doing a great job," he said, noting how each has shaped bar menus at local restaurants.
While it was fun to see the virtuosity on display at the competition, in his view, a bartender's priority is still creating appealing experiences for customers. "The one thing we always have to remember is that [bartenders] are getting very talented, but hospitality is what that industry has always been about."
And what could be more hospitable than a cocktail crafted to stimulate multiple senses? Cheers to that.
The People's Choice Cocktail: Lav & Cori Ander, by Bryan Buley of Waterworks Food + Drink
Ingredients:
3 pinches of dried lavender
¾ ounce housemade coriander syrup
2 ounces SILO Lavender vodka
¾ ounce housemade ginger liqueur
¾ ounce fresh lemon juice
Ice
Soda water
4 cilantro sprigs
Directions:
Muddle dried lavender with coriander syrup in a shaker tin. Add vodka, ginger liqueur and lemon juice; shake with ice. Double-strain into a chilled Collins glass. Add crushed ice and top with soda water. Use cilantro sprigs as garnish.