Oliver Parini
The renovated kitchen in Becca Brown McKnight's Burlington home
The kitchen is where we entertain a boisterous group of friends while sharing a lavish spread, entertain questions from an inquisitive 4-year-old over a weekend pancake breakfast, and entertain ideas that pop up while tending a simmering pot.
For Becca Brown McKnight, her meticulously renovated kitchen is all of that and more. "It's really the center of our home and of my whole life," she said.
Oliver Parini
Becca Brown McKnight prepping dinner in the renovated kitchen of her Burlington home
McKnight is a self-described food lover who has built a career that allows her to spend time thinking about and interacting with what she eats. The CEO of Uppercase Industries, a brand and marketing consultancy, McKnight has clients that include King Arthur Flour and Farmers to You. She's also the cochair of Slow Food Vermont, and she and her husband, Devin McKnight, run an online platform for new and small-space gardeners called Not Secret Garden.
When the two purchased their 1905 Victorian on Burlington's Henry Street, the kitchen was functional but hardly aspirational. "All of the energy and light was clogged in a weird layout," McKnight said.
Oliver Parini
A winter wish list greets visitors.
After several years with appliances desperately in need of an upgrade and IKEA butcher blocks compensating for lack of counter space, the couple decided to renovate the kitchen.
"When we bought the house, we knew it needed work," McKnight said. "It took a while to save up the money, but living in the space helped us understand what we needed and how we lived both inside and outside."
As a housewarming gift, McKnight's mother gave them a design package from Richmond's Greta Sloan Interiors. Sloan designed the kitchen's initial floor plan, offering several versions that reconfigured walls and played with the placement of a downstairs bathroom.
"Greta had the idea of opening up the space between the kitchen and the living room, and now it feels like such an obvious hallway," McKnight said.
The final floor plan also opened up the entryway to the backyard, making space for a powder room that's a far cry from the home's previous bathroom — jokingly referred to as "the outhouse" for its 1960s-style wooden toilet seat.
Oliver Parini
Open shelves create room for storage and holiday displays.
The new layout removed a wall separating the kitchen from the dining room, creating a more welcoming and cohesive space for hosting friends and family. "Our goal with the renovation was really to open things up and connect the spaces we use most," McKnight explained.
She, her husband and their two young children now move seamlessly from gardening and playing in the yard to cooking with the produce they've grown and bringing it to the table.
The kitchen's style was inspired by French and Italian kitchens that McKnight encountered while living in Europe and, closer to home, by the antique farmhouses she remembers from growing up in Vermont. Brass fixtures and cherry shelves aren't an obvious combination, but, like ingredients in a good fusion dish, together they yield an elevated finished product.
Shelburne-based Heartwood Builders handled the construction, led by cofounder Jess Oppenheimer. Stain-resistant white quartz countertops, white walls and a white ceramic tile backsplash serve as a blank slate that contributes to the room's newfound brightness while allowing other details to shine. An oversize sink in the island maximizes counter space and allows McKnight to hide dirty dishes when she's entertaining, she said.
Oliver Parini
A hidden spice rack cabinet
McKnight often listens to French singer Édith Piaf while she's cooking, and she's nicknamed her 40-inch Lacanche range "Édith Pilaf." The showstopping stove was the big splurge of the renovation, which McKnight said was otherwise pragmatically budgeted.
"I use this stove and range every day," she said. "It's fun to get all systems going; making something like a risotto takes up all of the burners."
The kitchen's storage is compatible with meal preparation, whether implements are tucked away in the Shaker-style gray-green cabinets or stacked neatly on open shelves. McKnight worked with Brittny Mee of Bouchard-Pierce in Essex Junction on the puzzle of cabinet design and layout. The spice cabinet pulls out beside the range, important cooking tools are within arm's reach, and trash is hidden away in the island. Even the microwave has a smart, low spot — out of sight yet near the fridge, so that heating leftovers is a matter of a few quick movements.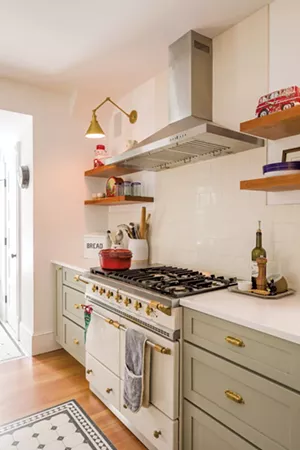 Oliver Parini
The 40-inch Lacanche range is a showstopper in the kitchen.
Quality finishes and an optimized layout have created a kitchen with room for the whole family. The couple's children often sit at the island, where their son might request pancakes or a cheese plate — a treat he has come to love during a Friday evening family aperitivo, McKnight said.
"Having these rituals as a family helps us reenergize and connect," she said. "For me, the kitchen is all about connection. It's where we connect as a family and with friends; it makes me feel connected to the people who grow and raise the food we eat; it helps me feel connected to my work ... and it gives me a space to connect with myself.
"No matter what else is going on," McKnight concluded, "when I'm in the kitchen, I always feel like my best self."