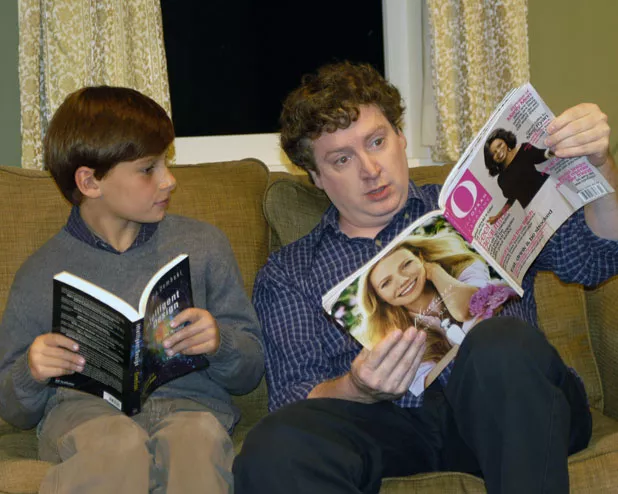 Jackson Bisaccia & Patrick Clow
Memorable characters are the heart of great storytelling. Since cavemen and women first started spinning tall tales around the campfire, the essence of fiction has remained constant: Create imaginary people who reflect our desires, needs, hopes or fears. The best stories - whether in a book, on screen or on the stage - have characters that draw us into their world.
In Pronouncing Glenn, Shelburne's Carole Vasta Folley - a first-time playwright - succeeds wonderfully at devising a brace of charming, believable characters that have us laughing with them and caring about them. The playful comedy, in its debut run at the Stowe Theatre Guild, features an energetic cast directed by (and including) the scribe herself. The ensemble tackles the material with gusto, amplifying the verve of the writing with lively, engaging performances.
A news brief in USA Today provided the initial inspiration for the play. It concerned a caregiver who somehow managed to conceal an elderly patient's death for two years while the rest of the family continued to live in the same house - with the body upstairs. Although this sounds like fodder for a horror movie, Pronouncing Glenn actually manages to find surprisingly convincing and heartwarming motivations behind such a scenario. Mercifully, in the play, two years become two weeks.
The action of Pronouncing Glenn unfolds over two days, but the backstory emerges as the characters cross paths in Glenn's living room. Caregiver Millie is devoted to her deceased patient's family: Glenn's daughter Sandra and Sandra's 10-year-old son, Boyd. The young, attractive single mom had moved home to care for her aging, cantankerous mother. As Millie tried to calm the stormy mother-daughter seas, she developed maternal feelings for Sandra. When Glenn dies in her sleep after a terrible argument with Sandra, Millie conceals the death because she fears Sandra will blame herself.
To heal the family breach, Millie pens letters to Sandra, ostensibly from Glenn. She tries to buy time by enlisting Sandra's friend Ben to install successively larger air conditioners to keep mom cool while she "sleeps." Ben, who is smitten with Sandra, remains blissfully ignorant of the real reason for the big chill. He's focusing on getting brainy Boyd to give him inside info on how to build a relationship with Sandra. They comb O Magazine together for tips from Oprah.
Meanwhile, nosy neighbor Dorcus keeps popping in, as does the uptight Dr. Thomas. Dorcus brings loopy home remedies and spouts odd news non sequiturs. The soap-opera-handsome doc seems more eager to see Sandra than his patient, Glenn, and his chiseled charm grates on Ben. These constant unannounced visits unnerve Millie, and put her plan to protect Sandra and Boyd in peril.
Vasta Folley richly fleshes out the half-dozen characters, and their appeal helps smooth over the script's flaws. Pronouncing Glenn has no prolonged dull patches: It abounds in fresh ideas, well-crafted repartee and touching scenes. But a running time just shy of three hours is excessive - many theater companies trim King Lear to keep even Shakespeare under two and a half. Fat is scattered throughout; painless cuts could be made from some of the sitcom-inspired scenes (the prolonged struggles with the air conditioners, for example) and the exchanges meant to establish characters. The final scene could most benefit from radical surgery: A more concise dénouement, with much less slapstick, would give the ending more punch.
That said, neither the critic nor the audience got bored during last Thursday's performance, laughing steadily - sometimes raucously - all evening, and giving a hearty standing ovation at the end. Tweaking the script to tighten the play wherever possible, however, would increase its comic and emotional momentum.
The ensemble cast has a delightful chemistry on stage, a credit to Vasta Folley's confident directorial hand. Performances are strong across the board. Patrick Clow manifests particularly magnetic charm as the slightly goofy Ben. He uses a broad range of expressive comic gestures, but never becomes hammy - even when wearing a floral shower curtain as a skirt instead of pants. Clow blends Ben's emotional complexities brilliantly: He's the eager beaver who has the enthusiasm of a child but the heart of a man.
Jackson Bisaccia - a Williston Central School fifth-grader - plays precocious Boyd with poise and spunk. Boyd prefers reading to playing Xbox, and expresses philosophical problems with having both P.E. and lunch in his school's "gym-a-teria." Bisaccia confidently shows Boyd's smiling self-assurance as he marches to a different beat from his peers and moves with ease among a quirky pack of adults. Especially charming is the scene in which Ben seeks dating advice from Boyd. Clow and Bisaccia have a light, easy rapport, and make clear the ironic delight of an adult getting schooled in love by a kid.
Vasta Folley brings an intense level of nervous energy to her performance as Millie, who is reaching the end of her rope trying to hold the "dead woman upstairs" scheme together. Her edgy vocal tone occasionally grates, but it mirrors Millie's high-strung state. Her body language also reflects Millie's stress, alternating tightly clenched static positions with frenetic bursts of rushing around the stage.
Elisabeth Gerber brings heart and sass to the beautiful Sandra. The goal of Millie's mania is to keep Sandra's life calm. Gerber walks the razor's edge well, remaining oblivious to Millie's increasingly bizarre behavior while engaging smartly with the other characters. She portrays Sandra's many facets convincingly: angry, guilt-ridden daughter; plucky, loving mom; pert, flirty young woman. She and Bisaccia create a natural mother-son dynamic on stage, and she and Clow generate delightful sparks.
Neighbor Dorcus is borderline batshit-crazy, but Kim Swain plays her with an earnest edge that makes the character a lovable loon rather than an annoying nutcase. Her scene with Vasta Folley, in which Dorcus diagnoses Millie's stages of grief, is fall-on-the-floor funny. Erik Freeman also gets laughs with his gravitas as dorky Dr. Thomas. His suave, square-jawed polish contrasts sharply with schlumpy Ben and sets up an unlikely and hilarious romantic rivalry for Sandra's affections.
The cast benefits greatly from Ed Demler's expansive and well-designed set for Glenn's living room. The playing area is built out several feet from the Town Hall Theatre's regular stage, providing a roomy environment for the antics to unfold. Doors abound, for comedy's requisite surprise entrances and exits. A staircase ascends at the back to the patient's unseen bedroom. Demler lights the deep and especially wide space effectively.
A neutral palette of sage, beige and pale gold unifies the solidly Middle American design. Oak and pine furniture is dated and somewhat mismatched; upholstered pieces are overstuffed and a bit past their prime. Satin curtains feature swags with ball fringe and sheers. Set decorator Jane Harissis provides bric-à-brac aplenty and an array of family photos to reflect a house long lived in and slighty worn, but well loved.
Pronouncing Glenn represents a remarkable achievement for a playwright's first effort. Clearly, Vasta Folley's extensive directing and acting experience has taught her what works on stage. Wearing three hats for this production may have made it more difficult to focus on honing the script before opening. But she has the storyteller gift, and this play is already a blast in its current form. Who knows how much fun version 2.0 will be?