Courtesy Photo
From left: Jeremy Rayburn, Derrick Senior and Stephanie Sander of RecycleBalls
Derrick Senior has got balls — more than 1.7 million at last count, he said, "and we're just getting started." His plan: to collect more than 21 million used tennis balls by 2022, and his long-term goal is to gather every used ball played on tennis courts across the United States.
Senior isn't a hoarder or the owner of a chain of dog rescues. The 63-year-old retired businessman from Shelburne is just an avid tennis player who realized one day that the sport he loves has an unsustainable habit.
"In tennis, you open a can of balls, play with them for an hour and a half, and then you toss them out," explained Senior, who's on the courts four or five days a week. Curious about how many balls get thrown in the trash nationally, he did a little research and was stunned by what he discovered.
Each year, more than 125 million tennis balls, or 20,000 tons of non-decomposable rubber and nylon, end up in U.S. landfills, making tennis one of the sporting world's largest generators of solid waste. "I realized that there's got to be something we could do about it," he said.
So Senior served up an ace solution. In 2016 he founded RecycleBalls, a South Burlington nonprofit that makes it easy for tennis clubs and fitness centers around the country to recycle their used balls. RecycleBalls, whose motto is "Yellow is the new green," provides its partner facilities with free recycling bins which, once full, get shipped to Vermont at no cost to them. The balls are then ground up, separated into their components and used for a variety of applications.
With a skeleton crew of a half dozen people, RecycleBalls has built a nationwide network of more than 950 partner facilities in nearly every state. In just three years, the program has been so successful that Chicago-based Wilson Sporting Goods, one of the world's largest manufacturers of tennis equipment, signed on as the program's lead sponsor.
Senior is ideally suited to this bold mission, having spent more than three decades working in manufacturing, branding, national distribution and customer service. The Montréal native moved to Vermont in 1982 with a video distribution company called Selection Video, which provided videos and rental equipment to convenience stores throughout the Northeast.
After 20 years, however, Senior "saw the writing on the wall" for the future of video rental and moved on to other products. His company, Selection Unlimited, started installing cappuccino machines in convenience stores, eventually expanding to more than 1,000 locations across the U.S. and Canada and becoming a major player in the cappuccino machine market. Senior sold that business in 2018.
In 2015, Senior started researching ways to recycle spent tennis balls. France launched a tennis ball recycling program in 2009 called Opération Balle Jaune (Operation Yellow Ball). But nothing comparable existed in the United States, which is by far the world's largest tennis market.
With help from his son and cofounder, Ryan, and several of Ryan's high school friends, Senior began putting tennis ball recycling bins at Chittenden County courts. They started at the EDGE Sports & Fitness, which has 19 courts, including 14 year-round indoor courts, at three facilities in Essex and South Burlington. According to EDGE co-owner and president Mike Feitelberg, their players go through "an alarming amount of tennis balls" — about 2,000 per month at the Kennedy Drive facility alone.
"Derrick came to us early on with what I thought was a remarkably wonderful concept," Feitelberg added. "And, of course, we jumped on board with open arms."
Initially, Senior had no idea what they'd do with all of the used balls. Nevertheless, the positive feedback they received almost immediately motivated him to find a solution.
"The reaction from players was just incredible," Senior said. "They were like, 'This is great! We're so glad you're recycling.'"
In 2016, Senior and his son brought a prototype recycling bin to Chicago-area tennis facilities to solicit their feedback. With input from them, as well as tennis pros and players back in Vermont, Senior invented a now-patented cardboard recycling bin, which lets the balls go in but not fall out.
But Senior knew that it wouldn't be enough to just distribute recycling bins and expect tennis pros and fitness center employees to do the rest. Applying his experience in the national beverage industry, he developed a simple program that makes shipping the balls to Vermont virtually effortless for his partner facilities.
"People had to love what we're doing. That was a key ingredient," he explained. "If that wasn't part of the mix, we were nowhere."
RecycleBalls' green and yellow cardboard recycling bins are now the program's mainstay. When a new tennis facility signs up, RecycleBalls ships them a bundle of 10 bins, which pack flat and are easy to assemble. RecycleBalls' partners sign an agreement in which they promise to place the bins and promotional posters courtside and diligently maintain them.
Each bin holds 200 balls and weighs 26 pounds when full. When a bin reaches its capacity, someone at the facility brings it to their front desk or a local UPS facility and then immediately replaces it with a new one. Affixed to each bin is a preprinted and prepaid UPS shipping label for its return trip to Vermont, so there's no cost to the facility itself. In fact, RecycleBalls' partners can claim a tax deduction of 40 cents per ball. So if a tennis center donates 10,000 balls per year to RecycleBalls, Senior explained, that's worth $4,000.
Almost every day, a UPS truck stops at RecycleBalls' 6,000-square-foot warehouse on Kimball Avenue in South Burlington and drops off a pallet or two of recycling bins, each of which contains 24 bins, or 4,800 tennis balls. From there, the balls get dumped into a massive green processor called the Play It Green machine.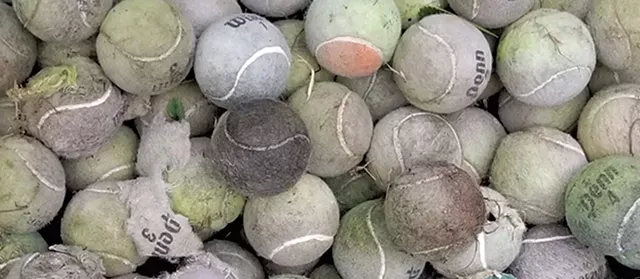 Courtesy Photo
Spent tennis balls
Recycling spent tennis balls isn't as easy as it sounds, Senior explained. Not only do they need to be shredded, but the nylon felt, or fuzz, must be separated out so it doesn't contaminate the salvaged rubber. RecycleBalls designed and built its one-of-a-kind machine with help from summer interns from Saint Michael's College, the University of Vermont and Champlain College. The noisy, high-speed processor, which includes parts from farm equipment, chews up 8,000 balls per hour and removes 99 percent of the felt. What's left is a fuzzy yellow nylon and a fine, crumb-like rubber that they call Green Gold.
Finding applications for the rubber wasn't difficult, Senior said. RecycleBalls partnered with APT Sports, the world's largest sports surface manufacturer. In October 2018, APT Sports announced that it had begun incorporating RecycleBalls' crumb rubber into its Laykold Masters tennis courts. According to the company's press release at the time, a single Laykold court contains as many as 10,000 used balls.
Though APT was willing to accept all of the rubber that RecycleBalls generates, Senior continued to look for other applications within Vermont. One company is now testing an easy-to-paint stucco product; another is making rubber bases for road signs. The rubber has other potential uses, too, including as a safety surface for children's playgrounds.
Finding an application for the nylon fuzz has presented more challenges, Senior conceded. The material has been tested in several products, including weaving it into T-shirts, though they've yet to find the right fit. It might also be useful as blown insulation or as filler for stuffed animals. (A Vermont Tenny Bear, perhaps?)
"I don't know what the solution is, but I do know we're producing a lot of it," Senior added about the nylon felt. "I'd really like to bring in high school and college students and have them help us figure this out, and keep it in Vermont."
Senior is currently searching for an executive director to help him grow the recycling program throughout North America. But his final challenge may be the hardest: making the nonprofit 100 percent financially sustainable while keeping the recycling program cost-free to its members, which he believes is essential to its long-term success.
"Each of those bins is like $80 in their pocket as a tax deduction. So recycling becomes profitable for them, and that's what's spurred our growth," Senior added. "There's no reason for these bins to not be in every [tennis] facility in the country."
With more than 10,000 tennis centers in the U.S. alone, Senior still has a long way to go before he can declare game, set and match. But the Vermont nonprofit has garnered national attention: Earlier this year RecycleBalls was named a finalist for a 2019 Halo Award, North America's highest honor for social and environmental corporate initiatives.
"Vermont is solving a national problem right now," he added. "That's what drives me, to inspire people to change their habits."