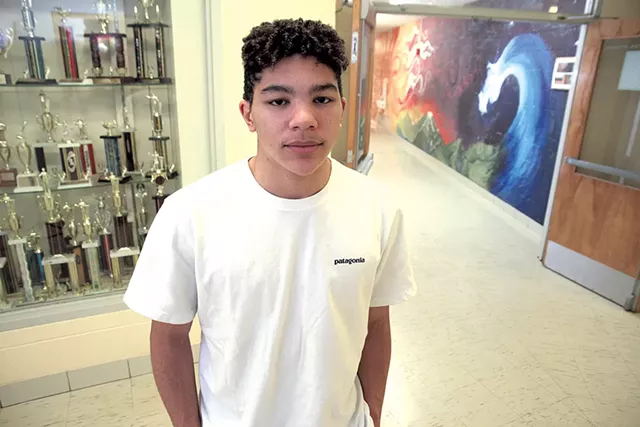 Matthew Thorsen
Isaiah Hines
Isaiah Hines was sipping an iced latte and talking with a reporter last week at Starbucks in South Burlington when a middle-aged woman approached the table.
Cindy Shuman leaned in, looked at Hines and said with sincerity: "I want to thank you for everything you've done."
Shuman, a South Burlington parent, isn't the only stranger to rain praise on Hines lately. The teenager said he hasn't been able to visit the local grocery store or walk downtown without someone paying him a compliment.
So it is now for the 18-year-old, who has barely put away his sky-blue graduation cap and gown but is already a recognizable racial justice leader. Hines, who identifies as African American, spent much of his senior year leading a successful campaign to drop the Rebels name at South Burlington High School on grounds that the term is a direct reference to the Confederacy.
His efforts precipitated a frank and at times frightening public conversation about race in Chittenden County.
For every Shuman, there's a South Burlington resident who would say Hines failed to understand the true spirit of the Rebels as a nickname and bears responsibility for dividing the community. Earlier this month, Hines testified in court against one of those detractors — a white South Burlington dad accused of stalking him in person and online, where much of the nastiness played out.
Through it all, the well-mannered young man has kept it together, according to his friends, family and teachers, displaying maturity and wisdom beyond his years.
"He couldn't not speak up," his mother, Khrishna Hines, explained in a telephone interview. "He felt compelled."
Isaiah Hines has freckles, a boyish smile and quiet determination. He packed plenty into his high school career, spending time volunteering at the Peace & Justice Center in Burlington, working various part-time jobs and putting in lots of late-night study sessions — all of which helped him gain early admission to Columbia University.
Getting into the Ivy League school "was an amazing feeling," Hines said.
He has received awards and recognition for his efforts in the Rebels debate — including an enthusiastic round of applause June 21 when he spoke as part of an anti-racism panel at Fletcher Free Library in Burlington.
In his speech, Hines talked about the Rebels name change and how he convinced the school board to see the matter as he did. But that effort, which he views as a victory, took a toll — on Hines and the larger community. In April, his name appeared on a death list that shut down the school — and terrified South Burlington. A fellow classmate, Josiah Leach, an African American whom Hines said he knew only in passing, has pleaded not guilty to a federal crime related to that incident.
Hines also endured a more recent, targeted threat. Ten days before graduation, his name appeared in a single sentence found spray-painted on an athletic field at South Burlington High School. Police described the message as a "racial slur" and declined to reveal more. But Hines and his mother said it read: "Isaiah Hines is a dumb nigger."
Hines told Seven Days the graffiti incident really rattled him. Support from family and people at school had helped him stay strong throughout the year, but this was a personal attack. He doesn't know who did it, but, "Obviously, it's someone who doesn't like me very much," Hines said.
Khrishna was not so diplomatic. "I was horrified. Horrified. When the school called me to tell me what was written, I was in tears," she said.
Khrishna believes her son is a stronger person after what he experienced this school year. The former Hines, who cared very much about what people thought of him, she said, has been replaced by a young man willing to step into the spotlight and open himself to criticism to do what he believes is right.
The third of four boys, Hines "was always a very quiet child," according to his mom. She and his dad divorced, but both still live in the area: Khrishna works at Toys"R"Us in Williston; her ex, who lives in Colchester, is a municipal employee at the Burlington Department of Public Works.
There were plenty of Rebels sports jerseys in the townhouse off Spear Street where Hines lives with his mom. Hines attended South Burlington schools starting in kindergarten. Older brother Kareem, 23, a social worker in Boston, played football all four years at South Burlington High School. Malik, 21, was a multi-sport athlete who now plays lacrosse at Castleton University. Younger brother Elijah, 16, will be a junior at SBHS this fall.
Isaiah ran cross-country, indoor track and outdoor track — and, for years, he wore the Rebels jersey without hesitation. He wasn't initially aware that the nickname, adopted shortly after the school was built and opened in the early 1960s, had anything to do with the Civil War. For decades, the school's Captain Rebel mascot marched out at halftime to the tune of "Dixie," and cheerleaders and fans displayed the Confederate flag.
As Hines learned about the history, he became concerned and more interested in racial justice. His family discussed the topic, and the kids knew discrimination existed, but Hines said he'd never experienced it in South Burlington — until this year.
Khrishna grew up in New York City in a mixed-race family. Her mother is white, and her father is black, which she said made people want to "box" her into one category or the other.
"I consider myself both," Khrishna said, noting, "Most people would just look at me and say, 'You're black.'"
She moved to the Green Mountain State to attend the University of Vermont in 1989, met her husband — a fellow New Yorker who is black — and decided to make her home here.
Like her son, she had no initial problem with the Rebels nickname.
But public discomfort with the Confederate symbols prompted the school board to ban the flag and Captain Rebel about 15 years ago. The board kept the Rebels name.
Concerns flared up again in 2015 — but the school board voted to keep the name and start "rebranding." Initially, Hines supported the decision, and so did many of his friends.
After joining the school board as a student representative, Hines noticed that the rebranding wasn't progressing. At a meeting in the fall of 2016, he asked why. He told his fellow board members that their inaction made him and other students of color feel "invisible."
His lobbying helped convince the school board to drop the name. "It felt like a victory. It was definitely a joyful moment," Hines said.
The good feeling didn't last long. Supporters of the name quickly rallied against the change — that night, two out-of-state alumni created the Rebel Alliance Facebook page, which grew to more than 2,000 members.
The reaction stunned Hines.
"I never, ever would have expected the ... community backlash," he said.
Why the intensity? The Rebels conversation was "one of the first times" many community members had "to engage critically with race and racism," Hines said of the city of 19,000.
People debated the issue at school, Hines said, but the conversation there was much more measured than the high-voltage rhetoric circulating among adults, especially online.
"Being forced to engage with it, against your will, is like a really emotional thing, and people will fight it," Hines said.
Andrew Samara, a South Burlington High School social studies teacher and adviser to the Student Diversity Union, credits Hines with starting a debate that's been divisive — but important.
"More people have been exposed to discussion about racial tension, and I really think that's a good thing and a necessary thing, and people are finding their way," Samara said.
It was in Samara's AP psychology class that Hines gave a presentation on the concept of "white fragility," which posits that Caucasians get defensive when talking about racism because they have the luxury of being race-oblivious in a dominantly white culture.
The talk didn't generate friction in the class, Samara recalled. But a picture on Facebook that showed Hines lecturing on the topic certainly got people riled. Specifically, the image captured a smiling Hines standing next to a PowerPoint screen bearing the words "White People Are Fragile" in big letters.
Members of the Rebel Alliance saw the shot and re-posted it, calling Hines a hypocrite for endorsing a concept they saw as a form of racial stereotyping itself.
Hines said he wanted to respond directly on the page — but he'd been blocked by Rebel Alliance cofounder Kiya Batmanglidj earlier this year. Instead, he posted a lengthy explanation on his own Facebook page, which went viral. It has attracted 7,462 comments so far — and counting.
Batmanglidj said he banned Hines because his remarks, while never profane, generated constant side debates that distracted from the real issues.
"Finally I just said, 'This is it. This is getting to be too disruptive,'" he said, adding that the Alliance's primary mission was to "overturn the school board's decision."
There are still signs of dissent — some seniors at graduation painted their caps with the words "Always a Rebel." But the same senior class voted Hines "most unforgettable." And the remaining South Burlington students have picked a new school nickname: the Wolves.
Hines is eager to study in New York City, which he knows well from frequent visits to see relatives; he loves its bustle and diversity. He hopes to become a lawyer one day to continue his social justice work.
Alesia Clear, a South Burlington mother of three, spoke for Shuman and many others when she read a statement at a recent school board meeting that praised Hines for his efforts. "We just wanted to thank him for making our community better," she said. "He's leaving us better than he found us."