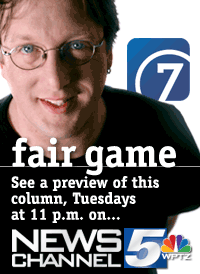 The upcoming legislative session is likely to see a return of the same old problems that have befuddled lawmakers for years: How to spur job creation, plan for the state's energy future, reduce health care costs and balance the budget.
Ho-hum, right?
Not so fast. Add to the traditional policy stew these spices: five Democrats running for governor, with three of them — Senate President Pro Tem Peter Shumlin (D-Windham), Sen. Susan Bartlett (D-Lamoille) and Sen. Doug Racine (D-Chittenden) — in key leadership posts. Bartlett is chair of the Appropriations Committee, and Racine heads up the Health and Welfare Committee.
The other two Dems in the race are Secretary of State Deb Markowitz and former Sen. Matt Dunne.
Then there's the possibility of a two- or three-way Republican gubernatorial primary. Lt. Gov. Brian Dubie, the Republican who presides over the Senate, is already running for guv. After the new year, businessman and former Slovakian Ambassador Rodolphe "Skip" Vallee will decide whether he will jump in the race, too, as will former legislative leader Michael Bernhardt.
Another group of lawmakers has designs on the lieutenant governor job: Republican Sen. Phil Scott has already announced, while his colleague Vince Illuzzi is still weighing his options. Democratic Sens. Virginia "Ginny" Lyons and Ed Flanagan, and Reps. David Zuckerman (P-Burlington) and Steve Howard (D-Rutland) are all interested in the LG job.
I'll be watching to see if — and how — Gov. Jim Douglas plays a role in the Democratic gubernatorial primary. Already he's taken a few shots at Shumlin, related to a pending vote on relicensing Vermont Yankee. Will he take time to poke other gubernatorial Dems during one of his frequent broadsides against their legislative "super majority"?
Alternately, will he share the spotlight with Dubie during policy pronouncements or budget talks? Dubie tends to shy away from open-ended press conferences, but he will have to step it up to win the big office.
In short: This session could prove to be interesting — or nauseating.
Stay tuned.
Older and Wiser?
As they return to Montpelier, lawmakers know it'll be hard to top last year's drama. The first half of the two-year term was marked by a couple of historic veto overrides by the Democratic-led House and Senate: One legalized same-sex marriage; the other put in place a budget that rejected many of the governor's proposals.
Will those vetoes affect budget negotiations this year? House Speaker Shap Smith is hopeful they won't.
"We're all a year wiser," notes Smith, "and we've been making a diligent effort to bring members of the legislature and administration together to talk early about what we're going to do about the budget challenges."
Those challenges are huge, to say the least: a $150 million deficit for FY 2011 and equally large deficits pending for FYs 2012 and 2013. Add to that concerns about school spending, an imploding unemployment fund and an underfunded public retirement system.
And people wonder why Gov. Douglas decided not to run for reelection.
"The major focus will be the budget and, of course, doing what we can to help employers create jobs," said Neale Lunderville, the governor's administration secretary, when asked about the administration's priorities for the session.
Smith agrees, adding that he believes budget talks will be more focused this year.
"I think there's not a lot of low-hanging fruit left when it comes to cutting the budget," said Smith. "There is going to need to be a significant rethink in some areas of government."
The legislature has been working with a private firm, Public Strategies Group, to find ways to deliver state services more effectively with less money. The governor plans to unveil similar savings ideas developed by so-called "Tiger Teams" he dispatched earlier this year throughout state government.
The first report, on mental health services, called for various state-funded nonprofits that deliver care to merge operations to cut payroll costs and eliminate redundancies. It also proposed reductions in the pay of top-tier managers.
No word if Douglas will suggest more state layoffs. A proposed contract settlement with the Vermont State Employees Association that includes a two-year, 3 percent pay cut and wage freeze does not preclude the Douglas administration further trimming the workforce to balance the budget.
Neither Smith nor Shumlin believes the state can afford to cut more positions in the coming year. State government has shed more than 800 jobs in the past 24 months.
"We're at the point now where we're sacrificing Vermonters' safety, health and welfare," said Shumlin. He hopes to wring savings from more than $300 million the state pays out to private contractors.
Other hot topics likely to be taken up this session include but are no means limited to:
• Vermont Yankee relicensure: The administration wants the legislature to decide the fate of Vermont's sole nuclear power plant this session, but lawmakers have been saying — for years — they cannot vote until they know at what price VY will be selling power to Vermont utilities. On December 18, VY said that price would be 6.1 cents per kilowatt hour, up from the current 4.2 cents per kwh, a price that's not likely to win over skeptics, as it's based on Vermont utilities buying only 115 megawatts of power, half of what utilities currently buy from VY.
• Education spending: The governor is likely to reintroduce the idea of capping local education spending to slow down the pace of school budget increases.
• Moving up the 2010 primary date: Democrats want to move the primary from mid-September to late August to comply with a federal law aimed at ensuring soldiers overseas have time to cast ballots for the November election. But the real reason, according to the governor, is that it would give Democrats time to get their candidate ready — read: funded — for the general election after an expensive, exhaustive primary.
Other bills that could gain some attention include health care reform and limits on texting and cellphone use while driving. Lawmakers also may take on the use of all-terrain vehicles on state lands and "permit reform."
One area where the governor and the legislature appear to be on the same page is how to spend some of the discretionary funds associated with the federal stimulus money. Last year, the legislature used about $175 million to balance the books. This year, it'll be about $100 million.
Most of the money can only be spent on items such as health care, education and transportation. Roughly $10 million is "flexible."
Both the governor and top lawmakers want to use that cash to help dairy farmers, as well as businesses harmed by the closure of the Champlain Bridge. They also hope to spend money on job retraining programs and to provide start-up and low-cost capital to small businesses.
"The biggest focus on the session is going to be what imaginative things can we put in place to grow and prosper as a state," said Shumlin.
Maybe.
I'm still thinking the real focus, whether they admit it or not, is November 2010.
Static Situation
It's easy to poke fun at Burlington Telecom and its precarious financial position, but the telecom company isn't alone in relying on public funding.
Critics like to point out that Burlington Telecom shouldn't have to borrow money from the taxpayers in Burlington in order to be viable. Succeed like a private company, which has to live or die according to the market. Right? Wrong.
Just look at some of the other successful, small telecom firms, including ValleyNet, Vermont Telephone, and Waitsfield and Champlain Valley Telecom.
ValleyNet expects to land $65 million in federal stimulus money to help finance its network roll out. V-Tel also received federal stimulus money to expand its services. And, like WCVT, V-Tel and other rural phone carriers receive an annual federal subsidy to provide phone and Internet services to their customers.
So that's how the "free" market works.
Nationally, expanding basic broadband — which is far slower than what Burlington Telecom has to offer in the way of fiber to the home — will require federal subsidies.
In September, the Federal Communications Commission said the feds may need to underwrite broadband expansion to the tune of $20 billion. The stimulus bill set aside $7.2 billion.
Loaning $17 million to Burlington Telecom seems like chump change. Well, almost.
On that front, BT's future will likely be decided by Valentine's Day. By then the city council will have either signed a deal to refinance $50 million of debt and fund the remaining build out in the Queen City, or pulled the plug on the fledgling utility. It's also when the next $370,000 interest payment is due.
Chris Burns, Burlington Telecom's general manager, said BT will do its best to live within whatever constraints are imposed either by the council, the state or new financing.
"I don't have a horse in the race when it comes to how they get the financing," Burns said of the council. "I think what the administration and the council are coming to grips with is that BT is a very capital-intensive business. Whether private or public, telecoms are always looking at refinancing, because you carry a lot of debt at the start."
Despite its very public problems, BT has a 30 percent market share, Burns notes.
"Pound per pound," says the GM, "we're doing extremely well when you compare us against our competitors."
Good Tidings
A quick note to readers as we end one year and begin another: Thanks for all the feedback, and keep it coming, as it promises to be an exciting political year in Vermont.
Got a news tip? Email Shay at shay@sevendaysvt.com