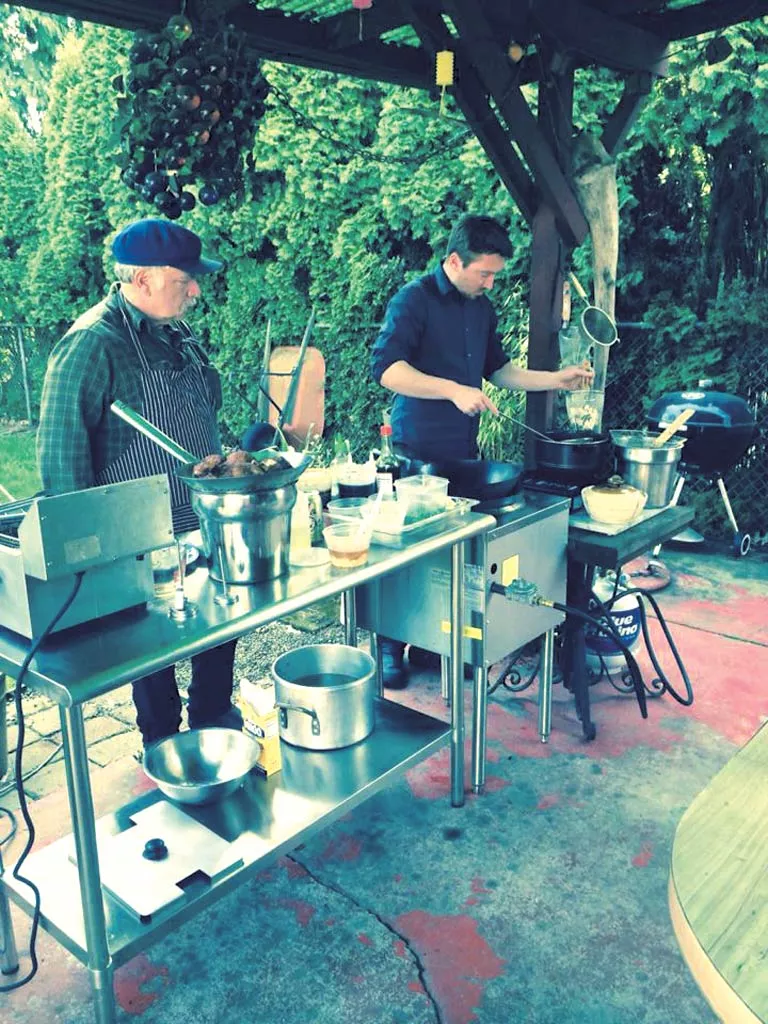 Courtesy Of Btu Brasserie
Steve and Chris Bogart
The United States' first Chinese brewpub opens on July 18. The bad news: It's in Portland, Ore. The good news: Tuesday night will always be Vermonter Night.
That's because BTU Brasserie is owned by Vermonters, a growing population in the West Coast's Burlington equivalent. The people behind the new restaurant — which Eater National named one of its most anticipated openings of the summer — are head brewer Nate Yovu and chef Chris Bogart. Sound familiar? Bogart's father, Steve, is a consultant and investor on the project.
Bogart Sr., the founding chef-owner of Burlington's A Single Pebble, retired in 2009. He shared his recipes with his son for BTU Brasserie, he says just before flying to the Portland kitchen where he'll help Chris get started.
Bogart Jr.'s sous-chef is Dusty Berard, who worked at A Single Pebble for eight years before joining Ming Tsai at his Blue Ginger and Blue Dragon in Boston.
"The menu is Chinese tapas, not really dim sum, just because the labor issue of dim sum is enormous. I think it's really going to be totally unique," Steve Bogart says.
And the Vermont expat night? "They're going to have beer specials, and I'm gonna ship them out maple and Cabot cheese," says Bogart. "The everyday cheese out there is awful."
Portland isn't the only place where Bogart Sr. is leaving his mark. Next month, he'll head down to Brooklyn to help his former sous-chef, Josh Grinker, open Lucky River. Grinker, who also owns Stone Park Café, has long hoped to cook the Single Pebble recipes again, Bogart says.
The restaurant, due to open September 1, will also serve as a launching pad for a new business bringing Bogart's sauce recipes to the masses: Lucky River Soyworks. Grinker and business partner Tracy Young have contracted with a firm in China to produce the sauces and are planning a national release.
Among the first items to hit shelves will be Bogart's kung po sauce. "That's like the mother sauce," he says. "I developed that by stealing everyone else's KP recipes as much as I could and formulated this one." Bogart says the line will eventually include red-oil dumpling sauce, Copper Well noodle sauce, a sesame sauce and more.
Soon lovers of A Single Pebble will have many ways to eat Bogart's food, in and out of Vermont. Not bad for a retiree.
The original print version of this article was headlined "Bogart's Back"