Kirk Kardashian
From left: Simi Johnston, Theo Korhonen, Elley Jane Kaur, Charan Kaur, Arjan van der Schoot and Joe Boisvert
The village of South Woodstock consists of an inn, a general store and a post office. Other than the state highway, which runs through the center of town, most of the roads are unpaved, climbing steeply from the valley into the surrounding hills. A few people live near the village center, but most residents — 457 at the 2000 census — have to travel downhill to get their mail, their milk and their daily dose of human contact. There is no cellphone reception. Horses outnumber year-round residents.
To the casual passerby, South Woodstock might seem trapped in history, more 19th-century diorama than actual town. In fact, it's not an actual town; it's an unincorporated hamlet of Woodstock, whose picturesque village center is often clogged with tour buses and Range Rovers with out-of-state plates during foliage season. Some of those visitors occasionally end up in South Woodstock, especially if they're horse people or moneyed second-home owners, who make up the only growing segment of the area's population. But, for the most part, the five-mile stretch of Route 106 between Woodstock and South Woodstock might as well be a time warp.
One day in the spring of 2017, a real estate developer named Pritam Singh, who owns a 280-acre hilltop estate two miles outside the hamlet, walked into the South Woodstock Country Store and offered to buy it. The owners, an older couple who had been running the business since 2015, weren't looking to sell, but Singh's bid was too attractive to turn down. At the end of July, he closed the deal for $488,000 and turned the keys over to his daughter, Simran Johnston, who had just moved back to South Woodstock after running an art gallery in Brooklyn for three years.
Singh, 65, who has developed successful hotels and resort communities in the Florida Keys, had bigger ambitions: He aimed to put South Woodstock on the map, not just as a tourist destination but as a place where people — specifically young people — want to live. So he started eyeing the Kedron Valley Inn, a Federal-style brick building with 25 guest rooms and a tavern, next door to the country store. By November 2017, it was his, for an unsolicited bid of $1.5 million.
Since then, Singh and his wife, Ann Johnston, have acquired nearly a dozen properties in the village, including a 95-acre tract of open land, an 86-acre farm, a 75-acre estate that was formerly a photography school, and a slew of other parcels. These purchases total approximately 285 acres and $10.7 million in real estate transactions. One of the Woodstock town listers joked that she made a hand-colored map to keep track of all the Singh holdings.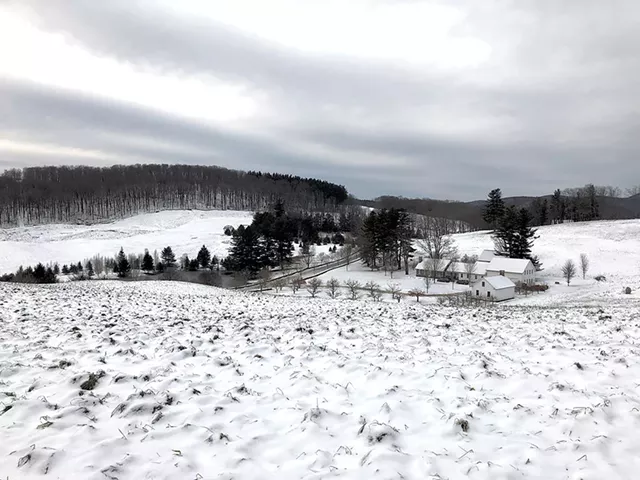 Kirk Kardashian
Residence on the Singh property
That kind of spree might be business as usual for someone who's developed close to $3 billion in hotel, residential and commercial property over his career. But in a place like South Woodstock, where some families go back eight generations, an investment of this magnitude has far-reaching implications.
"What Pritam saw — and what I don't think a lot of people recognized — is that, as a community, we were dying," said Laura Spittle, who owns a tack and clothing store up the road from the village center.
"There was a pile of properties here that were kind of languishing," she continued. "They'd been on the market a long time, and people weren't buying them because they were expensive, and there's no way to make a living here. With so few people here year-round, we didn't really have enough people to keep the fire department going. We didn't have enough people to keep the post office occupied, or the store, or the inn."
According to Singh, his acquisitions don't represent a grand scheme so much as a reaction to an opportunity: a chance to revitalize a community that he and his family have called home for more than three decades.
"Why here? Why now? Because we live here, and we've been here for 35 years," said Singh one afternoon in early September, settling into a dark-blue velvet armchair in the lounge area of the Kedron Valley Inn. The inn and tavern, closed since November 2017 for a $2.5 million renovation, was just two weeks from reopening. In the next room, his granddaughter was having her seventh birthday party.
"Why these properties in particular?" Singh continued. "We've been coming to these places — coming to eat here at the inn, going to the country store — for 35 years. And this place" — he gestured around the redesigned lobby, with its clean white walls and rustic-chic décor, selected by Johnston — "had been through three bankruptcies, basically. So it was fading as a functional business. The store, same thing. Somebody bought it from out of town who had no idea what it took to run it, and it was failing."
All over rural Vermont, towns like South Woodstock are struggling to stay afloat as their populations dwindle and chains siphon business from locally owned shops. In Barnard, a community fundraising campaign saved the general store from going under in 2013; in Brownsville, a coalition of residents purchased the former general store, which shuttered in 2017, and leased it to a young couple, who are transforming it into a café and gourmet market.
But these grassroots revivals are only stopgap measures. The larger picture remains bleak for many of the state's small farming towns, whose economies have stagnated in the no-man's-land between agriculture and tourism. In places like South Woodstock, bucolic splendor has become the primary commodity. With no infrastructure to support businesses, a shrinking number of year-round residents, and median home prices hovering near half a million dollars, the only people who can afford to buy in South Woodstock are the ones who don't make a living there.
The biggest boom in the region, according to Woodstock town lister Paul Wildasin, is in second-home construction: Since 2008, the total number of year-round residences has shrunk from 890 to 801, while the number of non-primary homes has climbed from 624 to 741.
Into that vacuum step people such as Singh — those with the resources to sustain, for instance, a general store, the ultimate financial sinkhole in a town with fewer than 500 residents.
Avocado toast and CBD salve
Kirk Kardashian
Simi Johnston and Charan Kaur
When it comes to revitalizing an entire village, private wealth has a distinct advantage. Singh, who's no stranger to risk, said that profit is beside the point. His family's goal is to preserve South Woodstock's historic character while creating something sustainable in the long term.
And the revolution — or evolution, as they prefer to call it — has begun with the Singh-Johnston clan. Johnston, a designer, has taken the lead on revamping the inn; Simran — who goes by Simi — and her older sister, Charan Kaur, are running the country store; their brother, Noah Singh, who spent the last six years in Florida helping his father in the hotel business, has been closely involved in the inn management. But in this family, in which everyone seems to share everything from pets to vehicles with seeming indifference to the concept of individual property, those roles don't have clearly defined boundaries.
"Our basic attitude is that everybody in the family is right, and if somebody has a strong sense of what should be, they're empowered," Pritam Singh said. "It's almost a competition."
Though Singh is the one purchasing the properties, he's turned over most of the planning and day-to-day decision making to his children — especially Simi, 28, a ceramic artist, who wants to see the village become a hub for creativity and organic farming.
Simi was born in South Woodstock and, along with her brother, attended the Sharon Academy. She said she made the decision to return home long before her father talked about purchasing the inn and store.
"In New York, I had a really awesome job as an artist's assistant, and I was running a gallery, which was a very organic, DIY kind of thing," she explained. "But at some point, my partner and I started to feel like it was important to have a little bit more space, a little higher quality of life, and be closer to my family. And here in South Woodstock, I really felt like I could do what I wanted to do, which is community organize and make my own work."
Simi, sitting across from her dad that afternoon at the inn, shared the couch with her mom and their communal dog, Blanquita, a tiny, fuzzy white creature that Simi acquired from her Brooklyn neighbors in exchange for giving one of their daughters a ride to prom. With her windswept-looking brown hair, red Dansko clogs and long skirt, Simi gave off the aura of a cool middle-school pottery teacher.
For a long time, she admitted, it was hard for her to imagine that she could be an artist outside of New York City. "Now, I've realized that it doesn't all have to be centered around these highbrow, intellectually heavy-hitting Chelsea galleries," she said. "I think you can have those things in a rural context, too. You just have to work a little bit harder and make your own fun."
Part of Simi's vision is creating an idyllic, Brook Farm-ish scenario, where artists can pick organic vegetables in exchange for room, board and workspace. So far, she's hosted two groups of artists-in-residence: a couple of young photographers from Los Angeles and a brother-sister duo from the Upper Valley. Simi has organized shows for them in a small red house, which she had rezoned for gallery space, next to the country store.
One of the family's properties, a house and two outbuildings a mile north of the inn, is slated to be converted into studio space, which Simi hopes will attract more creative types. The unspoken target audience is people like her — affluent urbanites who crave a return to the pastoral, minus the anxiety of actually having to farm.
That millennial back-to-the-land migration has been going on in the Berkshires and Hudson Valley for years, and Vermont has attracted similar waves of homesteading, art-making youth at various points in the last half century, particularly in the '60s and '70s. But in South Woodstock, it's unclear how young people, other than the independently wealthy, can afford to stick around.
Simi has made a provisional attempt to mitigate the financial hardship by offering space in her own house for residents. Eventually, she hopes to turn some of the recently acquired residential properties into housing for newcomers, though she hasn't yet worked out what those units might cost. But Simi doesn't want artists-in-residence to hole up in their apartments.
"The requirement is that you have to engage with the community, whether that's teaching a class, selling your stuff at the country store, having an opening or teaching a seminar," she said. "You can't just buckle down and not interact with anyone."
Her family isn't the first to employ this particular model of economic defibrillation. In Reading, just a few minutes' drive from South Woodstock, the Hall family — whose foundation holds more than $35 million in assets — converted four historic farm buildings into a public gallery to showcase their vast contemporary art collection.
In South Pomfret, philanthropist Kathleen Dolan, the founder and executive director of ArtisTree Community Arts Center, transformed a three-story barn and farmhouse into a gallery and performance space. Last January, she also bought the general store, prompting some locals to coin the nickname "Dolanville."
Across the country, developers, entrepreneurs and disillusioned city dwellers with disposable income are transforming dying towns into hipster-inflected versions of their former selves, a phenomenon documented earlier this month in the New York Times. The towns may be different, but the formula is generally the same — an art gallery here, an organic farm there, and maybe a wine bar or brewery.
In trying to salvage what's already there, Singh and his family are following a well-worn path.
They haven't yet worked out all the details of their long-term vision, but they've been laying the groundwork. Earlier this fall, the Woodstock selectboard green-lighted the family's proposal to turn the schoolhouse across from the inn into a space for lectures, exhibits, yoga retreats and private events. And at some point down the road, Simi said, they might turn the 86-acre Kedron Valley Farm into an organic CSA.
Other changes have been more immediate: At the country store, you can no longer buy cigarettes, but you can find hand-churned, locally produced CBD salve. Avocado toast is on the breakfast menu. Slowly but surely, the 21st century is seeping into South Woodstock.
"There are some things that we know we can't change, especially with the country store," said Simi. "People love the grilled cheese, so we're going to keep it on the menu. And hamburgers. I was raised vegetarian, my parents are vegetarian, but that's what people want for lunch." She noted that moving the checkout counter caused a mild hullabaloo, but otherwise, her customers have been open to change.
"People are really receptive when you explain why something is the way it is, like why their milk costs more," she said.
Ask South Woodstock residents what they think of these recent developments, and they're likely to point out that the family is giving the village a much-needed infusion of cash — and a sense of forward momentum it hasn't experienced in decades. But those people also have a stake in the outcome. If things don't go according to Singh's still-nebulous plan, locals might be left in limbo — if an aesthetically pleasing, rustic-chic one.
It's an odd symbiosis: Singh needs the locals to create a sense of a thriving, peopled town; the locals need him to sustain the amorphous sense of place that holds a community together.
South Woodstock, like so many other rural Vermont towns, needs to evolve in order to survive. But what happens when just one family — with the least to lose — is at the vanguard of the movement?
'Something extraordinary'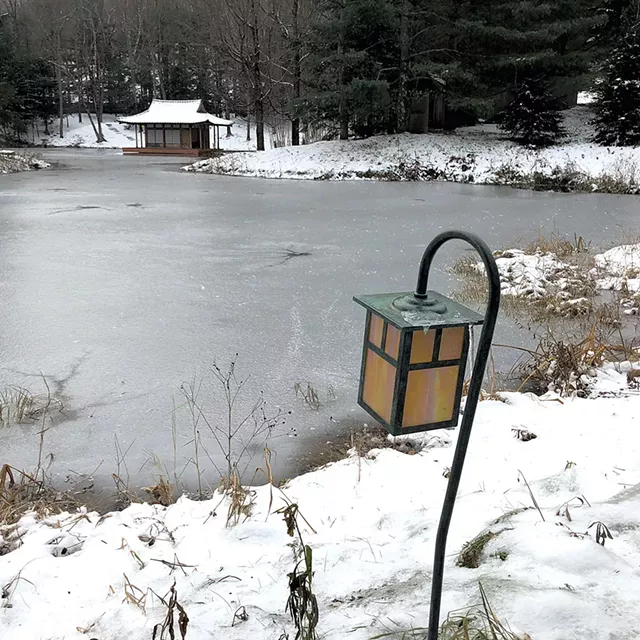 Kirk Kardashian
Pond and teahouse on the Singh property
Singh is a self-made man, that quintessential American phenomenon. His ascent to prosperity has been so archetypal, so Horatio Alger-esque, that it's made him a media magnet: Over the years, he's been profiled by TIME, the Boston Globe and countless other publications, all of which have chronicled his seemingly improbable success.
Singh was born Paul LaBombard Jr. in Fitchburg, Mass., the son of an enlisted Navy officer and a factory worker. By all accounts, his childhood was supremely unhappy, set against the Dickensian backdrop of a poor manufacturing town. He and his three brothers spent periods of time in foster care while his father was away on duty.
The LaBombards moved around, following Paul Sr.'s assignments — first to Seattle, then to Brunswick, Maine. At 17, Paul turned down a scholarship to Bowdoin College to drift around the country, joining left-wing movements and dabbling in the alternative lifestyles of the early '70s. He landed in Key West, Fla., then in Tallahassee, where he found work in construction.
But Paul was never one to sit still for long. He eventually made his way to Washington, D.C., where, he said, he was arrested for participating in anti-Vietnam War demonstrations. After spending five days in jail, he embarked on a spiritual quest that led him to a Sikh ashram near Amherst, Mass. There, he adopted the Sikh religion, changed his name to Pritam Singh and married his first wife, Kaitlin Briggs, who came from a wealthy Connecticut family.
After he left the ashram in 1976, Singh and Briggs moved to Portland, Maine. A few years later, he bought a burned-out structure downtown for $7,500 and converted it into condos, which led to his first big break as a developer.
As Singh tells it, the cheap brick of the building absorbed moisture, and the owner of one unit, a man named James Connors, complained about dampness. Singh said he tried numerous solutions that didn't work. Finally, he sealed the entire brick wall with stucco. When he finished, Connors invited him over for a drink.
"He said he was impressed with my integrity, and then he asked if I knew what he did for a living. I told him I had no idea. He told me that he was the manager of the company that runs the computers and machines that operate the New York and American Stock Exchanges," Singh recalled. "And then he told me he'd like to introduce me to some people who were looking for somebody to invest money with."
Not long afterward, Singh, a turban-wearing ex-hippie with no college diploma, found himself in the boardroom of Bear Stearns, accepting a $50 million investment offer from the bigwigs behind some of America's most powerful financial institutions.
"It was an outrageous stroke of luck," he said. "Like, really? I'm 29 years old, wearing a turban, sitting with the masters of the universe."
Over the next 18 months, Singh scouted $50 million worth of properties in Massachusetts and California. From that first investment deal, he said, he made $100,000.
Peter Rysman, a close friend of Singh's who was his lawyer at the time, said he had no recollection of Singh talking about such a meeting but added that Singh makes an impression.
"He is an incredibly persuasive individual, and he's charismatic," Rysman said. "He can attract the attention of an entire room before he's even through the doorway. He has this stunning ability to analyze things and express them clearly, and people respond to that. A kid who came from a nothing family and could be where he is today has to have something extraordinary."
Over the next few years, Singh built a multimillion-dollar real estate empire in Portland, turning around one successful development after another. His net worth skyrocketed: In 1986, the Boston Globe reported that Singh's income jumped from $30,000 in 1982 to $1,024,000 in 1983. As his success grew, he became the target of outlandish rumors and conspiracy theories alleging that he was involved in all manner of shadiness, from drug trafficking and money laundering to gun running for a Sikh rebellion in India. Singh dismissed all the scuttlebutt. (When asked in a recent phone interview about the rumors, he hung up.)
In 1983, flush with his earnings, Singh bought himself a hilltop retreat in South Woodstock. Then, in 1986, he saw a story in the New York Times about a public auction for the Truman Annex, a waterfront property in Key West that had once been a naval station and President Harry Truman's summer White House. On a whim, Singh bought it for $17.25 million. The national media went nuts: Who was this white guy in a turban who drove a black Mercedes and flew around in a private jet? People wondered how he could be a "real" Sikh — the underlying assumption being that wealth is incompatible with spiritual authenticity.
After he bought the Annex, Singh told a Globe reporter: "There's this automatic assumption that comes from the Judeo-Christian tradition that spirituality and poverty go hand in hand. For me, as a Sikh, everything is different. We say everything is connected. We say we should be involved in everything."
Over the next decade, Singh turned the 43-acre property into a $200 million development, with a hotel, luxury condos, retail shops and 425 single-family units. (By the early '90s, he had also divorced Briggs, married Johnston, whom he met in Key West, and added Buddhism to his slate of spiritual affinities.)
To date, Singh's real estate portfolio includes the $118 million Key West Golf Club, the $100 million Parrot Key Resort and a few other major projects in the Keys, most of which follow the template of the Truman Annex — waterfront hotels, luxury units, conch-style houses.
But his financial picture hasn't always been rosy. In 1990, the financial institution that put up the majority of the funding for the Annex project, Long-Term Credit Bank of Japan, pulled its $90 million loan, according to a 2008 profile of Singh in Key West Magazine. Singh, who had personally guaranteed the entire project, was on the hook for $150 million. As collateral, he had literally bet his South Woodstock farm, and he lost it. He borrowed money from banks and friends and eventually got the farm back. (By 2008, it was resplendent enough to be featured in the real estate section of the New York Times — a 280-acre retreat, valued at $6.4 million, complete with a temple, a Japanese Zen garden and a Stonehenge-like monument.)
Then, in 1995, Singh agreed to pay $1.2 million in restitution for a litany of alleged infractions connected to a loan from Union Federal Bank of California, which had also been a player in the Annex project. The signed consent agreement between the U.S. Department of the Treasury's Office of Thrift Supervision and Singh cites improper land-flip transactions in New England, California and Key West that inflated profitability, purportedly benefitting Singh and former Union Federal officers; Singh's use of millions of dollars of construction loan funds for unintended purposes; improper commingling of loan funds with personal funds; and masking losses, among other grievances. According to the document, Singh paid the penalty and admitted no wrongdoing. He refused to comment on the settlement for this story.
In 1998, one of his development companies, Village at Hawks Cay, purchased a 180-acre parcel on a Hartland hilltop for $1 million. Less than a year later, Hawks Cay transferred the property to the Unified Buddhist Church, a group of Thich Nhat Hanh followers from the Vietnamese Zen master's Plum Village teaching center in France. What began as a quiet community of 25 nuns quickly snowballed into a plan to develop a monastery and retreat center large enough to accommodate up to 500 guests for special events.
When the Unified Buddhist Church sought a permit for a high-volume septic system, it met enormous backlash from a local opposition group, which called itself the Lulls Brook Watershed Association — named for the stream that, members claimed, would be adversely affected by runoff from the system.
After a lengthy kerfuffle, state regulators approved the church's petition for an Act 250 permit, which would allow them to construct 15,000 square feet of dormitory space for visitors and a 9,500-gallon septic tank — considerably smaller than their initial request for a 15,000-gallon tank. But opponents still argued that the proposal was out of scale with the church's professed usage plan — if, for most of the year, there would only be about 25 occupants on the hill, was it really necessary to construct a treatment system capable of accommodating hundreds of people? The Lulls Brook Association appealed the permit in court.
"There was some concern about what they were really up to," said Hartland Selectboard chair Gordon Richardson, who was also board chair at the time of the permit controversy. "I think a lot of people just didn't like the idea of these nuns moving into town," he added. "They dressed differently. They walked slowly. People didn't understand them, and they reacted irrationally, in my opinion."
The sewage debate smoldered for seven years. In the end, the Unified Buddhist Church backed down and moved to the Catskills.
How much Singh actually had to do with the proposed expansion is unclear. He has a long-standing relationship with Thich Nhat Hanh; Singh has edited several of his books and hosted him in South Woodstock. Singh's name appears only once in the one-inch stack of monastery-related documents in Hartland Town Hall. As an authorized agent of the Unified Buddhist Church, he signed the property over to Vermont Telephone Company president Michel Guité, who bought it in 2008 for $2 million.
Medici-style patronage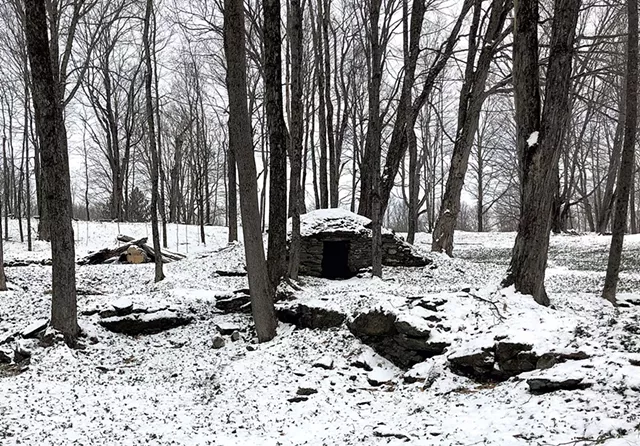 Kirk Kardashian
Stone structure on the property
"I don't think Pritam is capable of slowing down," said Peter Rysman, Singh's longtime friend and business partner, who lives in Key West. "He's a smart, adventurous guy who now is financially secure. He can do anything. He's not going to sit in a rocking chair on his front porch."
Rysman added: "He has a thousand ideas, but, really, he's got no idea what his endgame is."
One of Singh's pet causes is the Sea Shepherd Conservation Society, an oceanic wildlife protection organization that uses vigilante tactics to thwart dolphin catchers, seal clubbers and other maritime miscreants. Paul Watson, founder of Sea Shepherd and a close friend of Singh's, practices radical environmentalism, which means sometimes ramming his ships into commercial whaling vessels.
Since its founding in 1977, Sea Shepherd and its environmental law affiliate, Sea Shepherd Legal, have attracted a loyal following of billionaires and celebrities, including Pamela Anderson — yes, that Pamela Anderson. Rysman serves with Singh on the board of directors of both organizations.
Over the years, Singh and Johnston have allowed Watson to dock at their marina in Key West and have donated millions of dollars in real estate and corporate holdings to Sea Shepherd. They've also given Watson a house on their South Woodstock estate, where he has intermittently been drying his boots since 2012.
Medici-style patronage is a Singh specialty. The family's stretch of Morgan Hill Road, near the Hartland-South Woodstock border, is a village unto itself — a curious melting pot of environmental activists, Buddhist monks, Sikhs, practitioners of Sikhism, lawyers, artists and a rotating cast of friends and family. Noah and his wife live closer to the village, in the $3.75 million estate that Singh bought for them last fall. Simi lives at the far end of the road in the house her mother bought for her in February 2017.
Roger Payne, a renowned whale expert and member of Sea Shepherd's advisory board, lives in the house next door to Watson's place, also courtesy of Singh. Adjacent to Payne is Rick Walker, a seventh-generation South Woodstock resident whose great-great-grandfather built the house in which Simi lives. Walker works with a number of maritime conservation groups, including Sea Shepherd.
Twelve years ago, Walker said, he was a few decades into running an excavation company when he decided that he wanted to do something different with his life. He had always loved the ocean, and Payne, one of his clients, offered him a carpentry job on one of his ships. Shortly thereafter, Singh gave him a house, and Walker decamped for the sea. He now goes out on research vessels for weeks at a time, collecting samples of whale flesh to test for toxins.
Walker, 63, is soft-spoken and graying at the temples. On a weekday morning in late October, he sat at his usual table by the window in the South Woodstock Country Store, thumbing through the New York Times and chatting up almost everyone who walked through the door.
"I've been coming here for probably 50 years," he said. Walker grew up on Long Hill Road, about two and a half miles away from the center of the village. In the winter, an all-wheel-drive vehicle brought him and other South Woodstock kids to the country store, where they would wait on the porch for the bus to take them to elementary school in Woodstock. The store, he said, is the nerve center of the community.
"It might look like we're just sitting around and gossiping, but we're actually trading valuable information about what's happening in town, problems that need to be addressed, who to hire," Walker said. "You need a plumber? Just ask someone here, and they'll tell you who's good. It's not just a conversation — it's a transaction."
That's precisely the kind of community the Singh-Johnstons are trying to preserve — the feeling of being part of a big, extended family, of knowing that someone is looking out for you. Walker and his crew of country store regulars don't text or talk on the phone; their relationships are based almost exclusively on face-to-face conversation. It may sound quaint, but in a village with virtually zero cell reception and no public Wi-Fi — except, as of last spring, the country store's fiber-optic network — having a central meeting place is vital.
Right on cue, a guy with a handlebar mustache poked his head in. "Where's Fred?" he asked. Walker filled him in. Later, an older man stopped by on his way out to look at photos of a Sea Shepherd ship on Walker's iPhone. When he left, Walker watched him walk to his car.
"He has Alzheimer's," Walker explained. "So we keep an eye on him and make sure he doesn't get confused."
So much depends upon...
Kirk Kardashian
Kedron Valley Inn
It's been a strange year for Laura Spittle.
Spittle, who lives in Reading, has been running the Vermont Horse Country Store for 34 years. She gets her mail at the South Woodstock post office, and she's known the Singh-Johnston family for as long as they've lived here. Her store, next door to the Green Mountain Horse Association, is an equestrian smorgasbord: saddles stacked like Pringles in every corner, a mind-boggling assortment of Dansko shoes, waxed jackets galore.
One evening in late September, just before closing time, Spittle was wrapping orange party lights around a horse statuette, which she planned to display in a sculpture garden on the Woodstock Green. When she first heard that Singh was buying properties, Spittle said, she was glad.
"The people who owned the country store were having a difficult time with it," she said. "So it was really fortuitous that the Singhs decided to buy the store when they did. They love this place, and they wanted to do something good in the community.
"I talked at length with Pritam when he bought it, and he had read a lot of stuff about how when small communities like this lose their store, they lose their identity, and he didn't want to see that happen here," Spittle went on. "I respect the fact that he took that seriously and put his money where his mouth is. And then, of course," she said with a laugh, "things snowballed."
Starting with the Kedron Valley Inn. When the Singh-Johnstons announced they were going to close before Thanksgiving last year for renovations, Spittle got nervous. The bulk of her winter business comes from inn guests. As the renovation wore on, her bottom line took a major hit.
"When they were closed for Wassail, Christmas, New Year's, that really hurt. So that pretty well sucked," Spittle said. "But I get that they wanted to take the time to get the renovation right. And they did everything in their power to help, with good faith. I mean everything in their power."
She wouldn't specify what, exactly, "everything" entailed.
"They bought a lot of Christmas presents from me," Spittle said. "I'll leave it at that.
"Pritam cares deeply about things," she added. "How much he really understands about this community remains to be seen. But I think he's capable of learning. He's been here for 35 years. Problem is," Spittle said, "he's been on that hill for 35 years."
While the renovation was under way, inn employees also faced uncertainty. According to Simi, some employees were given the option of staying on in a different capacity; housekeepers could become painters, for instance, and line cooks could move to the country store.
"We were very considerate of all of our employees, financially and otherwise," said Singh. "We kept everyone on payroll from November until June, even when we'd come in and say, 'What can you guys do today?' I'm very sensitive to that issue. But we needed to create a fresh culture, and the best way to create a fresh culture is to start fresh."
At the end of June, several management-level staff members either left or were let go. One former employee, who requested anonymity for fear of jeopardizing their "well-being in the community," would not reveal the terms of their departure per an agreement with Singh's development organization.
According to Simi, the majority of the servers and restaurant staff left voluntarily. "Most of the waitstaff decided to go be waitstaff somewhere else until we opened back up. And then we ended up with a whole new staff, because they already had new jobs by then," she said.
Some of the recent hires, including the restaurant manager, went to high school with Simi. Ashley Cook, a bartender in her early thirties, moved to the area a couple of years ago.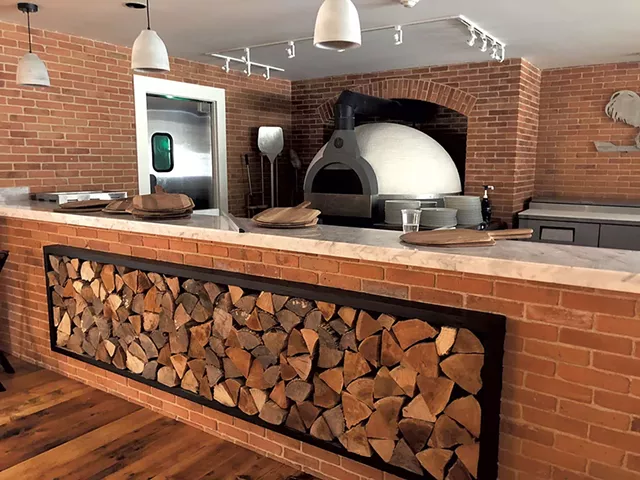 Kirk Kardashian
Pizza oven at the inn
The new inn manager, Nicole Sutherland-Maiden, previously owned the Kedron Valley Inn from 2002 to 2008; prior to returning this July, she was the dining room manager at the Woodstock Inn. Since the Kedron finally reopened in mid-September, Sutherland-Maiden said, it has been consistently full on weekends and some weekdays, and guests are making reservations for next year as they check out.
"It has been a true pleasure embracing the owners' vision and seeing it come to reality," Sutherland-Maiden wrote in an email.
But for people such as Spittle — one of the middle-class, year-round residents whose livelihoods are now tied to the success of Singh's latest venture — that transition hasn't been so breezy.
Spittle said she's noticed more young people hanging out in South Woodstock these days, mostly friends and family of the Singh-Johnstons. But she fears that her customer base — the horse enthusiasts and inn guests who were forced to find other accommodations while the Kedron was closed for renovations — might not return.
"Longtime visitors, members and customers are now staying in other places instead of staying here," Spittle said.
Whether the millennial diaspora will pick up the slack still remains to be seen.
Spittle, who admitted she hates change, has seen her shop through three and a half decades; now, she needs to recalibrate.
"I don't think the Singhs have a clear plan for how they're going to do what they want to do. They have a lot of ideas, but no real agenda," she said. "So, for people like me — and there aren't very many people like me; this is a very small place — it means that I need to go in my own direction and make sure that I protect myself, and wait for them to figure out what they're doing."
That means, ironically, that Spittle is beginning to think a little more like Singh. After losing her final quarter last winter, she decided she might as well try to recoup it somewhere else.
"There's a space in Woodstock that's been sitting empty for over a year that I just love, right next to the post office," she said. "Turns out that one of my customers owns that space now. So I called them up and asked if they would be interested in doing a holiday pop-up at the end of this year, and they said yes."
That night, Spittle piled some inventory into her truck and drove to Woodstock to set up her new shop.
Aspirational and accessible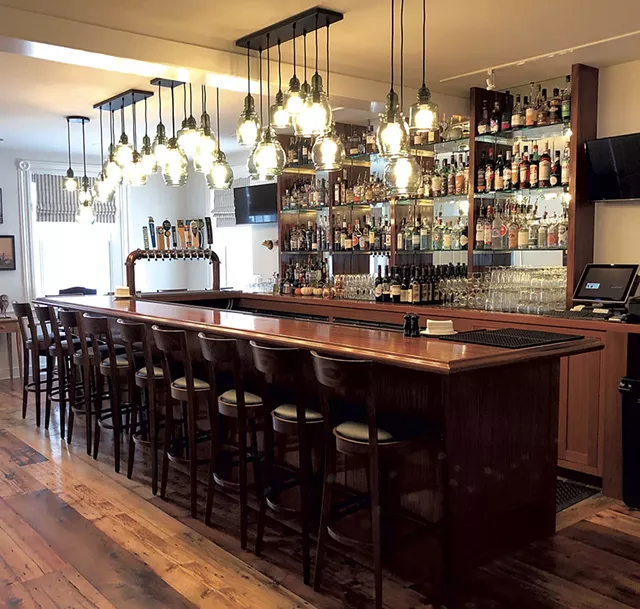 Kirk Kardashian
Bar at the inn
The same evening, Singh and Johnston were sitting at the bar of the recently opened tavern at the Kedron Valley Inn, sharing a fennel salad. In the dining room, the owners of local Farmhouse Pottery sat with a brood of towheaded children around a long wooden table, poring over the menu of Neapolitan pizzas. Bon Iver warbled softly on the sound system.
This sort of atmosphere feels like home for the Singh-Johnston family, which has finessed the art of atmosphere creation to a succinct formula. The redesigned restaurant isn't flashy or quirky, and the interior doesn't feel remotely like a 200-year-old inn; it's supremely tasteful and new, the exact mathematical average of aspirational and accessible. Even the decision to center the menu on pizza, that everyman food, was basically calculated to offend no one.
"In our mind, it's this incredibly inclusive food," explained Simi, the hostess that night. "You can walk out not spending a fortune, or you could come and get a fancy pizza and a beautiful bottle of wine and have this fine-dining experience. So it can go in either direction, which is this area in a nutshell."
Of course, what happens to be good for the Singh family's bottom line can also be good for the village, especially if it means that these establishments stay open. But Singh is a developer; his forte has been conjuring the provisional sense of place that defines resort communities and condos — brand-new units that are move-in ready, with maintenance included and no organically accumulated character. Whether he can create a permanent sense of place for the people of South Woodstock that still feels like home to them remains an open question.
"We want to turn this into a place where everyone knows your name, where you can come and chat with people and leave whenever you want," Singh said.
If there's one name everyone around here knows, it's his.