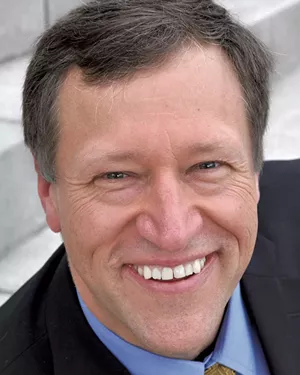 Courtesy Of Erik Kroncke
Erik Kroncke
It's fine to experience opera without preparation — Julia Roberts did it in Pretty Woman and was moved to tears — but a little insight beforehand can be enormously helpful. With that in mind, Spruce Peak Performing Arts Center now offers a free 45-minute talk by an actual opera singer before each of its Metropolitan Opera Live in HD encore broadcasts.
The Stowe venue just began offering the broadcasts this season, and the talks are part of its equally new ArtSmart program. The educational series also brings in musicians to introduce live Spruce Peak Chamber Music Society concerts, and a dancer will preview an upcoming Bolshoi Ballet broadcast.
Bass Erik Kroncke of Montpelier and tenor Kevin Ginter of Underhill are splitting the opera talks between them. Both singers performed as soloists in the Green Mountain Mahler Festival's ninth annual New Year's Day production of Beethoven's Ninth Symphony at SPPAC, noted marketing and education manager Julianne Nickerson, who invited them.
Seven Days attended Kroncke's introduction to George Bizet's Carmen last Wednesday, curious to see what the professional singer would say about an opera that consistently ranks in the top three most performed worldwide, according to Operabase Statistics. Kroncke will also introduce Richard Wagner's Die Walküre on April 10 and Guiseppe Verdi's Aida on May 7. Ginter previewed Wolfgang Amadeus Mozart's The Magic Flute in December and will take on Francis Poulenc's Dialogues des Carmélites on June 26.
The talks are intended to "delve into the story and help you understand it before you see it," Nickerson told a noontime audience of 11, who were seated at tables onstage and had brought brown-bag lunches. But Kroncke began by saying that the Met has that part covered, pointing to a detailed plot summary included in SPPAC's program. Instead, he wanted to talk about Carmen from the "point of view of an opera fanatic," he said. "To me, this stuff is fascinating."
Kroncke, 49, performs around the country, and in Italy every summer; locally, he's sung with the Opera Company of Middlebury and will play Le Roi in the company's upcoming production of Jules Massenet's Cendrillon. He sang the part of police chief Zuniga in a 2011 production of Carmen by the now-defunct Green Mountain Opera Festival. His start in opera, Kroncke said, came when he sang in the chorus of a Colorado production of Carmen at age 13.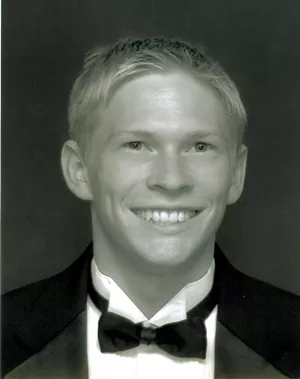 Courtesy Of Kevin Ginter
Kevin Ginter
The singer described the oddity of Carmen within Bizet's brief oeuvre. Calling the opera the composer's only "flawless" work, Kroncke said it was panned at its 1875 premiere in Paris. Bizet died three months later at age 36, unaware that his masterpiece would become one of the most popular in the opera repertoire.
The Frenchman wrote the work as a light operetta with comic moments and spoken dialogue between set pieces instead of sung lines (or recitative ones). He and two librettists based it on a dark novella but changed the title character so she was no longer a murderer. Bizet, Kroncke explained, hoped to lighten subject matter that he knew wouldn't appeal to the bourgeoisie: Spanish soldiers and gypsy women who work as cigarette makers.
"He never allows it to get dark and heavy," said Kroncke, singing a snatch of melody to illustrate how the music balances several emotions at once.
Ironically, he continued, the opera's fame grew as a result of productions outside France, including ones in Italy, where it was gradually co-opted by "grand opera." The dialogue was recast as recitative, and the music slowed down, among many changes — all cataloged in a definitive German-produced score. Holding up his thick, worn copy to the audience, Kroncke joked, "The Germans love doing this."
Kroncke, who'd already heard a radio broadcast of the production that audience members were about to see, said that, in his opinion, it brought back the lightness and speed Bizet intended. "It's not what I'm used to," he said, chalking up the Met production's "Frenchness" to the French conductor (Louis Langrée) and two French leads, Clémentine Margaine as the seductive Carmen and Roberto Alagna as Don José, her increasingly possessive and crazed lover. (Alagna's Poland-born wife, Aleksandra Kurzak, sang the other female lead.) "I've heard Germans and Italians conduct it, but never French," Kroncke observed.
Kroncke also talked about the Metropolitan Opera House, the world's largest opera house (3,800 seats) with the biggest budget. Its current aesthetic, he said, is "very Eastern European" — a function of general manager Peter Gelb and his talent scouts, he opined. "Americans rarely sing leads at the Met now," Kroncke said. "We don't have a farm system like in Europe, where singers move from D houses to C to B and then A houses."
After a few more nuggets of behind-the-curtain talk, Kroncke wished the audience a pleasant viewing experience. He left them with a reminder of what opera is all about: "The drama is in the music. Always, the theater part is second."