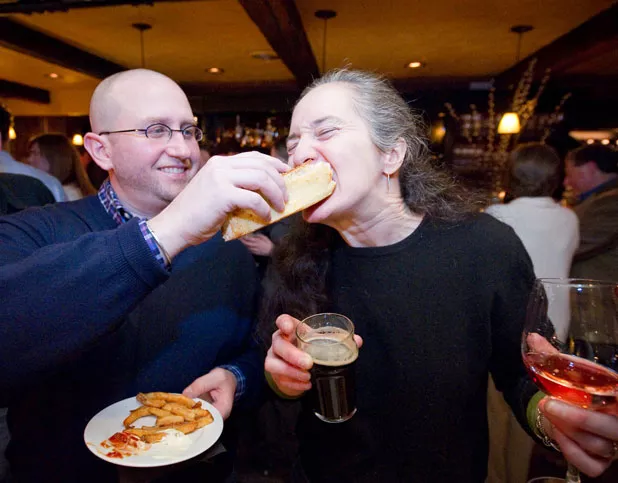 Joe Speidel feeds an oyster po' boy to Maura O'Sullivan
It's tough to eat oysters standing up and in a crowd. The rough half-shells brim with briny liqueur, and the slightest jostle is enough to send dribbles down the front of one's shirt. On occasion, opalescent flesh clings to the shell, requiring a nudge to get it into a waiting mouth. The task is more complicated when one hand is grasping the stem of a wine glass — filled with a strawberry-colored French rosé or a citrus-and-mineral-scented sauvignon blanc.
Last Sunday, a small group of enthusiasts happily grappled with glasses, plates and shells at an unusual event. Fresh from scoring a semifinalist nod from the James Beard Foundation in the nationwide Best New Restaurant category, Burlington's Bluebird Tavern opened its doors to 35 of its biggest fans.
Attendees paid $99 plus tax and gratuity for the privilege of participating in an orgy of oyster eating, with three East Coast and three West Coast varieties available. Staffers from Dedalus Wine Shop waited behind the bar to pour six French wines they'd chosen to accompany the shellfish.
The ebullient crowd of food aficionados included several restaurateurs, such as Charles Reeves and Maura O'Sullivan of Penny Cluse, and Vermont Fresh Network director Meghan Sheradin — an oyster novice out to learn more about foods from other regions. The star of the show was Rowan Jacobsen of Calais, author of the award-winning tome A Geography of Oysters: The Connoisseur's Guide to Oyster Eating in North America.
Addressing the crowd from atop a chair in Bluebird's blue-walled function room, Jacobsen pointed out that oysters are the purest expression of the concept of terroir — a French term sometimes translated as "taste of place." The startling flavor differences among oysters — there are 200 recognized varieties in North America — have everything to do with where they're grown and the water they filter over their gills. If the shellfish come from a sheltered bay, they won't smack strongly of brine; cold-water oysters taste crisp and boast firm flesh. Eating one of the mollusks is "like kissing the sea on the lips," Jacobsen said, quoting poet Léon-Paul Fargue.
The restaurant was closed to the public, and temporary oyster stations resided across from the actual bar, with the setup mimicking the mollusks' provenance. Fat East Coast oysters were on the right, where Healthy Living butcher Frank Pace helped out by putting his shucking skills to the test. Petite West Coast oysters were to the left.
What's the diff? The oysters from Massachusetts and Rhode Island were fleshy, with a mineral taste and a burst of sweetness at the end. The ones from Washington State and British Columbia were tender, with pronounced flavors of melon and cucumber.
If the attendees had one complaint, it was that the "all-you-can-eat" oysters ran out before they'd gotten their fill. Luckily, Bluebird staffers were ready to fill the gap with baskets of crispy French fries and deep-fried oyster po' boys in buttery rolls with house-made tartar sauce.
"They probably should have gotten a couple hundred more," Jacobsen suggested. "I don't think anybody knew how fast they would go."
Maybe the problem was that it was hard to stop. Bluebird owner Sue Bette said, "We did a count at 25 [oysters] per person, but some people ate 35. We're hoping to make this an annual event … We'll have to bump that up next year."
Another suggestion? Bibs.