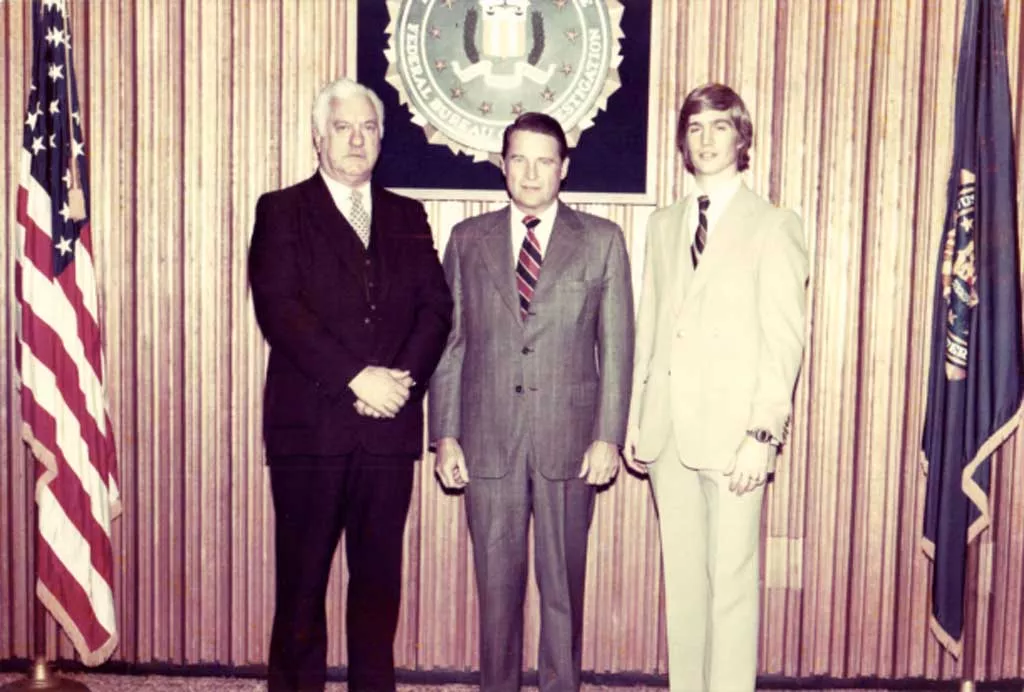 Courtesy of Sheriff Earle McLaughlin
FBI Director William Webster and future sheriff Kevin McLaughlin in 1980
Chittenden County Sheriff Kevin McLaughlin was practically born in the county jail.
No, really.
When his dad, Earle "Buzz" McLaughlin, became sheriff in 1955, 3-year-old Kevin moved to the old Burlington jailhouse at 220 Main Street with a family that would eventually include 11 children. He spent his formative years sleeping in a converted jail cell.
"It hangs over my head," McLaughlin jokes. "When I apply for a job and they ask, 'Have you ever been in jail?' I say, '14 years.'"
Then again, McLaughlin hasn't had to apply for too many jobs. He joined his father in the sheriff's department in 1973 and ran to succeed him in 1986. For the past six election cycles, he hasn't faced a challenge.
This year, he's got an opponent.
Ed Cafferty, an adjunct criminal justice professor at Champlain College and a longtime Democratic Party activist from Charlotte, is running against the Burlington resident in the Democratic primary.
"After 27 years, it doesn't seem like Kevin McLaughlin is very engaged in his job," Cafferty says. "I feel that it's time to put somebody in the sheriff's office that is going to show leadership and institute programs that are going to help people."
His priorities include hiring more officers to take on Vermont's opiate-abuse problem and advocating for more restrictive gun laws.
"I believe that we really need to have more enforcement, because we really are being inundated by people bringing drugs from out of state to Vermont," he says.
A leader of the gun-control group Gun Sense Vermont, Cafferty says he'd use the sheriff's office to advocate for universal background checks.
"Drug dealers come up here and when they find out how easy it is to buy guns, they go back and sell them on the streets of Springfield, Massachusetts," he says.
Rep. Mike Yantachka (D-Charlotte), a fellow gun-control advocate, supports Cafferty. He believes the newcomer could reawaken one of local law enforcement's sleepiest offices.
"I think he wants to make the sheriff's office more proactive, as opposed to just being there," Yantachka says.
But McLaughlin and his allies say Cafferty doesn't quite understand the job for which he's running. In Vermont, sheriffs are principally charged with serving summonses, transporting prisoners, taking fingerprints and directing traffic. While Vermont's more rural sheriffs provide policing services for towns lacking their own forces, the Chittenden County sheriff does so only for Westford, Jericho and Underhill.
"This is not high-profile stuff," says Chittenden County State's Attorney T.J. Donovan, who, along with Mayor Miro Weinberger, has endorsed the incumbent. "He's done a very competent, good job. He's a good man. He's got a first-rate staff."
While McLaughlin struggles to identify concrete achievements, he characterizes himself as an experienced manager of 31 employees who has saved taxpayers money by taking advantage of contract work. He questions his opponent's law-enforcement background — Cafferty has served 11 years as a part-time officer in the Vermont State Police's marine division — and disagrees with his approach to fighting drug addiction.
"His theory is we've gotta have more cops, more cops, more cops," McLaughlin says. "I understand how this whole thing works, and what I understand is we need more treatment to deal with demand."
So who's got the upper hand in a low-key Democratic primary scheduled for August 26? Presumably, the guy who's won the job every four years for nearly three decades, right?
Then again, do you know who your sheriff is?
Arrested Development
Do Vermonters care about their politicians' youthful indiscretions?
Republican gubernatorial candidate Scott Milne put that question to the test last week when he issued a remarkable press release disclosing he'd been arrested not once, not twice, but three times during what he called "an irresponsible 18-month period."
Seems the scion of a prominent GOP family got popped once for a DUI as a 19-year-old University of Vermont student and then again after transferring to California's University of Redlands. He was subsequently arrested, he says, for "possession of a small amount of pot and cocaine."
Milne says neither DUI charge stemmed from a collision, and nobody was hurt in the incidents. He said he received fines but didn't serve a day in the slammer.
"I made some bad choices. You don't get do-overs in life," he says. "I'm grateful that all I got was some fines and some tough lessons out of it."
So will Milne's reckless past make a difference come November?
Doubtful — and not just because he's likely to get smoked by Gov. Peter Shumlin.
DUIs are nothing to joke about, but Vermonters are a forgiving bunch. State Auditor Tom Salmon got busted for driving over the legal limit in 2009 — while in office — and handily won reelection the next year. In 2012, voters barely raised an eyebrow when an age-old assault charge surfaced during Donovan's run for attorney general. And good luck finding a Vermont politician who has never possessed pot — or, you know, inhaled.
Milne showed some savvy by dispensing with the story on his own terms — and timing. His July 3 press release came as most voters — not to mention reporters — were stocking up on Gucci beers for the fireworks. And he coupled the revelations about his arrests with one about his health: He suffered a stroke in 2006.
Makes the guy sound, well, human.
Vermonters are more likely to be interested in where Milne stands on drugs than whether he used them. On that, he doesn't have much to say.
Though Shumlin devoted much of the winter to talking about opiate abuse, Milne says he plans to hold off on addressing the matter until September. As for whether Vermont's DUI laws are sufficient, he doesn't have an opinion.
Does he support legalizing marijuana?
"As with a lot of things, I think Vermont's been way too out front in being a pioneer in these things before knowing whether it's smart," he says. "The short answer is: opposed at this time, but open to looking at it down the road."
Whether Milne's past will resurface again likely depends on whether there's more to it than he's revealed. Though he wants credit for coming clean, the candidate refuses to request and release police reports describing the incidents — nor will he disclose precisely when and where they took place.
"Nope. Ask the Democratic Governors Association," he says, referring to the national political organization Shumlin runs. Milne is convinced that either the DGA or the Shumlin campaign is conducting opposition research, but spokespeople for both organizations say that's not the case.
Wouldn't releasing the reports clear up what happened and help put it behind him?
"I've got it cleared up," he says. "I'm happy to talk about it, but I told you what the deal was, and that's what the deal was."
Got it.
Kick-Starter
Since he jumped into the race last month, Milne has been slow to nail down some of the campaign basics: raising money, recruiting staff, building a website and even holding a formal campaign announcement.
That's starting to change. Milne has signed up one of the state's few young Republican operatives as campaign manager: Vermont GOP political director Brent Burns.
The Texas native and Army veteran left the party last week, he says, to start his own political consulting company, called Pure Campaigns. His first client? Scott Milne.
"I think he's a really good candidate," Burns says of the new boss. "And I think we have a really interesting opportunity this year to frame the issues in a way where Vermonters will be receptive."
Pure Campaigns isn't a one-man band. Vermont Law School grad Tyler Ward and Capital Connections lobbyist Kris Jolin will join Burns in the enterprise. The latter served a stint with almost-gubernatorial-candidate Bruce Lisman's Campaign for Vermont and raised eyebrows at the Statehouse last year by filming nearly every press conference Shumlin held.
Wonder if those tapes will resurface in TV ads this fall?
Burns' election-year departure doesn't leave the Vermont GOP totally in the lurch. Party chairman David Sunderland recently hired Chittenden County GOP chairman Jeff Bartley as its "victory campaign director" and is weighing his options to replace Burns, he says.
As for whether Pure Campaigns' first client will score a win, Burns says he believes "there is a path to victory."
"I think it's going to be a hard race, but we're going to run it every single day, full-speed, until November 4," he promises.
No More Mr. Nasty Boy
Last December, Neale Lunderville abruptly left his job as CEO of NG Advantage, a natural gas delivery service he founded a year and a half earlier with Tom Evslin, an old chum from their days in former governor Jim Douglas' administration.
"After a dozen years of being in pressure-cooker jobs, I needed some time to let the steam out and take some time to reconnect with my life," Lunderville says.
Indeed, the 39-year-old man once known in these pages as the "Boy Wonder" had already held a lifetime's worth of top jobs: executive director of the Vermont Republican Party; Douglas' campaign manager and secretary of civil and military affairs, transportation, and administration; Green Mountain Power's "innovation and information leader"; and Shumlin's Irene recovery officer.
Dude clearly needed to take a breather.
So he quit his job, hung out with old friends, got another dog, ran the Vermont City Marathon and — wait for it — started to thru-hike the Long Trail. But about halfway through his northbound journey, Lunderville checked his voicemail while seeking shelter from the rain in a utility shed atop the Middlebury Snow Bowl.
A few days earlier, Mayor Weinberger had left him a message asking whether he'd serve as interim general manager of the Burlington Electric Department.
"It's something I was immediately interested in," Lunderville says. "Burlington Electric is a really fascinating organization and, in a lot of ways, is on the cutting edge of energy innovation ... It's something I knew I wanted to be part of."
Last week, Weinberger announced he'd suspended his search for a permanent replacement for outgoing GM Barbara Grimes, who retired Monday after 15 years on the job. He asked the Burlington City Council to approve Lunderville's six- to nine-month appointment, during which time the search would resume — potentially with Lunderville's name in the mix. (The interim BED manager promises to finish section-hiking the Long Trail this year, now as a weekend warrior.)
Longtime readers of this column could be forgiven for spilling their coffee after learning that the Boy Wonder had taken a job with a Democratic mayor of Burlington.
After all, that wasn't the only nickname bestowed on him by the late Seven Days columnist Peter Freyne. He was also a charter member of "the Nasty Boys" — the young-gun Republican hit squad that elevated Douglas to governor in 2002 by hammering the hell out of Democratic nominee Doug Racine. (Fellow Nasty Boy Jim Barnett went on to manage Massachusetts senator Scott Brown's unsuccessful 2012 reelection campaign and now works for the U.S. Chamber of Commerce.)
"You can't run from the past," Lunderville says of his partisan youth. "It's right there in black and white. But you can learn."
And learn he has. As Vermont has become bluer, so has Lunderville's résumé. Though his former boss, Douglas, clashed mightily with Shumlin, Lunderville was quick to help the new governor respond to Tropical Storm Irene.
So does this spell an end to Lunderville's ball-busting Republican career?
"I'm not going to rule anything out in the future," he says. "I can tell you that I don't see partisanship as a vehicle for progress. I have a strong desire to see Vermont move forward and to see Vermonters prosper, and I think that comes when we work together."
Not so nasty after all, eh?
Correction 07/09/14: An earlier version of this story referred to Jeff Bartley as the former chairman of the Chittenden County GOP. In fact, he still holds that position.
The original print version of this article was headlined "A Shot at the Sheriff"