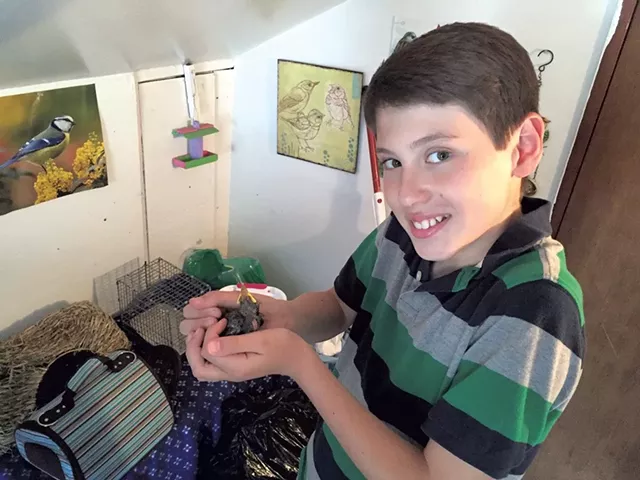 courtesy of jenny joczik
Edward with a baby bird
NAME: Edward Joczik
TOWN: Shelburne
AGE: 12
Edward Joczik's love for animals has inspired some pretty wild pursuits. He's built cat shelters, carried signs in fundraising marches and protested an infamous greyhound racetrack in Macau.
He's also rescued some creatures from certain death.
Edward's neighbors in Shelburne have a fish tank with a jaguar cichlid, a big fish that eats little fish. One day, Edward scooped up a feeder fish and took it home, because "I wanted to have one for a pet," he said. "But also so it could be saved."
The neighbors also had a Brazilian rainbow boa — a snake that dines on mice. Edward's mom, Jenny, wasn't surprised when Edward and the neighbor's son showed up with a tiny mouse. They told her that they found it along the road, but she knew that they'd rescued it from the reptile's jaws. They named it Trixie, built it a shoebox home and fed it using an eyedropper.
Lots of kids feel deeply for their pets. But 12-year-old Edward has a soft spot even for animals he's never even met, said Green Mountain Animal Defenders president Sharon MacNair. "His circle of compassion is widened beyond his years," she said.
Edward — who recently applied to be a wildlife-rehabilitation assistant — puts those feelings into action.
His achievements include participating in GMAD's Walk for Farmed Animals and the Humane Society of Chittenden County's Walk for the Animals and 5K Doggie Fun Run. He rallies with Ivory Free Vermont to stop elephants and rhinos from being poached. And one morning last year, he got up early to appear on the local news with his mom and their 21-pound orange tabby to talk about caring for feral cats.
courtesy of jenny joczik
Edward and Highness
With the help of his brother and sister and the family's retired greyhound racer, Highness, he made a video and sent it to the Macau government urging them to close Canidrome stadium, known for having inhumane conditions and for euthanizing racing dogs too slow to win.
Edward may have inherited his passion for animals from his mom. Jenny, who's on GMAD's board of directors, routinely brought home abandoned animals as a child. She calls herself a member of the Crazy Cat Lady Committee, which rescued and found homes for 35 feral cats from the South Carolina university where she taught.
When Edward was a newborn, the family dog brought home what Jenny assumed was a tiny squirrel. "I wanted to help the squirrel, so I get up in the night to feed Edward and I would feed the squirrel with kitten milk," she said. The "squirrel" ended up being an extremely large rat. The family called it City Mouse and, even though Edward's dad didn't like the rodent, he bought it a fancy cage with a wheel.
As a little boy, Edward would come home from school and feed the family pets without prompting — a ritual he does to this day. It's no small task, considering that they've "always managed to have about six animals," Jenny said.
In 2009, shortly after moving to Vermont from South Carolina, Edward's family built their first feral cat shelter — a double-walled, two-story structure with a hinged, shingled roof. They're designed to provide refuge and a place to eat for managed feral cat colonies — groups of wild cats that have been neutered or spayed and released. GMAD had received a request for a shelter in Newport, and the Jocziks delivered it that snowy Christmas Eve.
Edward has been an activist ever since. MacNair, who finds his work exciting and encouraging, said it best: "He's in it to win it for the animals."