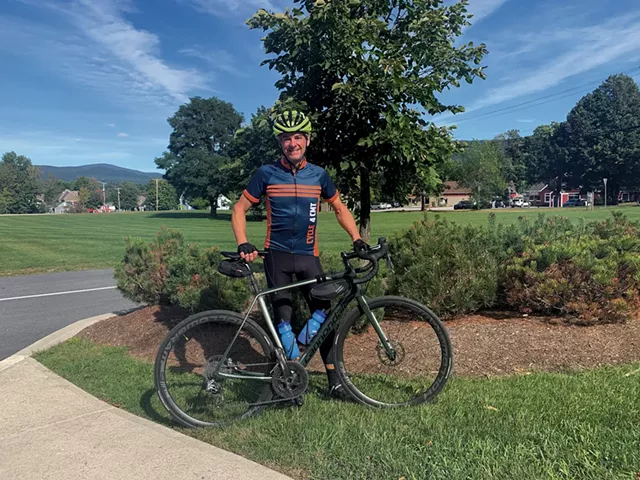 Courtesy Of Mia Ouellette
Chris Ouellette
Earlier this month, Chris Ouellette set out from his Shelburne home for a bike ride around Vermont. His goal: three days and 300 miles in honor of 3 million people worldwide battling Charcot-Marie-Tooth disease.
One of them is Ouellette's nephew, Yohan Bouchard, who was diagnosed with the degenerative nerve condition at age 7. Seeing his once-active nephew sidelined by the disease prompted Ouellette to get involved in finding a cure. In 2014, he joined the board of the Charcot-Marie-Tooth Association, a national nonprofit that raises awareness and funds research.
That same year, Ouellette founded Cycle 4 CMT, an annual fundraiser and Vermont bike ride. What started with about 70 participants has morphed into a 200-person event that now also includes a walk. In normal years, the riders start and finish at the Old Lantern in Charlotte, where they wrap up with food, beer, live music, a silent auction, and presentations from CMT researchers and doctors.
This year, though, was anything but normal. Ouellette and about a dozen people completed a local ride earlier this month. Others from around the country participated virtually, including Yohan, who is now 27 and has undergone surgeries to help stabilize his weakened legs and feet. He's recently begun using an electric bike and was able to ride 20 miles near his home in California's Bay Area.
"Never would we have thought that the child who could not ride a bike due to lack of balance, sensation, and confidence would one day ride over the Golden Gate Bridge, maneuvering around pedestrians, cyclists, kids, dogs, etc.," Yohan's mom, Elizabeth, wrote in a blog post.
On September 11, Ouellette set out on his own (with his wife, Mia, in a support car) on a 100-mile ride from Shelburne to Woodstock. The next day, he covered the same distance to Manchester, and he finished on the third day back in Shelburne.
The ride was hard, Ouellette said, but worth it. Through this year's event, he helped raise nearly $250,000 for the association. He has raised about $1.35 million total since he started the ride in 2014.
"At times, you do these things so easily, you can take it for granted," Ouellette said of staying active. "I felt like I had to do something here to help find a cure so people with CMT can hopefully enjoy all the beautiful things I can enjoy right here in Vermont."