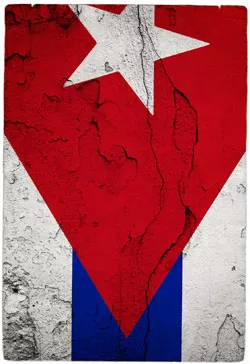 Remember how Barack Obama promised to relax travel restrictions between the U.S. and Cuba? The progress of his policy — or lack thereof — is on full display at the Highgate Springs border crossing.
Officials on the U.S. side were polite but firm when my family returned to Vermont, via Montréal, from a two-week visit to Cuba. We were honest about where we'd been and declared everything we bought there. The border guards subsequently ordered us to pour into a sewer the four bottles of Havana Club rum we had purchased at Jose Marti Airport. Uniformed agents also crushed the half-dozen Cohiba cigars my son Liam had intended to give to friends. They ripped apart a red Che Guevara T-shirt I'd bought for my daughter. And they sliced up the two necklaces — total value $2 — that Liam had bought on a beach.
Inexplicably, we were permitted to keep the only other item we'd brought from Cuba: a chocolate bar.
The inconsistency may be due to Vermont border guards' unfamiliarity with federal regulations governing travel to Cuba. They thumbed through a manual as we filled out forms asking why we chose to visit a country Americans are generally forbidden to see.
Reading from the manual, one of the guards told a half-dozen others that my wife, Karen Amirault, did seem to meet criteria set by the U.S. Treasury Department's Office of Foreign Assets Control for a "general license" permitting travel to Cuba. OFAC regs state that general licenses can be claimed for "full-time professional research conducted by professionals in their professional areas."
Karen, a dance teacher and performer, had gone to Cuba to take salsa and rumba classes.
Journalists also qualify for general licenses. I went to Cuba to write a story for Seven Days — scheduled to run next week — and for a Kenyan newspaper chain for which I have worked as U.S. correspondent for the past 20 years. Liam, a sophomore at New York University, had been assigned, in writing, to take photos in Cuba to illustrate my story for one of the Kenyan papers.
In the Kafkaesque web of restrictions on Cuba travel, a general license is said to be "self-selecting and self-executing" — meaning that it doesn't take the form of an actual document. A traveler simply presumes that he or she meets the guidelines. Everyone else must obtain a "specific license," which is an actual document that OFAC may issue on a case-by-case basis. Written applications for a specific license must include documentation showing why a would-be visitor to Cuba meets all applicable OFAC conditions.
Borrowing from Orwell as well as from Kafka, the rules technically do not bar travel to Cuba; they forbid unlicensed Americans from spending money there. That's why the Treasury Department, rather than the State Department, administers these rules.
Potentially, the easiest way for travelers to Cuba to avoid U.S. border hassles is to lie about where they've been. Many Americans who visit Cuba choose that option. And most of them apparently get away with it, since OFAC does not subsequently threaten them with heavy fines.
In fact, it appears that under the Obama administration, almost no travelers to Cuba are being slapped with fines. Only three individuals involved in Cuba-related transactions were fined in 2009 for breaking OFAC rules. That's down sharply from the totals during the Bush era.
But attorneys I had talked with prior to traveling suggested it's wiser to tell the truth. Besides, it seemed that none of us would be violating OFAC's regs. I also took the precaution of alerting Sen. Patrick Leahy's office about our travel plans. Leahy staffer Susan Sussman, an immigration specialist, subsequently gave the chief of the Highgate Springs border station our names, scheduled date of return to Vermont and reasons for traveling to Cuba. Sussman then told me, "You're not going to have any problems coming back to Vermont."
What I failed to do was to consult the State Department's website on travel to Cuba. It warns: "Cuban cigars and rum are routinely confiscated at U.S. ports of entry."
Oh.