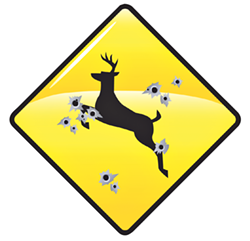 Originally published November 7, 2007
I must have been 8 or 9 years old when my father bought me my first Daisy BB gun. Just holding it made me feel trusted, and more grown-up. Initially, I'd come home from school and spend the evening after dinner in our cellar. Lying prone, plugging a cardboard box with mini-musket balls, I talked to myself and imagined a real hunt. I learned how to exhale and hold it, to steady a shot. I learned to respect the business end of a gun. I learned how to be alone.
Daisies in hand, a friend and I would spend entire days on his family's dairy farm. As we struck out in the morning, often in full camouflage and black face paint, the creeks and ponds opened up a new world to me. It was always there, crouching and silent. But I needed to listen for it to come alive.
I witnessed the grace of bounding deer, the speed and backward dart of crawfish, the song of migrating birds, and the crafty silence of a weary turkey. I watched sportsmen bring them home after successful hunts, in awe of the ability to understand and capture these creatures. I sat around the dinner table and heard tales of their demise. I listened to all this, and learned.