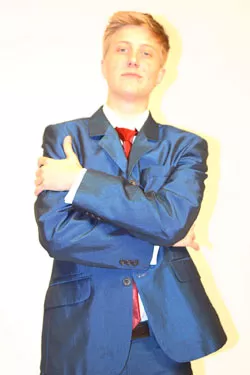 In any discussion of transgender life, questions of definition and process come up. What distinguishes a transgender person from a transsexual? How is sexual orientation defined when a person born as a woman chooses to live as a man, or vice versa? What terms describe him or her: lesbian, gay, straight, bi? For that matter, do personal pronouns apply any longer to such a person, or is our gender dictionary in need of an expansion?
S. Bear Bergman and Scott Turner Schofield will attempt to address some of those questions in their premiere performance of "Becoming a Man . . . Testosterone and Transgression" this Saturday night at FlynnSpace in Burlington. A freewheeling collection of stories and anecdotes detailing both performers' journeys from their originally assigned gender identities to something unique to each, the show combines comedy, audience interaction and serious discussion.
"Well, semi-serious discussion, anyway," Bergman says, laughing. "Think of the show as 'Everything You Ever Wanted to Know About Transgender But Were Afraid to Ask.'"
Bergman and Schofield have devoted a significant portion of their writing and performing work to the subject of gender identity, and both describe Becoming a Man as something of a co-written "Best of." Schofield borrows liberally from anecdotes springing from his Atlanta, Georgia, upbringing and from his autobiographical one-person show, Becoming a Man in 127 Easy Steps, which he has performed widely since its Seattle premiere in 2007. Bergman brings experience as a poet, performer and author. (His Butch Is a Noun was published in 2006 by Suspect Thoughts Press.) The two have been colleagues and friends for years, though this is a first-of-its-kind collaboration for them.
"What Bear and I have in common is that we are two masculine people whose bodies at one point defied that classification," Schofield explains. "We've had to wrestle with the reality that neither of us is easily definable, and we want to get across to the audience that both of us — and all of them — are not one thing, but dozens. We are all a collection of experiences . . . stories, rather than a label of butch, femme, jock or princess."
The "life as stories" concept to which Schofield refers is illustrated in the show with a "decoder ring." Looking much like a Pat Sajak-esque "wheel of fortune," only projected on stage, the ring bears numbers that audience members are encouraged to call out at random. Bergman and Schofield will respond with a corresponding story that helps illustrate a moment in their gender evolution.
"The point is to break down what people regarding us are conditioned to see," Bergman adds. "All of us are, to one degree or another, shape-shifters and fools and outlaws, and Scott and I thought that a great way to convey that was through this kind of storytelling."
"Besides," Schofield says, "There will be prizes, sing-alongs and snacks. What more could you ask for?"