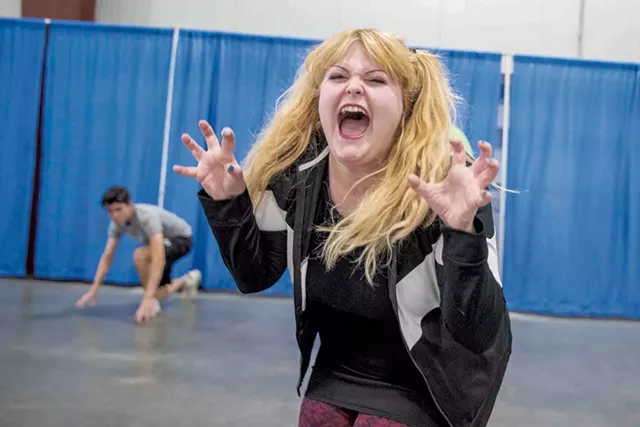 James Buck
Scenes from Nightmare Vermont auditions
There are many ways to die in a Nightmare Vermont event, including being killed by a zombie, table saw, alien horde or demonic lover. But a good Halloween death is about more than gore. The dying party must make the audience feel exactly how horrible that death is, a display of human emotion so raw it turns the stomach.
This is the story of how I ended up in the middle of an echoey building at the Champlain Valley Exposition in front of about 25 people, acting like my skin was falling off. On September 5 I was at a Nightmare Vermont audition to learn how people become the event's scarers — and to test how convincingly I could fake a dramatic death. I clawed at my arms, cried out for help, eventually curled up in a fetal position on the cement floor, and lay there until — finally, mercifully — Nightmare Vermont founder and director Jana Beagley yelled, "Give her a hand!"
Now in its 15th year, Nightmare Vermont presents an elaborate theatrical event, often called a "haunt," October 17 through 26 at the Expo in Essex Junction. Staffed entirely by volunteers — including Beagley, whose day job is development coordinator at the American Lung Association — Nightmare Vermont donates to several charities. These include Camp Exclamation Point, which hosts a summer camp for underserved rural Vermont kids. Beagley is still seeking volunteers for this year's scarers, as well as for makeup, technical assistance and set construction.
Beagley has been taking fright to the next level since childhood. When she was 13, a drama teacher let her act in a scene in her Colchester school's haunted woods.
"Apparently, I backed up the entire event," she said, noting how long people lingered to watch her scene. "We were talking to people about horrible things we were doing to each other and going to do to them."
She founded Nightmare Vermont in 2005 with a group of other dedicated scarers. It's much more than your standard haunted house. Auditions are held more than a month in advance because the cast performs an interactive, scripted show that's sometimes nearly an hour long — complete with character arcs and elaborate sets. This year, the haunt's attendees will be led through a school setting where a natural disaster has just sent the students into lockdown mode.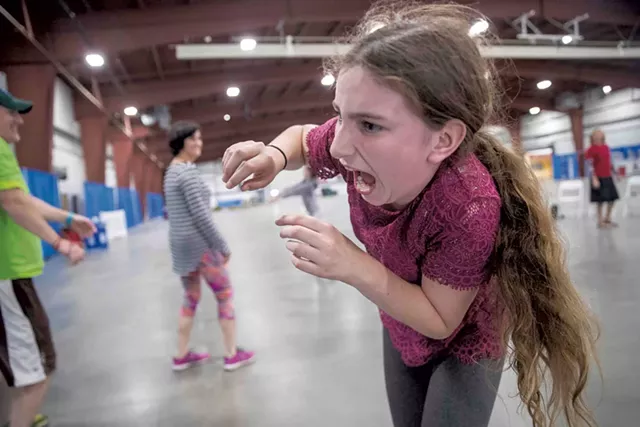 James Buck
Scenes from Nightmare Vermont auditions
Nightmare Vermont auctions off a lighted beacon to each group that enters the event. Beagley said enthusiastic attendees have paid up to $80 for it, because wearing the beacon turns a regular attendee into what's called a "teaser" and gives actors permission to make that person part of the scene. As Beagley put it at a recent rehearsal: "We can't hurt them, and we can't destroy anything they own. But we love vomiting on them."
This year, Nightmare Vermont features both the theatrical show and a more traditional scare maze, which attendees walk through on their own. The whole set will be built on multiple levels of the Expo grandstand.
The truth is, I'm easily spooked and don't even like haunted houses. But I do like inside jokes, when I'm on the inside, and I like the idea of scaring the crap out of someone and then laughing about it with all my cool new haunted-house friends.
As I sat down to fill out paperwork at the audition, I was immediately greeted by 17-year-old Ellie Davidson, back for her second year with Nightmare Vermont. Davidson wants to be a writer and loves horror. She said the highlight of last year's event was the final night, when they warned the audience to be prepared for excess amounts of blood and gore. Davidson got a face full of strawberry sauce. "It was really sticky," she said.
I also met Bruce Griffin, who's been haunt-acting since he retired eight years ago; he calls it his "active retirement." During last year's Nightmare Vermont, Griffin said, he lurked in the parking lot and scared visitors waiting in line for tickets.
"Maybe I'll put on my costume," Griffin mused as auditions got rolling. I didn't think much of this comment until, halfway through auditions, he stood up and went outside. A few minutes later, he reappeared (at least, I hope it was Griffin), wearing a hooded Grim Reaper-esque robe, his face completely concealed by a black mask with glowing red eyes. The Reaper hovered wordlessly in the doorway for a few minutes, then disappeared back into the dark parking lot. I chalked it up to typical Nightmare Vermont audition behavior.
The youngest auditioner was Isabelle Boddie, 12, who has acted in school plays and community theater. She saw Nightmare Vermont when she was younger and liked it. Her favorite horror movie is It, which I was too chicken to see.
We warmed up by imitating some standard horror creatures: zombies, werewolves, scary clowns. I immediately realized how committed some of the auditioners were. With the exception of Griffin and Boddie, most seemed to be twentysomethings. They dove into the activities with vigor and, for the most part, an utter lack of self-consciousness. I did my best to follow suit.
Next, we stood in a line, and Beagley mimed handing the first person an invisible cup of poison. Our instructions were to drink the poison, hand the "cup" to the next person in line and die a painful death. I was at the end of the line, so by the time the cup reached me, my fellow auditioners were writhing on the ground in various states of agony. I crossed myself, took a swig of invisible potion and collapsed.
In retrospect, I probably died too quickly. The best part of horror acting is that death is a get-out-of-jail-free card for any situation in which you're struggling to improvise your next move. Watching the others, I realized a hasty death was far less satisfying for the audience — I made a mental note to drag out my next performance a little longer.
James Buck
Scenes from Nightmare Vermont auditions
We also acted out scenes written on slips of paper. One auditioner's slip read that her pants were slowly filling up with razor blades. I was still contemplating the physics of this when she started screaming; it was so convincing that I reflexively covered my mouth in horror.
The audition included cold readings for the event's rehearsed parts, but for people looking for lower-commitment roles, it was more like haunt training. Not only did I learn about the art of dying but, in a later rehearsal, I got an introduction to stage combat, which is a central part of Nightmare Vermont shows.
At the end of my audition, Beagley asked whether I really wanted a role in the haunt. I told her I did. Later that week I was assigned my role: I'll be a brainwashed student in the maze for a couple of nights in October.
"We got you!" Beagley cheered. And it's true: The show got me. So if you need me, I'll be practicing my death.