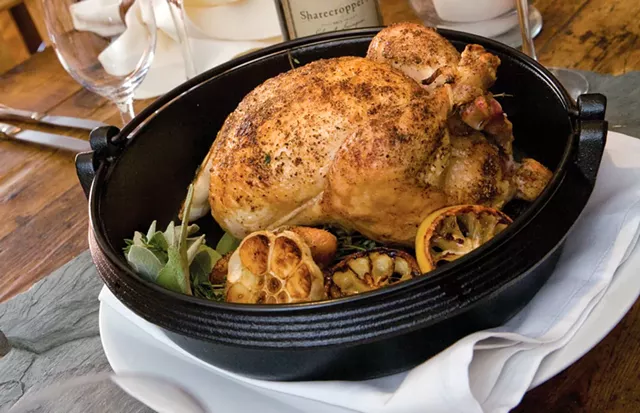 Tom McNeill
The Inn at Weathersfield
It looks homey as soon as you turn off Route 106 onto the short dirt lane: The Inn at Weathersfield is a classic white-clapboard, two-story building with a couple of centuries to its credit.
1342 Route 106
Upper Valley
Perkinsville, VT
802-263-9217
American (New)
If you're booked into one of the 12 guest rooms, you're in for myriad pleasures — think snuggly, soft bed with crisp linens, Jacuzzi tub and period architectural details — plus iPod docks and Wi-Fi. Like a lot of inns these days, this one combines old-school charm with modern comforts and connectivity. But the Inn at Weathersfield offers a unique technology-meets-tradition option: a GPS-guided tour of nearby providers to its kitchen, such as Black Watch Farms and Woods Sugar House and Cider Mill.
Tom McNeill
The Inn at Weathersfield
Co-owner David Sandelman set up the agritourism network to reflect the inn's commitment to Vermont food purveyors. He and his wife Jane bought and restored Weathersfield eight years ago, and teamed up with chef and co-owner Jason Tostrup to deliver a culinary experience celebrated by Saveur magazine.
The in-season tasting menu might include bite-sized portions of "Prosciutto Wrapped Swordfish with Parsnip Mash and Golden Raisin," or "Shuttlesworth Farms Stuffed Lamb Shoulder with Buckwheat Dumplings and Curry Cream." A meal that kicks off with "Root Cellar Celeriac Soup" may end with a wisp of "Dark Chocolate Fudge & Blood Orange Soufflé." Tostrup's artful concoctions are as pleasing to the eye as to the palate.
The inn's upscale Restaurant Verterra is cozy and dark, with a massive fireplace. More casual fare can be found in adjacent Lucy's Tavern. Warm-weather visitors can sup on an expansive deck out back. Year-round, the private wine cellar makes a popular dining room for locals and tourists alike.