No more cozying up with your book by the woodstove — it's summer now, and there are plenty of plein-air places to read! At the risk of seeming like a control freak, I offer four new volumes by Vermont poets with suggestions for where to savor each one.
To Read in a Hammock
The recumbent comfort of a hammock is perfect for daydreaming your way into the first section of American Drone, the first full-length collection since 2000 from Peter Money, poet and publisher of Harbor Mountain Press in White River Junction. American Drone is Harbor Mountain's 22nd book in a steady stream of titles that includes volumes by Alice B. Fogel, recently appointed poet laureate of New Hampshire.
Money's diverse collection is divided into three distinct sections, each of which uses words the way a cloud uses rain. The first section showers the reader in prose poems composed of associative musings. Money issues a downpour of phrases filled with declarations and observations. Taking "poetry" and "story making" as the impetus of these verses, he writes,
This is poetry now. Once upon a time, These Times the sky did not fall but a note prevailed as if handwritten not even the calculus of chords would predict the echo, the ash at bay & fire, the little mouth no one had yet known able to tell the story and with our helmets prepare to dance we touch the live wire without feeling collections of bones, marrow, salt, milk the hair an ink-line producing a town on a map's notable fiction found to be here. On the third floor windows fogged over as the lace of a night dress where many moons had been, where each silk thread held an enemy captive eating an orange, instead suffering repose because no one asked Would you like a book instead?...
American Drone's central section is a mystically infused correspondence, a steady rain of inquiry and reply between two men: Money and Iraqi poet Saadi Youssef, whose work Money has translated. The final section, "This Bridge Will Not Burn," sprinkles the reader with diary-like testimonies, distillations of life that escort us into some of summer's gift moments. "The Proof," for instance, begins: "James takes me around the bend / to where they are / a river pool / a shoal out in the middle sun, / thick tree curved for a seat / four feet above water..."
To Read in a Canoe Idling on a Lake
Many of the nature poems in George Lisi's first collection, Through the Gate of Trees: poetry of awakening, were composed during winters from 2011 through 2013. Yet these spare, elegant verses deserve to be read in the summer and considered in an environment similar to the one where they apparently originated — Lisi's inner aquifer.
Here's one invoking life's elements and exploring the reciprocity of human and atmospheric realms:
draw in the life
that gives you life
the air
that kindles
fire in your cells
breathe out
a warm and swirling mist
and know yourself
as kindred
of the storm
air
water
heat
make tempest
and your living frame.
~2/7/13
An instructor at the Wisdom of the Herbs School in Woodbury, Lisi writes with a naturalist's eye, crafting verses that seem to be "received" (in the same sense in which the Shakers "received" their songs) rather than willfully orchestrated. Accordingly, they trickle down the page in spare and graceful lines, no capitals, no punctuation, as if poetry were simply one flowing river into which Lisi frequently dips his cup, then lifts it up and marvels at the easy beauty of the natural world around him. Take this passage: "my eyes / insist / a ruby hand // has spread a fire / among the trees. (~1/21/13)"
The congruencies Lisi finds between outer world and inner mind are startling and refreshing, making his book the perfect companion for a sojourn away from the madding crowd and into Vermont's woods and waters.
it's unanimous
clouds of water
walking about in the trees
clouds of chickadees
swirling about
in
sunflower space
and
my cloudy little mind
mumblely-pegging
about
in the mists
~1/30/13
To Read at a Campfire
David Dillon's debut collection, from the porch, is a book whose sturdy, narrow design and physical construction render it rugged enough to survive the scuffing, splashing and smearing of a camping trip. Dillon's tone, honed during years as a newspaper reporter, remains neat and clean, as well.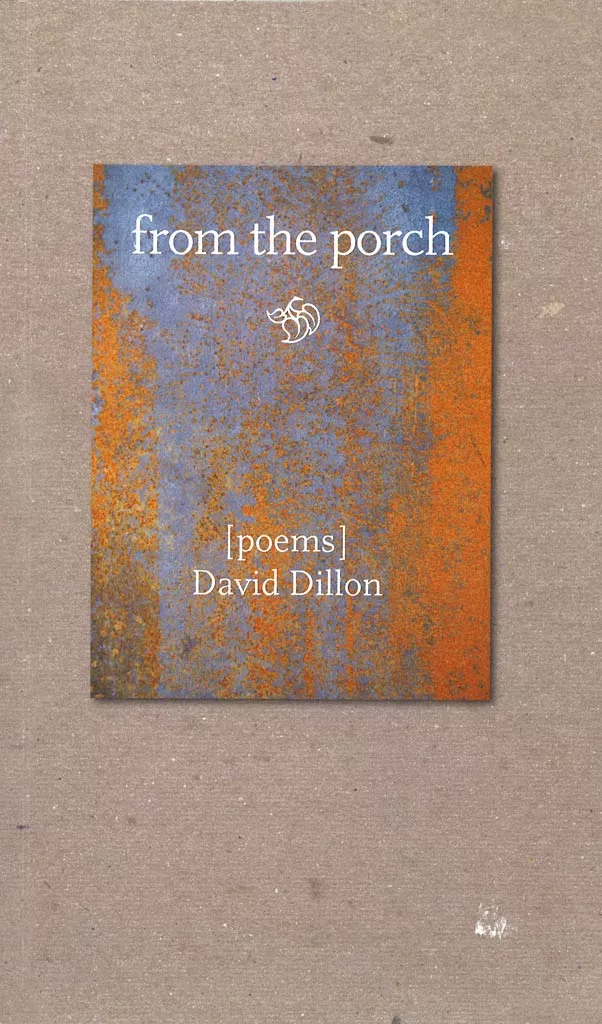 In this gathering of lean poems, his subjects run the gamut from rueful to playful (sometimes in the same poem):
Mulligan
could
have
been
could have
been
could
have been
could have
been could
have been
have been have
been.
Never
Was.
Recycling Day
Everything unpacks
easily
from my green canvas tote.
Regrets here, aspirations
there and
promise just beyond
the corrugated.
Perhaps
I'll pick something up
while I'm here
Amazing
what people throw away.
One imagines the East Albany writer is also recycling the material of his life, compressing experiences and philosophy into elemental poems. Take this one:
Soldiers of Misfortune
When I was 19
my friend Harmon
went to Vietnam
to defend my freedom.
It killed him
When I was 53
I met my friend Tom.
He'd gone to Vietnam, too.
It's still killing him.
Somehow I don't feel free.
With lyrics at once intimate and reticent in their disclosure, Dillon's work reminds me of the things one admits more readily by the campfire's light. These are experiences distilled for a small, lit place, learned and shared with the same privacy one might find in communicating "from the porch."
To Read While Waiting for Your Flight Back to Vermont
Though I'd never wish a summer airline delay upon you, it happens. And, should you glance up and notice your departure has been rescheduled, I would wish upon you this chunky volume: Raking the Winter Leaves: New and Selected Poems, the fifth collection from Cornwall poet Gary Margolis.
These poems have everything that enticing pulp novels at the newsstand offer. There's suspense: In "After School Working, Boston, 1963," a teenage hospital orderly stands by, waiting for patient Robert Frost to take his last breath. There's mystery: "Festival on the Green" asks if serendipity will engineer a repeat of past chance encounters among lovers, entertainers and soldiers. There are thrills: In "Fire in the Orchard," a unique series of circumstances turns the season's harvest into a towering inferno.
Margolis, who is the executive director emeritus of Middlebury College Mental Health Services, wrote these poems over four decades. He brings to them his generous understanding of fallibility, abrupt changes and life's turbulence. Whatever the season, Raking the Winter Leaves would make a great seatmate, a book to escort you all the way home.
August
These are the days we go away,
before September sharpens its pencil,
opens its lined and yellow pages.
We arrange to be on another coast,
its tides dragging the hours
back and forth over the bottom,
to be under the cast of a new
locality, charmed by its accent
and acceptance. We are never here
long enough to knot these habits,
and our children, too, suspend
themselves for now, in the rented
dream they are related as cousins.
Even when fog threatens to stay
and does, it covers everything,
and the wires of disappointment
become too wet to pass current.
Away from responsibility, the times
held for making love are held,
and signs that say, now, there's
time, find us looking for them.
Yet even before we leave, at night,
the lawn, the stacked mail begin
to tug on the ropes we forgot
to untie. The road already starts
our car without us and, before we know it,
we have never gone away again.
INFO
American Drone: New and Select Poems by Peter Money, Harbor Mountain Press, 85 pages. $15.
Through the Gate of Trees: poetry of awakening by George Lisi, Wisdom of the Herbs School, 144 pages. $17.95 paperback; $4.99 e-book.
from the porch by David Dillon, East Albany Press, 68 pages, $14.95.
Raking the Winter Leaves: New and Selected Poems by Gary Margolis, Bauhan Publishing, 240 pages. $22.50.
The original print version of this article was headlined "Poetry al Fresco"