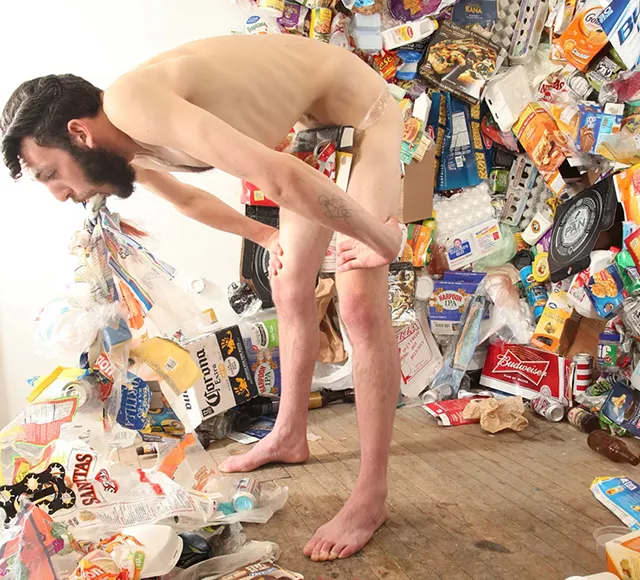 Matthew Thorsen
Judson Browning
It's not news that consumerism and throwaway culture produce a lot of trash. Just how much is hard to fathom. Disturbing yet vague information about humans' unconscionable waste surrounds us. A case has been made for "Plastiglomerate" — the masses of pollution formed in part from plastic garbage — to be considered a geological element. Some estimate that the Great Pacific garbage patch, the massive floating body of plastic debris and particles, is at least twice the size of Texas.
Judson Browning will attempt to give visual context and individual scale to this everyday wastefulness with an installation that opens this Friday, May 6. The 22-year-old Saint Michael's College senior collected every piece of his own food packaging for six months for his final thesis project. A studio art major, Browning produced the culminating exhibition "Six Months of Consumption," which will be on view at the McCarthy Art Gallery through May 15. If you've ever wondered what half a year of food-related trash looks like, this is your chance to find out.
"It's something that, ultimately, anybody can do," Browning said during a recent interview at his Sloane Art Center studio. "I don't have a problem with that. It's so simple."
Browning pointed to Colin Beavan, an author and blogger whose yearlong attempt to leave no environmental footprint resulted in a book and a 2009 documentary, both titled No Impact Man. New York artist Mary Mattingly, who recently delivered the Earth Week keynote talk at the University of Vermont, likewise engages with her own consumption. Among other environment-centric works, Mattingly is known for creating "manmade boulders" of her possessions, bound together with twine.
While the premise of Browning's project was simple, the logistics of keeping food packaging for half a year presented plenty of challenges. For the project's duration — from October 1, 2015, through March 31, he kept a log with variable levels of detail. Browning noticed that his eating habits were less inhibited during periods when his documentation was less exacting. He lost weight at the beginning of the project, he admitted, reasoning that "If I didn't eat it, I wouldn't have to document it."
As he finished each food item, Browning put the wrapper, box or can in a Ziploc bag, washing it when necessary to prevent rot and smell. He organized the bags by week and stored them at his townhouse apartment in eight plastic tubs — five 31-gallon and three 19-gallon ones — plus a few assorted boxes and bags for overflow.
When he shared food with others, he would sometimes take the packaging and sometimes leave it, attempting to approximate his personal proportion.
"I've definitely gotten some strange looks walking out of restaurants with my own trash," said Browning, who plans to stay in the Burlington area after graduation and continue making art.
"It's very easy to come up with these ideas and very challenging to stick with it when facing the day-to-day grind of it," wrote Brian Collier, Browning's academic adviser, in an email. "The dedication to simply keeping every bit of food or drink packaging for six months is very impressive."
Browning faced an internal challenge, too: trepidation about publicly revealing his food consumption. "I'm really sharing a big part of my life," he said. "People judge other people based on eating habits."
As the collecting progressed, Browning incorporated a variety of elements into the project, including photography and viewer participation. He was photographed — nude — buried in trash. Some of these images will be included in the final installation. Browning's collected items will be hung on walls, piled on the floor and placed on pedestals in the gallery.
His final flourish: Viewers will need to wade through packaging to reach snacks at the opening reception on Friday. "I love the admission of complicity in generating waste while simultaneously bringing the audience to think about their own consumption," Collier wrote.
Not surprisingly, Browning's experiment raised his own consciousness. "It's become hard to throw away packaging," he said. He still opens every container with the utmost care, much to the chagrin of some of his friends, who consider the quirk to be neurotic. During the project's six months, Browning noted, he became accustomed to cleaning his trash, "having to care for it."
What will happen to his collection when the exhibition is over? Browning is still mulling his options, which include compacting the trash into one giant cube. "It feels really weird to just go and throw it all away," he said.