Hurricane Matthew brought destructive winds and rain to Haiti when it hit the island nation in early October. The second punch was an outbreak of cholera, spread by contaminated water, which continues to plague the southern part of the country.
Mario Andre of Vermont-based Pure Water for the World traveled to the hard-hit southern port city of Les Cayes last week to distribute emergency supplies. He was overwhelmed. "We only had enough chlorine tablets and buckets for 50 families, but 500 showed up," the organization's field director explained by phone from Haiti. "What I witnessed is the desperation of the people.
"Clean water is life. That's our motto," Andre said of the nonprofit's goal to bring safe water to Central America and the Caribbean.
Other Vermont nonprofits working for global change
Since it was founded in 1999, Pure Water has raised millions of dollars to distribute home water-filtration systems to residents of Haiti, Honduras and other countries that lack consistently safe water supplies. The Rutland-based organization also leads education in schools and municipalities on hand washing, sanitation techniques and other measures that help reduce the spread of waterborne diseases such as cholera.
It responds to emergencies, such as the disaster-aid effort in Les Cayes, and is involved in building water infrastructure, including a gravity-set mountain pipeline project under way in rural Honduras.
But the bulk of Pure Water's work is to provide families with biosand water-filtering kits, which help remove bacteria, pathogens and suspended solids using a straightforward system of buckets, gravel and sand. The raw materials to build each filter cost about $80. With the education on use and repairs that Pure Water provides, the total cost per unit comes to about $300.
Many of the people the nonprofit helps live in deeply impoverished rural areas without municipal sewer and water purification systems, or the means to install safe home wells and septic systems. Some draw water directly from rivers where people wash clothes, bathe and defecate; others collect it in cisterns that contain residue from bird droppings and dead animals, or shallow ground wells that are contaminated by pollutants and bacteria.
Truck-delivered water is for sale in some of the communities where Pure Water works, but it isn't always clean and many people can't afford to pay the price.
The beauty of biosand filter technology, which is used in many developing countries, is that it's relatively easy for people to maintain once they've been trained.
"We don't want to give them something that, if it breaks, they don't have the replacement part or they don't have money to repair it," said Pure Water executive director Carolyn Meub. "We use a very simple technology."
How did a global nonprofit take root in Rutland?
It started with dentist and Brattleboro Rotary Club member Peter Abell, who made a medical service trip to El Salvador in 1994. He quickly realized that many of the illnesses he observed there were caused by untreated water, as well as poor hygiene and sanitation.
Rotarians volunteered to help with filtration and other water projects, and the effort eventually outgrew their organization to become a stand-alone nonprofit.
Meub stepped up to run it in 2003. The Rutland native had already been an aide to the late U.S. senator Robert Stafford (R-Vt.), helped organize Vermont's 1991 state bicentennial celebration and worked at a few nonprofits. At 51, she was ready to expand her horizons into the global humanitarian realm.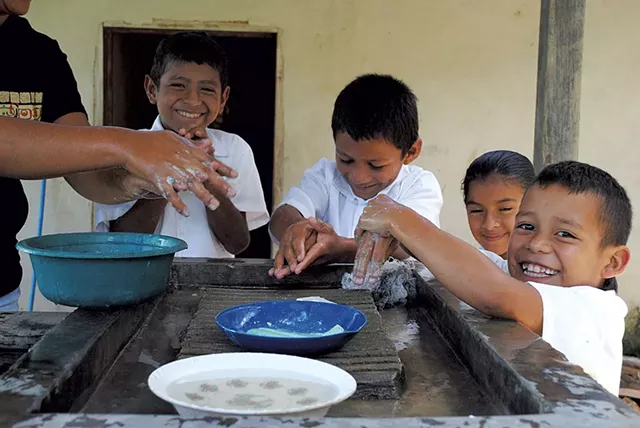 Now Meub makes regular trips to Honduras and Haiti, where Pure Water employs some 35 full- and part-time people, almost all of them local residents. There are just three staffers in Vermont, counting Meub. The trio works from her Rutland home, where it gets occasional input from Meub's husband, Bill, a Rutland lawyer, and the couple's two Portuguese water dogs.
The work is disheartening at times. Meub has seen dead bodies on the side of the road in Honduras and observed "elbow-to-elbow" poverty in Haiti's Cité Soleil slum. In her efforts to bring aid supplies into both countries, she has tangled with an ever-changing array of tariffs and customs rules. Sometimes ships laden with goods sit waiting in port for months; other times they are promptly allowed to unload. Taxes are unpredictable.
"They are just capricious. You don't know what it's going to be from one time to the other," Meub said.
Much of her work involves allocating the organization's $1.1 million annual budget and deploying volunteers, sometimes Vermonters, to work on Pure Water projects in Haiti and Honduras.
Fundraising is constant. As soon as one grant comes in, it's time to find another, Meub said, and that's just the nature of the job. "It's dynamic. It's challenging. I love it," she said. Then she added, "It gives me gray hair."
Earlier this month, Pure Water won a $75,000 grant under the Chick-Fil-A Foundation's True Inspiration Award program. The money will help fund water, sanitation and hygiene programs at schools in the rural Honduran municipality of Trojes.
Meub said she has enjoyed hiring and getting to know staff in the Caribbean and Central America, some of whom are U.S. citizens going back to help their countries of origin. Andre was 4 when his family left Haiti for New York City. After the devastating 2010 earthquake that displaced more than 1 million people in his native country, he realized he wanted to assist in the recovery effort.
At 45, with a master's degree in business, Andre returned to Haiti three years ago. He was shocked to see firsthand that many residents are forced to use dirty water, leading to diarrheal illnesses that keep children out of school and adults out of work. Some die as a result.
"Until you experience it, you never really understand the magnitude of the problem," Andre said. What keeps him going? In his view, "We are making a difference. I see it. I feel it. I live it."