Courtesy Of Bill Little
Raven in the 2016 Diamond Island Regatta
As I settled into the cockpit of Raven, Wendy Friant's 1975 Dufour 31 sloop, the boat's owner and captain issued explicit, no-nonsense instructions. "I'm the captain," Friant said firmly. "You can question me later, but when I tell you to do something, you do it."
Then, resting a hand on the ship's helm, she smiled excitedly and said, "Now, let's go racing."
Friant, 59, of Charlotte had invited me aboard her boat to crew in the sixth annual Diamond Island Regatta, which took place on Saturday, August 18, at the Point Bay Marina in Charlotte. Part of the summer-long, lake-wide Lake Champlain Championship Series, the race is hosted and organized by the Royal Savage Yacht Club, an informal group of sailors based in the Point Bay Marina.
Friant, a former RSYC commodore, helped launch the race six years ago to benefit the nearby Lake Champlain Maritime Museum. She remains one of the event's primary organizers.
During the prerace activities earlier that morning, the captains and crews of the regatta's other 20-plus boats milled around outside the RSYC clubhouse sipping coffee and cheerily discussing wind speed and swell sizes. Meanwhile, Friant buzzed around the marina tying up loose ends. She was so consumed with getting the race off without a hitch that she barely had time to consider her own part in the competition.
"I suppose I should probably think about how we're going to do this," she quipped as she motored Raven out of the bay toward the staging area, where the other boats were already under sail and zipping around, awaiting the starting horns.
As we approached, the rest of Raven's crew readied the boat, and Friant explained the rules of the regatta. Pointing to a long, sleek, dark-hulled boat with the name Corbeau emblazoned on the side, she said, "That's the fastest boat on the lake right now." Raven, she continued, is a heavy boat designed for cruising, not racing, and would stand no chance head-to-head with the likes of the high-performance Farr 400 Corbeau.
The regatta is broken into six classes determined by each boat's rating under the Performance Handicap Racing Fleet system, which ranks boats based on their speed potential. Raven, Friant noted, was rated the second-slowest boat in the regatta. But because of the handicapping system, even if she physically finished behind the other boats in the race, she would have a certain amount of time shaved off her final result and could finish ahead in "corrected time." The idea, she said, is to mitigate the advantage of sailing a faster boat and to reward pure sailing ability.
Raven, she added with pride, was currently leading in the overall Lake Champlain Championship Series standings and had recently won her class in the prestigious Ladies Cup race.
On this day, Raven was sailing with a small crew: a high school student named Ryan; a middle-aged woman named Fran; and a wiry spark plug who went by Cloud and sported a nest of thin gray dreadlocks bleached by the sun. And then there was me.
I have a modicum of sailing experience. I took and passed a sailing course two summers ago at the International Sailing School in Colchester, so I know the difference between a mainsheet and a mainsail. I can (sort of) tie a bowline knot. And I have a basic understanding of wind direction and how to trim a sail. Otherwise, I'm a novice.
Friant had plans for me, though. "We're gonna use you today," she advised, while the others rigged the jib at the bow of the boat. Primarily, Friant said, my role would be to serve as "rail meat" — essentially, to hang on the high rail of the boat when it leaned in the wind and provide counterweight to prevent it from capsizing. A small but important job, to be sure.
Five minutes before each class of the regatta starts, the committee boat — a motorboat anchored across from the starting buoy on which race officials view the proceedings — issues a horn blast, indicating a race is about to begin. A series of horns follows, counting down to the start. In the meantime, boats jockey for position along the start line. Now I learned an important piece of strategy: Get the start wrong, and it can sink your whole race.
As Friant explained, the goal is to cross the start line precisely when the starting horn sounds. Cross too late, and you'll start the race behind. Cross too early, and you'll have to circle back and cross again, eating even more time. It's a tricky proposition, even for sailors with a lifetime of experience, such as Friant.
"I've had one good start all season," she told me. Unfortunately, this would not be a second.
When our five-minute warning went off, my crewmates were still fussing with the genoa, which jammed every time Cloud tried to raise it. Tension built with each blast of the horn as the stubborn headsail refused to fly. Finally, an exasperated Friant ordered Ryan to the helm while she scampered to the bow to fix the sail just as the final horn sounded.
"Well, that wasn't good," said the bemused captain after retaking the helm.
Finally under way, and about three minutes behind the rest of our class, Friant assessed our situation. Our compact, athletic captain stood barefoot astride the benches of the cockpit, ordering minute adjustments to the sail trim to sail as close to the wind as possible. Before long, and despite the late start, it was clear Raven had begun gaining on the boats upwind.
Our goal was a marker off Essex, N.Y., where we would turn around and begin heading back downwind toward the regatta's namesake, Diamond Island. Constantly adjusting for changes in wind speed and direction, Friant calmly piloted Raven through a series of tacks.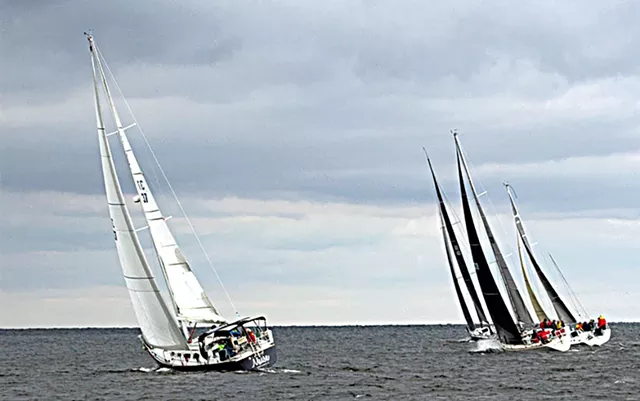 Courtesy Of Rik Carlson
Boats competing in the 2018 Diamond Island Regatta
As we zigzagged our way up and across the lake, I quickly came to understand that competitive sailing is far less leisurely than your typical pleasure cruise. It's a sport characterized by short, frantic bursts of physically demanding activity interspersed with periods of relative calm as you cut through the wind and waves.
Those latter moments are the ones when you really begin to appreciate the majesty of sailing. But, even during respites, it's a constant mental game of adjustments, of supreme strategy. Competitive sailing is a chess match.
As we rounded the buoy off Essex and began our course home, Friant ordered us to sail wing-on-wing, a downwind technique in which the jib and mainsail fly on opposite sides of the boat, spread out like wings — as opposed to both flying on the same side.
Sailing wing-on-wing can be dangerous, because it increases the risk of accidental jibing; that causes the boom to sweep across the boat, where it might clock an unsuspecting crew member. Wing-on-wing also takes time to set up, no small consideration in a sport where every second counts. But the technique maximizes the sail area to catch more wind. More wind equals more speed. In other words, it's fast.
Indeed, once Raven spread her wings, she soared down the lake. She regularly topped eight and nine knots — nearly double our upwind speed — and occasionally hit 10 as we cruised through the deepest part of the lake toward Diamond Island.
By this point, we had caught up to another boat in our class, Chip Kaupp's Capri 25 Blew Sky. Neck and neck, we charged down the lake, Friant and Cloud keeping a constant eye on Kaupp's movements and adjusting accordingly.
We rounded Diamond Island and streaked upwind for the finish. Reaching the endpoint required a series of tacks, which is where Friant's and Kaupp's strategies, and courses, diverged. Blew Sky crossed the finish line just before Raven. However, thanks to the handicapping system, Raven actually finished one minute and 40 seconds ahead, good for third place out of four in her class — though second to last overall. Still, it was a respectable showing, especially given the disastrous start.
"That was my fault," Friant told me later, referring to the jammed headsail. "As the captain, everything that happens on a boat is the captain's fault," she continued. "I'll go over procedures for raising the sail before the next race, and we won't make that mistake again. We're all always learning, always hopefully having fun and always getting better."
I can attest to the truth of two of those three claims. I learned a great deal about sailing in my two hours aboard Raven, and it was most certainly a lot of fun. As for getting better, we'll see. Over celebratory drinks aboard Raven after the race, Friant invited me back to crew again. To which I say this: Aye aye, cap'n.
Correction: August 23, 2018: This story has been updated to reflect that Raven won her class in the 2018 Ladies Cup race.