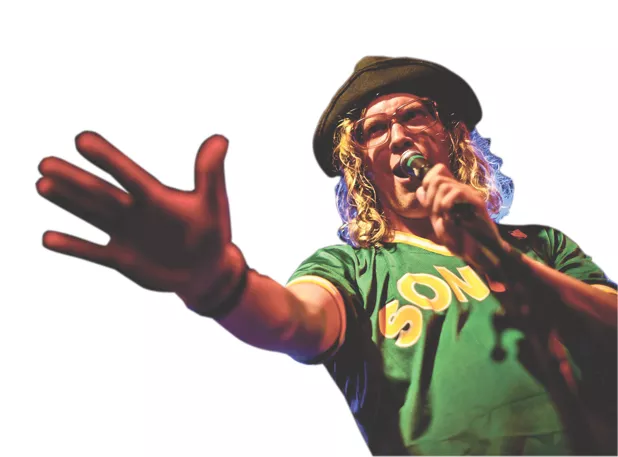 Since the release of his self-titled sophomore album in the fall of 2011, Allen Stone has become an unlikely poster boy for a new generation of soul revivalism. Much like Mayer Hawthorne, Ryan Shaw and Sharon Jones, Stone offers a modern spin on the classic R&B sounds of the 1960s and '70s. Media outlets from the New York Times to National Public Radio have praised his dynamic chops, offering lofty comparisons to the likes of Stevie Wonder, Marvin Gaye and Sam Cooke. Not bad for a gangly, 24-year-old son of a preacher man who grew up in rural Washington state.
Seven Days spoke with Stone by phone from Seattle in advance of his show at Club Metronome in Burlington on Wednesday, March 7.
SEVEN DAYS: Classic R&B and soul have experienced something of a renaissance in recent years with a number of new artists mining that sound for original material. How do you account for the renewed interest?
ALLEN STONE: I don't know. Part of it might be the resurgence of vinyl, which is definitely coming back. It's getting back to the roots of real music. But R&B music and traditional soul music was never really lost. And there was a pretty big light shone on it when Amy Winehouse came out [with Back to Black]. America sort of turned their ears to soul music again, in my opinion. But I don't know. I think people just want good music, and when it comes out they attach to it.
SD: You've spoken about the ability of soul music to address deeper societal issues and to transcend just being "baby-making music." You seem to make a point of doing that with your own material.
AS: The soul music that really got me moving was, like, What's Going On by Marvin Gaye. I really love music with depth and purpose. Sexy R&B definitely has its place. But especially R&B nowadays has too much emphasis on ass shakin' [rather]than culture shakin'. I feel like if you have a mic and people who listen to you, you should say something and offer a little bit of nourishment. I sing love songs and I want to have a good time with people. But I also want to leave them with something they can chew on. Something that can nourish their spirits beyond, "Oh, I went to an Allen Stone concert and I got drunk and shook my ass a little bit."
SD: Do you think artists have a responsibility to do that?
AS: I think we do. Unfortunately, a lot of artists don't see that. I think a lot of artists can be really selfish and think, This is all about me and what I do, instead of using the platform that they have to give to their community and their culture, what spirit they can give to those around them.
SD: You're the son of a preacher. How important was growing up singing in church to what you do now?
AS: It was vital. I wouldn't have been singing growing up if my mom and dad weren't singing in the church. It helped me find a love and passion for music. Granted, the music that was being played in my church growing up was awful. It was, like, crappy Southern gospel hymns and limited resources as far as musicians go. So I definitely didn't get my chops in the church. It didn't teach me how to do what I do now. But the singing part of church was really the only part of church I enjoyed or could stand. So I gravitated toward that and learned to get lost in a song. That's where I learned how to feel music.
SD: People have made some interesting comparisons of your music to other artists, including, of all people, Justin Timberlake. How do you feel about that one?
AS: [Laughs] Well, Justin Timberlake's a sexy motherfucker, man. I mean, he's one of the most talented artists to come out of the industry in the last 30 years. He's brilliant. So getting compared to someone like that is awesome. I don't know. When people say, "Oh, somebody sounds like this," even when I do it, it only goes so far. It's just an attempt at communication, to describe or categorize. But until you really pick up that record, you can't fully understand what it means. Everybody has their own frame of reference based on what they've experienced. So whoever compared me to Justin Timberlake, maybe that's all they've heard in soul music. I would say more like Donny Hathaway, that old soul music. But JT is incredible. If someone wants to flatter me by saying I sound like him, that's great.
SD: There's no delicate way to say this, but you don't really look the part of a classic soul crooner. Do you find you have to overcome people's misperceptions of you based on your appearance?
AS: [Laughs] For sure. When I was first starting out, we'd go around to labels and I showed up looking like a Northwest hippie and they were, like, What's going on? It's the industry, which is bullshit. That's why it keeps turning out the same pop, cupcake, cookie-cutter artists. They have a model of what they think works, and they're trying to keep the lights on. I think it's sad. It stunts a lot of incredible artists. I doubt we'd have Elton John or Stevie Wonder or Ray Charles if that same model was in place 40 years ago. But it is what it is. We're visual creatures.
But, yeah. I'm not black. I don't have a short crew cut and I don't wear a suit. That's naturally what a soul crooner looks like, but that's not me. But there are people out there who genuinely care about the craft of music and know that it's about what it sounds like and not what it looks like. So hopefully I'll be able to pave out that lane where people think, Yeah, he looks a little off-putting. But he works hard and sings hard and comes out to entertain every night.