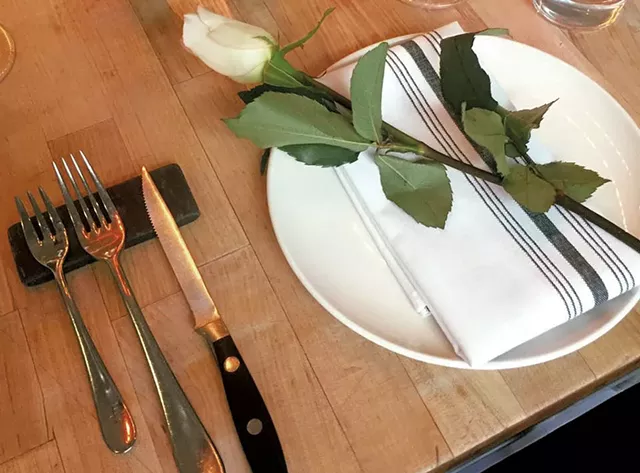 Courtesy Of Chaîne Des Rôtisseurs
Place setting at the inaugural Chaîne des Rôtisseurs dinner, held at Hen of the Wood
The art of roasting a goose is not simple. Because the waterfowl develop a thick layer of fat to protect them during migration, they must be tended with care so the fat renders out during the cooking process, allowing the skin to crisp and crackle.
Some folks may be casual about fowl cookery, but the French are not among them. During the medieval period, French goose roasters had their own trade guild, Les Oyers (from oie, meaning "goose"), which was chartered in 1248 by King Louis IX. Over time, the organization's responsibilities stretched to include the roasting of other meats, such as game birds, venison and lamb — and, in 1508, it was renamed the Rôtisseurs.
The guild system was a casualty of the French Revolution, but in 1950, a group of Frenchmen revived the tradition by creating La Confrérie de la Chaîne des Rôtisseurs, a society dedicated to the patronage and enjoyment of the culinary arts. The Chaîne, as it is nicknamed, brought together gourmands and food professionals for extravagant dinners and glamorous galas.
The first American chapter was formed in 1960, with Paul A. Spitler — who co-owned a butchery called DeBragga and Spitler and participated in the founding of the Culinary Institute of America — as its president. Now, Spitler's granddaughter, Liz Spitler, is heading up a budding Chaîne chapter — known as a bailliage — in Vermont.
Suzanne M. Podhaizer
Liz Spitler
On June 20, 2017, the Vermont bailliage held its kick-off dinner at Hen of the Wood in Burlington. Sitting at the chef's table in the restaurant's kitchen, a group of 10 enthusiasts dined on a menu inspired by William Shakespeare's A Midsummer Night's Dream and discussed the future of the Vermont Chaîne.
How does an organization with an emphasis on exquisite dining and arcane induction ceremonies play in a state where the dress code at fancy restaurants generally permits jeans and T-shirts? That's part of the challenge, Liz Spitler admits.
The 55-year-old resident of Vergennes has a background in marketing and works as an account executive for Radio Vermont Group. She's lived in Vermont for 30 years and, due to family connections, is a longtime participant in the Chaîne, which currently has about 25,000 members worldwide.
The Chaîne's Gastronome Magazine offers an inside look into an organization that might be considered the Freemasons of the culinary world. One 2015 issue includes a photo of Chaîne members bestowing a white ribbon on Pope Francis in honor of his "concern for the poor and his overall purity." Other articles display exquisite-looking food, menus from group events and pictures of glam diners sporting the various colored ribbons that indicate members' levels of membership.
As Spitler envisions it, however, the Vermont Chaîne will go beyond bringing people together to dine on dishes such as wagyu carpaccio with yuzu sauce and sweet potato soup with foie gras ice cream. She'd like it to host competitions for young chefs and sommeliers, offer scholarships to culinary school students and donate to organizations that fight hunger.
In 2016, when a friend asked Spitler if Burlington had a chapter — it didn't — she realized she wanted to bring the Chaîne to Vermont in a way that would reflect the values of the state's food community, she recalls. A previous attempt, which Spitler refers to as "old school" and composed primarily of "snowbirds," hadn't lasted.
The Vermont bailliage, under Spitler's direction, is a little more casual than other chapters, and its events will range from the gourmet to the affordable, she says. "A lot of what we're trying to do is unique," she continues. "[The Chaîne] need[s] to start attracting young people who are interested in cooking. In our state, there's a food revolution happening, and we want to tap into that enthusiasm. We want to embrace all of it, including burgers and beer."
Is that cool with the powers that be who govern the national and international chapters? Spitler says yes. As long as she stays true to the spirit of the Chaîne, "uniting under a common purpose and enjoying camaraderie" around food and drink, "I can do just about anything I want," she says. "Within the state, I have autonomy." That could mean organizing farmyard bonfires, cooking classes and fancy events to raise money for Hunger Free Vermont.
Dan Albrecht, a water-quality planner with the Chittenden County Regional Planning Commission and a friend of Spitler's, missed the Hen of the Wood dinner, but he was among 25 attendees of the Chaîne's October 2017 event at the Basin Harbor Club in Vergennes.
"I'm not a member [of the Chaîne], but it's nice to meet people that I didn't already have a connection with," Albrecht says. "[Humans] tend to stay in pretty small social circles, and Vermont is pretty small as it is."
Courtesy Of Chaîne Des Rôtisseurs
Spitler's father (left) being inducted to La Confrérie de la Chaîne des Rôtisseurs by her grandfather in New York City, circa 1960
At the Basin Harbor gathering, Albrecht and company paid $150 to dine on chicken galantine, roasted quail and coffee-crusted rib eye. That evening, Basin Harbor's chef, Philippe Ducrot, was inducted into the group. Spitler and the other members sported ribbons around their necks. These days, Spitler's is green, which denotes her status as the Vermont bailli (chapter head).
Albrecht, who appreciates that a portion of the proceeds of each dinner "goes to charity," says he is planning to attend the Vermont bailliage's next event, which is scheduled for March 18 at Vergennes Laundry and is open to the public.
How does he see the organization fitting into the ethos of Vermont? "I think it's compatible," Albrecht says. "Sometimes a casual event is warranted. Sometimes it's nice to get dressed up a bit, but I think there's room for all sorts of levels of extravagance, as long as the food is the center of it."
Although membership is theoretically available to anybody, the dues are steep: $250 annually, $50 of which goes to the group's nonprofit foundation. Applicants must be approved at the national level, but, as far as Spitler knows, nobody is turned away. The ribbon colors indicate a member's status and role in the industry. A "young chef" will wear an orange ribbon with a silver chain, for instance, whereas a sommelier's will be purple.
Spitler, who has never worked in the food industry, acknowledges that bringing new folks into the fold, and convincing them to don the ribbons, might be an uphill battle. In fact, she doesn't like the ribbons herself, joking that she'd like to create a plaid flannel variation for Vermonters.
But she feels confident that, over time, with the twin missions of celebrating Vermont craft foods and working to alleviate food insecurity, the bailliage will be a success. "I have such a fire in my belly about it," she says. "I'm ready to get in the trenches."
Spitler realizes that, leading the society on a volunteer basis, she can only proceed so quickly. "You really have to get all of your ducks in a row — or, I should say, get all your geese in a row," she jokes. She's looking forward to furthering her relationship with Hunger Free Vermont and getting more familiar with other Vermont nonprofits devoted to hunger relief. In 2018, she plans to host more events, network with existing food organizations and reach out to prospective members in new ways, including young folks via social media.
"It is important for us to recognize what the Chaîne has accomplished," Spitler says. "But there's a change in the landscape, and we need to raise the bar." She's excited to continue her grandfather's legacy, she adds: "He was a man with an incredible amount of passion for the food arts. [At events], I've been approached by people who knew him, from all over the world. He had an incredible influence."
What would Paul A. Spitler think of his granddaughter's intentions for the Vermont bailliage? "If he were still alive," she suggests, "this would be the direction he'd want to go."