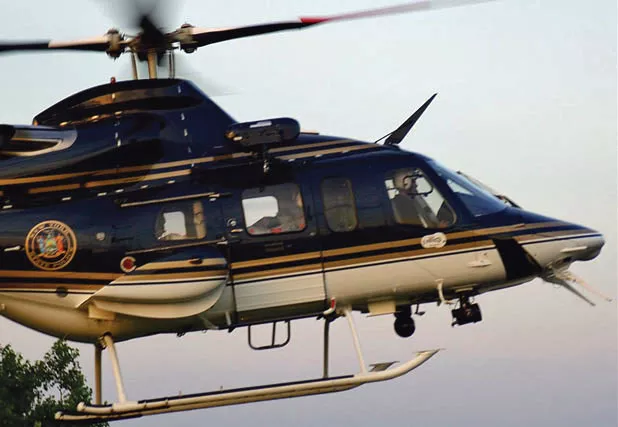 Chuck Pandolph's "office" doesn't have much elbow room. Located in the rear compartment of a twin-engine Bell 430 helicopter, it's just eight feet long and three-and-a-half feet wide. Those are tight quarters, especially when he's working on a patient who's 6 feet 2 inches, and 250 pounds and just fractured his skull skiing at Whiteface Mountain.
Still, Pandolph's office has one helluva view. He's chief flight nurse for North Country Life Flight Air Medical Rescue Team. Since 1989, the not-for-profit medevac helicopter has been providing critical emergency care to New York's North Country — at no cost to patients. Based in Saranac Lake, it serves an area from Lake Ontario to Lake Champlain, and from the southern edge of the Adirondack Park to the Canadian border. Life Flight can turn a two-hour ambulance ride into a 15-minute flight, which often means the difference between life and death for a seriously ill or critically injured patient.
Pandolph, 63, is a Saranac Lake native who's been working with Life Flight for 21 years. Like most of its crew, he got started as a volunteer emergency medical technician, then worked in an emergency room before attending nursing school. All told, he's been involved in medicine "in some shape or form" since 1972.
Among the nation's 900 or so medevac helicopters, North Country Life Flight's is unique in that it is owned, operated and dispatched by the New York State Police. The pilot and one crew member are state troopers, which means Life Flight can respond to a variety of incidents, such as car accidents, shootings, plane crashes, escaped convicts and search-and-rescue operations — "Pretty much anything you can imagine," Pandolph says.
Just minutes after the 9/11 attacks, Life Flight was deployed to New York City, 300 miles away. During Tropical Storm Irene, Life Flight was "all over the place," Pandolph says; in Vermont, it assisted with the rescue of a Lamoille River boater who'd gone over a dam. Life Flight doesn't even have to land to make a rescue. Pandolph can be lowered on a cable and hoist his patient back up in a basket. And his pilot can fly in the dark using night-vision goggles.
About 80 percent of Life Flight's patients go to Fletcher Allen Health Care, about 20 minutes by air from Saranac Lake; the rest go to hospitals in Albany or Syracuse. Though Life Flight takes just one patient at a time, it's hardly a first-class flying experience. As Pandolph puts it, "It's not comfort but survivability we're looking for." We asked him to elaborate on the tricky logistics of rescue by air.
SEVEN DAYS: How does flight medicine differ from working a ground ambulance?
CHUCK PANDOLPH: First of all, in most helicopters, it's extremely difficult, if not impossible, to do CPR because of its size. You can't hear in there, so, consequently, all your patient assessments are based on looking at them, looking at your monitors, feeling for pulses and a lot of palpitation of the chest to make sure it rises and falls. You have to use all your other senses. You can't use a stethoscope. You're not going to hear [sounds such as] gurgling, or even hollering sometimes. We're sitting there with helmets on and communicate back and forth to the pilot and other crew member. Sometimes we don't even allow the patient to communicate with us because it's distracting.
SD: Besides extensive medical training and experience, what does it take to work a medevac helicopter?
CP: You also have to be able to sit in that environment and not get sick. It seems like a simple thing, but some people can fly forward, but if you put them in a seat that's facing backwards, they get sick to their stomach. Air sickness is a big thing that sometimes separates people [between] doing it and not doing it.
SD: What's it like once your patient is aboard?
CP: The helicopter, unlike a ground ambulance, is a very small box. You can't pull over to the side of the road to sort out whatever medical emergency comes up... So you do any intervention you can before getting into that tiny little box. Then you've got to think of all the possible circumstances that can occur while you're in that little box and be prepared to deal with it. For example, a simple thing like making sure that if you need to start an IV or do an intubation, you can just reach for them and not have them buried underneath something.
SD: Ever had any scary in-flight incidents?
CP: No. These pilots, I trust them with my life. I've flown with them for 21 years. They're New York State Police pilots who have rigorous training and have gone through thousands of hours of flying. So they're pretty responsible about when or when not to fly. Sure, we've flown through some bad weather, but I've never felt unsafe or in harm's way.
SD: What's the hardest part of your job?
CP: It's a lot of waiting around. It's like any fire department or rescue squad. The downtime and paperwork and logistics of keeping your credentials up to date are the hardest part for me.
SD: And the easiest part?
CP: Frankly, the easiest part is flying with the patients. As you do this and become more experienced, when you're flying in the helicopter, you feel like that's your office. When you get back to the [ground] and have to stay awake and do all your paperwork, that's the hard part.
Work is a monthly interview feature showcasing a Vermonter (or the occasional New Yorker) with an interesting occupation. Suggest a job you would like to know more about: news@sevendaysvt.com.