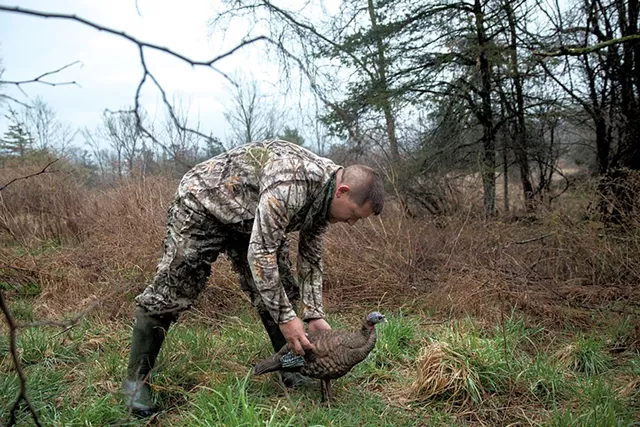 James Buck
Louis Porter setting up a turkey decoy
Louis Porter hit the dirt. Clad entirely in camouflage, he soldier-crawled across a muddy road, his gun at the ready. I chuckled silently at the scene's resemblance to ones in countless war films.
Porter's quarry, a big male turkey waddling around a hilly field, was decidedly nonthreatening. Still, excitement was in the air. After a morning hunt in which no shots had been fired, it appeared that we might not go home empty-handed after all.
Porter, the commissioner of the Vermont Fish & Wildlife Department, was part of a small turkey-hunting party that I had been invited to join. Our other members were Deb Markowitz, secretary of the Agency of Natural Resources; Frank Stanley, government affairs director for the Vermont Traditions Coalition, a traditional-land-use organization; and photographer James Buck. On a chilly but pleasant May morning, we had convened at Stanley's place in Monkton, doused ourselves with bug spray and set off into the woods.
Only Porter and Markowitz carried shotguns. Stanley, an experienced hunter who knows every inch of the woods on or near his property, was our guide and chief turkey caller. Both Markowitz and I happened to grow up in suburban Westchester County, N.Y., where hunting plays an insignificant role in local culture. Since then, she has taken to the sport, and was hoping to bag her first tom that morning. (Hens are off-limits until fall.) For my part, I'd never been hunting before and was eager to understand its appeal to so many Vermonters.
Hunting wild turkey is a popular pastime in a state that's more closely associated with deer hunting. Fish & Wildlife measures participation in the sport by the number of licenses it sells, which was 17,655 for the 2015 spring and fall turkey seasons. In spring, hunters are permitted to shoot two toms; one turkey of either sex is the fall limit.
In 2015, nearly 6,000 turkeys were harvested from a statewide population that's estimated to be between 45,000 and 60,000. Those figures have been erratic over the past two decades. After dipping in the early 1990s, the wild turkey population spiked significantly from the mid-'90s to 2008, following the reintroduction of the birds to Vermont's wild lands. Since 2008, numbers have declined slowly, a trend that Fish & Wildlife officials believe may indicate that the population is stabilizing.
Our hunting party set off at about 7 a.m. for a pine grove a quarter mile or so from Stanley's front porch. Like many birds, turkeys have excellent eyesight, so camouflage was a must. I could muster only tan pants and a green shirt, but Porter lent me a camo jacket. He had stressed that I should avoid wearing red, white or blue: Those are the colors of toms' heads, and we were there to hunt, not be hunted.
Turkeys also have acute hearing, so, once we'd all selected sturdy trees to hunker down against, we ceased all talking and movement. Porter had set up a remarkably lifelike female turkey decoy some 40 feet from where we sat; I hoped the toms were as convinced by it as I was. At that time of the morning, most turkeys were still roosting high in the trees where they had spent the previous night. Stanley instructed us to listen carefully for the rustling sound of their arboreal descent.
Having spent fairly little time in the woods, I've never been particularly attuned to its sounds. But without the hubbub of the workplace or music filling my ears, I could hardly fail to notice the rush of the wind and the ceaseless, varied calls of birds doing whatever it is that birds do.
My reverie was shattered by a series of sharp squawks from behind. Stanley was using a chalked-up wooden turkey call to draw the toms to the faux hen. In the right hands, this simple device can emit a surprising variety of sounds.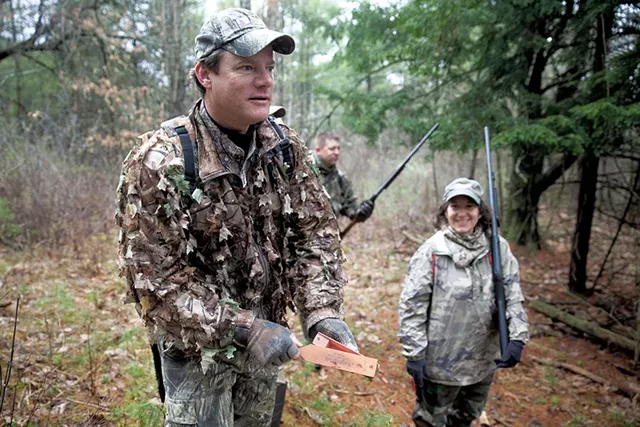 James Buck
Frank Stanley using a turkey call with Louis Porter and Deb Markowitz
When it became apparent that no males were taking the bait, Porter and Stanley, figuring there was nothing to lose, started shredding on their turkey calls like camo-clad Eddie Van Halens. Stanley let loose with a sonic boom of a gobble, and Markowitz and I cracked up.
For all her enthusiasm about hunting, Markowitz doesn't look a natural for the part. She got into the sport during her tenure as Vermont secretary of state, from 1998 to 2011, and said her initial interest was, in a way, political. Hunting is a popular recreation in Vermont, and, as Markowitz put it, "It was important for me to really understand my constituencies."
Her fondness for the sport grew naturally, though, in part because she enjoys being outdoors in nature. More than that, Markowitz said, "[Hunting] is the kind of nature experience where you really have to pay attention, looking for the signs and the sounds and the ground. You're looking for the story in the woods."
A moment later, she pointed to a tree that had been stripped of its bark close to the ground: the handiwork of a porcupine.
Markowitz sees no inconsistency in supervising the ANR and being a hunter. "If we didn't have hunting, [Vermont's natural resources] would be even more out of balance," she said.
Porter explained that many big-game species — deer, bear, moose, turkey — were nearly extirpated from Vermont between one and two centuries ago. "They've come back because of an approach to wildlife management called the North American Model of Wildlife Conservation," he said. "The idea is that wildlife belongs to all people, [and] that regulated hunting, fishing and trapping provide the way to manage those species and also provide revenue to pay for their conservation."
Porter called this management of wildlife according to scientific and legal principles "a very democratic idea," and noted that it has enjoyed remarkable success overall. "We brought all those species back, not only to really healthy populations but to populations that can sustain a significant amount of harvesting and provide a lot of recreational opportunities," he said.
The birds we were hunting had given us precious few opportunities even to hear them, much less shoot them. Markowitz explained that this is why it's called "hunting," not "killing": You spend most of your time searching.
Having heard hardly a ruffle, we plunged deeper into the woods. Stanley had scouted the area recently and knew a few more spots where gobblers gather. After a pause to eat cookies and try out the turkey call again, we reached another grove and settled in.
At this point, I wondered if I had what it took to be a hunter. I enjoy walking through the woods, but I'm terrified of firearms and feel ridiculous in camouflage. I'm also easily bored and found myself wishing I had a book to read while we waited for the turkeys to show themselves. This is probably not the kind of thing that successful hunters do.
Then again, Stanley does fine as a fairly unconventional hunter. After an unsuccessful hour or two, he pulled out his iPhone and jokingly asked Siri where to find a "big turkey" near our location. In no time, the digital genie had an answer for us: the Shaw's supermarket in Vergennes.
James Buck
Louis Porter
The turkeys never did show themselves — that is, until we had looped back around from our two-mile walk and found ourselves just a few hundred yards from Stanley's house. Looking over a low ridge, he spotted a tom and gestured for us to duck down and hush. Porter took the lead, crawling across the road to draw a bead on the bird. Stanley, Markowitz and I, crouch-walking, went around the ridge to encourage the bird to move toward Porter.
Our efforts failed. Porter, who had the best view of the turkey, said that it must have seen or heard us, because it got skittish and took off, taking several other birds with it. In the end, only Buck squeezed off any shots, and those were with his cameras. Markowitz took home the big prize: a clean white deer antler she found on the forest floor.
No one came away disappointed, though. We'd spent our morning in good company, walking through some of the most beautiful natural areas in Vermont. If that's hunting, I'll take it.