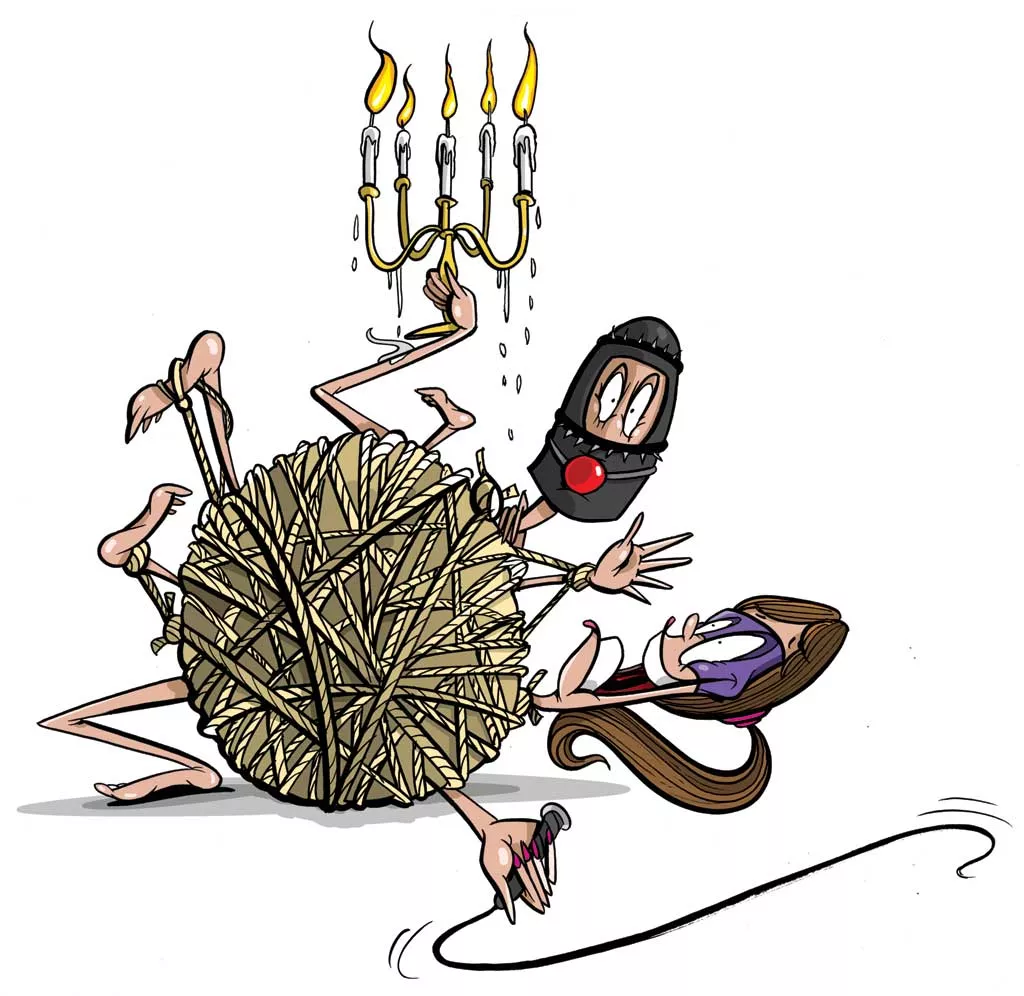 When I first heard that members of Vermont's kink scene gather for a monthly event known as the Twisted Munch, it didn't occur to me that such a function could be, well, boring. Sure, the Munch's organizers did advertise its non-X-rated nature. On a page created for the event at FetLife.com, a social networking site for fetish fans, they asked people to dress "street legal" and refrain from bringing alcohol.
But when I read such sly directives as "This is a brown bag event — the only face hole that needs to be stuffed is your own" and "If you're entering from the rear (ha ha ha), go down the hallway and take a left," I wondered if there wasn't substance to the innuendo.
To my prudish relief — or maybe disappointment? — there wasn't. When I reached the Burlington venue that hosted the Munch on a recent Friday evening, I entered from the aforementioned rear and walked upstairs to a large room where about a dozen people were mingling and eating doughnut holes.
A few people seemed coy in my presence. Other would-be attendees, I later learned, hadn't bothered to show up because they knew a reporter was coming. "Magdala," a slight, sandy-haired woman wearing jeans and a sweater, greeted me at the door. (Like everyone interviewed for this story, she didn't share her real name, just her kink-scene moniker.)
"Some people are very protective about their privacy," Magdala said. "You may go to a cocktail party and ask, 'Well, what do you do? Do you have any kids?' You tend to not ask those questions here, because you like to protect their privacy ... Some people cannot afford to have their employers know that they're kinky."
"Kink," Magdala explained, can describe any sexual interest outside the mainstream. Often the term refers to people who are into BDSM, an umbrella abbreviation for bondage and discipline, dominance and submission, and sadism and masochism. Kinky activities include everything from simple role-play to the use of ropes, knives, urine and electricity on partners.
"For me, it started with Nancy Drew, where she was always getting tied up in those ropes, and that always piqued my interest," said Magdala, 48, the chair of the board of Vermont Alternative Sexuality Education (VASE), which organizes the Munch. "I remember every once in a while kind of thinking, I might sort of like that ... So 12 years ago, I really started experimenting."
If the Munch meeting seemed almost puritanical, that's because it wasn't meant to be a play event. Rather, these gatherings provide an open, safe space for kink-curious individuals to socialize. About 20 people usually attend, Magdala said. People can find out about the meetings by following the VASE Facebook page or signing up for FetLife. ("NedStark" — after the "Game of Thrones" character — was already taken, so I signed up under the username "NedStark69" instead.)
The term "Munch" comes from the tradition of holding such meetings in restaurants. But attendees met in an arts space on this particular Friday, lounging on couches around the room, clustering in groups and even using hula hoops. The off-color humor present in the event's FetLife description was evident here, too; one woman could be overheard making an animated joke about the size of her penis.
VASE formed several years ago to educate people both in and outside the kink world (the outsiders are known as "vanilla") about the risks of BDSM activities, Magdala said. It partners with the New England Leather Alliance, or NELA, an advocacy organization for people with leather fetishes, to arrange discussions and classes on topics such as yoga for kinksters, spirituality in kink, polyamory, flogging and wax play.
If I learned anything by asking the Munch attendees about fetishes, it's that blanket statements don't apply. While Magdala said she liked both tying and getting tied up in rope, Tony — a tall, bespectacled guy in a blue Oxford shirt and khakis who also sits on the VASE board — explained that he has no patience for knots. When it comes to bondage, he prefers handcuffs or Velcro.
A third member of the VASE board, a 23-year-old recent University of Vermont grad calling herself Rivers the Kitty, wore a dress, cat ears and a collar at the Munch. One of her interests, she said, is pet play: acting like a cat while someone else plays her owner. Rivers, who works at a bookstore, has tabled for VASE at her alma mater because, she said, "there's a huge drive for kink at UVM."
For better or worse, explained Lucius, a veteran kinkster at the Munch, more people are getting interested in BDSM, in part owing to the popularity of the best-selling book Fifty Shades of Grey. That growing awareness helps, Lucius said, because it brings kinky activities closer to the mainstream.
But, he added, "I get scared sometimes. There are people who are playing who don't know what they're doing." To give them guidance, Lucius teaches rope-bondage classes through Innovative Fiber Arts, a local organization that offers tying sessions several times a month.
Two weeks after the Munch, I caught one of those evening classes myself. The event took place in a different part of Burlington, with 18 participants sitting in chairs arranged around a carpeted room and Lucius standing with two other instructors at the front.
I participated in Boy Scouts and wrestling when I was growing up, and this class seemed like a cross between the two. To start, Lucius instructed everyone on the importance of getting consent from your partner. He play-acted doing so with another instructor named Tracker.
"Whether it's rope bondage or any other form of kink play that we're doing here, we're all trying to push boundaries — whether they're emotional, psychological, physical — in a way that's oftentimes seen as taboo in our society," Tracker explained after his role-play conversation with Lucius. "The way that we can navigate that with some reasonable amount of safety is to make sure that we're on the same page with our partner."
The instructors worked through a few lessons in tying knots and coiling rope, acting as both drill sergeants and love gurus. After tying a mune nawa chest harness around Lux — the third (consenting) instructor — Lucius playfully pointed out how the ropes around her "ladypecs" made for some "fun boobage action."
Then it was time for the students to tie the same harness around a partner. My neighbor was Magdala, the VASE chairwoman who had also come to the tying class, and I decided to be gentlemanly and let her tie me up. Sitting cross-legged on the ground and wearing the undershirt I'd had on all day at work, I suddenly became aware of my failure to use deodorant that morning.
Magdala tied the rope around my chest several times, positioning it above and below my manpecs. Then, under instruction from Tracker, she used the harness as a foundation for the shrimp tie, an old samurai torture bind that left my arms behind my back and my chest tied to my knees. It folded me in half more like a clam than a shrimp.
I'm not sure I developed an appreciation for the prisoner's lifestyle in that 10-minute exercise. It was rewarding at first, in the way an exhausting yoga stretch can be. But after Tracker explained that people stuck in the position for too long can pass out from the pressure it places on the lungs and diaphragm, I started feeling claustrophobic and welcomed the chance to get out.
Everyone else in the class listened closely as Tracker got to the last part of his lesson. The couples in the room seemed to take particular note as he explained how the top partner could lever the bottom onto his or her side, into a position that provided "access to the naughty bits because of this full exposure."
Maybe, I thought, I shouldn't be so vanilla after all.
The original print version of this article was headlined "Fit to Be Tied"