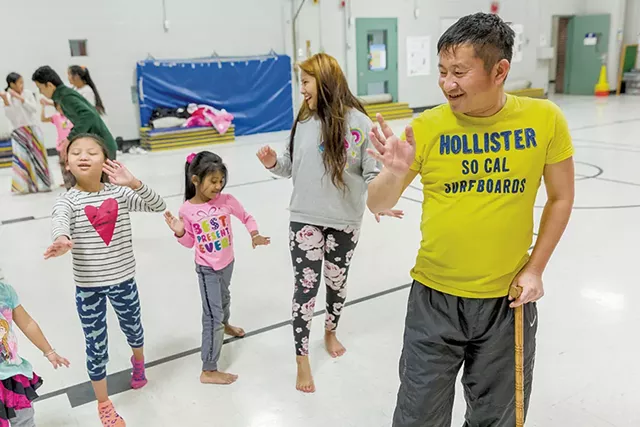 Oliver Parini
Bidur Rai
Three months after he arrived in Vermont from Nepal in the summer of 2015, Bidur Rai couldn't help thinking it would be better if he were dead. While his family members were adjusting to their new environment, the Bhutanese man felt trapped in their two-bedroom apartment in Burlington's Old North End.
At the time, Rai was unable to walk, or even stand, without assistance. Sport injuries had taken a toll on his body and limited his mobility. When they lived in Nepal, his family was around to help him. But in the U.S., Rai had to take care of his 18-month-old daughter, Bisasta, while everyone else went to school or work.
When Bisasta was thirsty, Rai had to crawl across the kitchen to get her a drink. If she fell and hurt herself while playing outside the house, Rai had to wait for assistance from passersby.
Meantime, his relationship with his wife and her sister became strained as the women struggled with the pressure of being the breadwinners. When they returned home from work, Rai was eager to find out how their day went. But they wanted to retire early.
Rai, now 40, remembers thinking, I am a burden to my family.
After their initial euphoria at arriving in a new country, refugees generally experience a "real dip" in emotions by their third month, according to University of Vermont associate professor Pablo Bose. He studies resettlement policies and practices in the U.S., Canada and Scandinavia.
Having to flee a country is traumatic, Bose explains, but making the move to a third country is also stressful. Exacerbating the situation, refugees are expected to be self-sufficient within months of arrival in the U.S. "People are trying to do a lot in a short period of time," Bose says.
Although Bhutanese refugees began resettling in the U.S. in 2008, Rai didn't submit his application until 2014. Unlike most of his friends and relatives, he didn't really want to leave the refugee camp in eastern Nepal where he had lived for more than two decades. Rai and his family were among the tens of thousands of Bhutanese nationals of ethnic Nepali descent who fled to Nepal in the early 1990s when a royal edict stripped them of their citizenship.
After completing his high school education in the camp, Rai taught his younger peers for three years. He went on to earn a degree in English at a local university. When he returned to the camp in 2007, he opened a grocery store and a canteen. Rai ran the businesses for four years before the debilitating effects of his injuries forced him to stop.
Rai had never fully recovered from breaking several bones during karate tournaments. He suffered swelling and numbness in his lower limbs and, eventually, lost all sensation in his legs. Doctors said the nerves in his lower vertebrae were "blocked."
For years, friends and relatives who had left the camp told Rai: "Go to the U.S. You will get better treatment. You don't have to live this way."
Initially, Rai rebuffed their advice. He was adamant that his achievements in karate would one day convince the Bhutanese government that he was a patriot. He had represented his native country at tournaments in India and Nepal. He waved the Bhutanese flag when he was on the medal podium.
I have given my life to Bhutan. One day, I'll get something, Rai remembers thinking. The "something" he wanted was permission to return to Bhutan. In the meantime, he sought treatment at local hospitals. He also kept busy by helping his community members with their paperwork and mediating disputes.
But when his savings ran out and his condition showed no improvement, Rai thought seriously about resettlement. He wanted not only proper medical care but to be able to work and provide for his family. Rai submitted his application in 2014. A year later, he and family members moved to the Green Mountain State.
A few months after arriving in Burlington, though, Rai began to feel demoralized. He couldn't find a job because of his physical condition. When people asked him questions such as "Do you like America?" and "Do you like Vermont?" Rai was stumped. His worldview didn't extend beyond the confines of his house. "The three months felt like 30 years," Rai recalls.
Such disillusionment is not unusual among newcomers, says Cathleen Kelley, social work care coordinator and mental health consultant from UVM's Pediatric New American Clinic. When the realities of life fall short of their expectations, it's "common for people to express hopelessness," she notes. "Adjustment can be complicated in so many ways."
Refugees have to cope with huge leaps from their previous lives. For example, those who spent many years in camps now have to grapple with paying rent and utilities. Some may not know whom to contact for assistance. Some believe that "when there's a challenge, perhaps they're doing something wrong," Kelley says.
In Rai's case, he felt even more isolated because of his disability. But he also knew there were people who could help him. During his pre-trip orientation in Nepal, Rai learned that he should approach the local resettlement agency for assistance.
To that end, the Vermont Refugee Resettlement Program connected Rai with a social worker, psychologist and job counselors, who in turn helped him consider his employment options. One of his advisors is Kimberly Colville from the Vermont Center for Independent Living. Rai cites her as one of his sources of inspiration.
"I believe people can live the life they want," Colville says. All it takes is "hard work" and "accommodation" from society.
Some members of the Bhutanese community suggested that Rai apply for Supplemental Security Income — a federal benefit program designed to help people with disabilities who have little or no income. But Rai refused. He wanted his children to be proud of him.
"They will say to their friends: Though my father was disabled, he worked," he says.
By late 2015, Rai was getting psychological and emotional support and seeing a neurologist at the UVM Medical Center and a physical therapist at UVM's Fanny Allen Campus. He used Medicaid to pay for the bills. Soon, Rai started to regain some sensation in his legs. His physical health began to improve. A fluid buildup was drained from his lower spine. After years of relying on family and friends to help him get around, Rai has started walking again with the help of a cane.
According to Rai, being able to communicate with his service providers really boosted his morale. When he was in Nepal, naysayers predicted he would have trouble understanding native English speakers even though he has a degree in English. By the summer of 2016, when he was physically fit enough to start working, Rai specifically asked for a job where he could interact with people.
Today, Rai works four days a week, in five-and-a-half-hour shifts, as a cashier at Redstone Dining at UVM. There he can choose from a wide variety of food for meals, but he always settles for an apple and a banana. Rai is still unfamiliar with most Western food, though he's tried pizzas and burgers. "If [the food] is not good, then I may have to throw it away. So, rather than throwing it away, let me not try it," he reasons.
Rai said it takes him about 90 minutes to walk from his Old North End home to work. But he doesn't want to give up. "It's a long walk. But what to do?" he shrugged. He can't afford to pay for a cab. Sometimes, he asks for a ride home from friends. But he's reluctant to ask for too many favors. And he wants to be able to work full time in the future.
A man with a renewed sense of confidence, Rai keeps busy with various cultural activities. He's one of the coordinators of a dance troupe for Bhutanese youth. He's also the head of an informal group of the Rai and Subba families in Vermont. And he hopes to start karate classes for his community in the summer.
In less than two years, Rai has gone from feeling hopeless about his life in the U.S. to wanting to help others the way he was helped. Some neighbors come asking him for help filling out forms. They face more challenges than he did, Rai reasons, even though they don't have physical disabilities. Knowing he's "doing something" for his community makes him feel good.
"[Rai] has a lot of drive," says Colville. "He's a person who wants to help people and bring positive change."