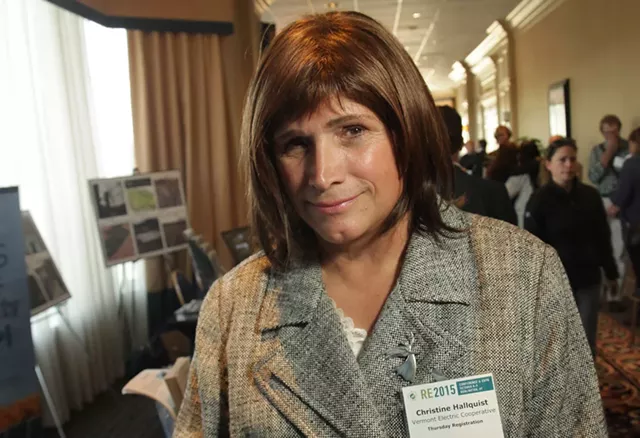 File: Matthew Thorsen
Christine Hallquist
In late 2016, a member of governor-elect Phil Scott's transition team placed an exploratory call to a prominent Vermonter: Would she be open to joining the new administration?
"I said no, I wasn't interested," recalled Christine Hallquist, who was then CEO of Vermont Electric Coop. No specific job was offered, she said. "It was just a general question: Would I be willing to serve?"
Scott confirmed the trial balloon. "I've always appreciated her management style," he said.
That's worthy of note, now that Hallquist is running for governor as a Democrat, seeking to topple the incumbent Republican who could have been her boss. Not to mention the fact that she voted for Scott in 2016 and enters the race as pretty much a political blank slate.
It might make a Democrat wonder: Is she really one of us?
"When I think about who I am, I am the Democratic Party," Hallquist asserted. "I have the party's pamphlet on my desk. I look at everything in there and say, 'That's what I'm all about.'"
On a range of social and policy issues, that's true. She's in favor of a $15 minimum wage, legalized marijuana and affordable access to health care. She's committed to boosting renewable energy. As a transgender woman, she has a first-person perspective on issues of equity and diversity. But when she talks about managing the government, she sounds a lot like Scott.
Hallquist considers tax increases "a last resort" and "a cop-out for a leader. Your job is to do things most efficiently." She's a practitioner of "lean" management, one of the keystones of the Scott administration. She wants to grow the state's economy — and sees growth, not raising taxes, as the way to increase revenue.
And she's a bit vague about her voting record. "My voting history is primarily Democratic," she said. "There have been few exceptions. In the high-level races, the party becomes more important. In local races, the person is more important. Governor of Vermont, we're not a huge state, so we're somewhere in between." She couldn't recall if she'd voted for Scott in his three races for lieutenant governor.
"Really?" asked Theo Fetter, campaign manager for progressive-minded Democratic candidate James Ehlers, when told of her spotty memory. He called her "not nearly progressive enough" and noted that in Hallquist and Scott, "We have to run against two trickle-down politicians this year. She's selling an economic fairy tale."
(The third Democrat in the race, Ethan Sonneborn, did not respond to a request for comment by press time.)
Hallquist says she has a simple, effective idea for creating jobs, especially in rural Vermont: universal broadband. "You will not get growth without fiber to every home and business," she said, comparing it to America's rural electrification program of the 1930s and '40s. "We're in the same situation today, but it's not an electrical divide; it's a digital divide."
Ehlers begs to differ. "The biggest problem [in rural Vermont] is insufficient water and wastewater infrastructure," he said. "Broadband is important, but it's not the most important factor."
He called Hallquist a product of career-long immersion "in the corporate world" and added, "This is what I'd expect from someone who's lived a life of privilege."
Which is not at all how Hallquist views herself. The longtime Hyde Park resident sited her campaign office in Morrisville, a move both practical (minutes from her home) and symbolic (a commitment to rural Vermont).
Beyond that, she claims a crucial difference between herself and Scott: a track record of actual performance. "I've been extremely effective in everything I've done. That's just a fact," she said. "It would be a real cop-out to say I have the solutions. What I have is the processes and the leadership to get the solutions."
As for being a product of corporate culture, Hallquist pointed out that the business she ran for almost 20 years is not a corporation but a co-op. "I've been running a cooperative democracy. I don't think we run like a business," she said, labeling her experience as "very translatable" to running state government.
Hallquist will have to make her case to Democratic primary voters, a crowd that's fonder of Sen. Bernie Sanders (I-Vt.) than of business people and lean managers. Ehlers can't wait to engage with her. "I hope she agrees to as many debates as possible," he said.
This race promises a true contest of ideas, with committed candidates who believe in themselves. It should be both enlightening and very lively. Of course, the winner will still face a distinctly uphill battle against a popular incumbent.
Not All Guns and Butter
Gun-related issues have dominated the Statehouse in recent weeks. As the legislature returned from its Town Meeting recess this week, firearms remained front and center, as did bruising battles between the legislature and governor over taxes, budgets and school spending. But there's plenty of other stuff to keep an eye on in the second half of the session. Here's a sampler.
Water quality. The Senate Natural Resources and Energy Committee has approved S.260, which would create a pathway to sustainable funding for a federally mandated 20-year waterways cleanup. Despite strong opposition from Senate Agriculture Committee chair Bobby Starr (D-Essex/Orleans), the bill is on its way to the Senate floor. Natural Resources chair Chris Bray (D-Addison) is confident it will be approved and sent on to the House.
Bray says Vermont will make "the largest investment in clean water work in state history" in the next fiscal year, thanks to capital expenditures approved last year, and S.260 would task a legislative panel with producing a comparable funding stream for ensuing years.
"We need it for at least five years," said Bray, "so we will have something solid." The bill seems designed to avoid a veto standoff with the governor, since it puts off the tough decisions until 2019.
Minimum wage and paid family leave. An unpredictable House/Senate dynamic is in play. The House approved a family leave bill last year; the Senate has yet to take it up. Last month, the Senate approved a bill to raise the minimum wage to $15 an hour by 2024, sending it on to the House. The two bodies seem to be at an impasse, each waiting for the other to move first. Some lawmakers want to send both to Gov. Scott and give him uncomfortable choices to make; others want to move just one bill in hopes of sidestepping a veto showdown.
Mental health infrastructure. The House Corrections and Institutions Committee will spend this week wrestling with the capital bill, which designates borrowed funds to pay for buildings and infrastructure. Committee chair Alice Emmons (D-Springfield) says it will include a secure residential facility, "a step-down unit for the state psychiatric hospital. Once a patient is stabilized, they don't need full hospitalization but do need a secure facility." The new beds would ease chronic overcrowding at the Vermont Psychiatric Care Hospital.
A secure forensic unit, to house inmates with significant mental illness, may not make the cut. The administration wants a placeholder unit at the Northwest State Correctional Facility. Emmons is skeptical: "Why should we put this kind of money into a temporary 12-bed facility? Is a prison the best setting?" She suggests the forensic unit "may be down the road."
Sexual harassment legislation. Last week, a House committee approved a wide-ranging bill to address sexual misconduct in Vermont workplaces. It's aimed at enhancing protections for employees who are subject to harassment or assault and would extend those protections to contract workers, as well. It has attracted little opposition and seems likely to progress quickly through the legislature.
Sexual harassment rules. The House Sexual Harassment Protection Panel has crafted a new process for handling complaints within the legislature. This week, the panel delivered a draft to its Senate counterpart; the two panels hope to agree on a common set of rules by the end of the session.
The current process triggered some bad press earlier this year, when Vermont Public Radio revealed that a complaint against a sitting senator had been lodged and adjudicated by the Senate Sexual Harassment Panel, all behind closed doors. No one, not even Senate President Pro Tempore Tim Ashe (D/P-Chittenden) himself, was allowed to learn any details.
The proposed rules would allow the pro tem and House speaker to be informed of any findings of misconduct — but no one else. Senate Majority Leader Becca Balint (D-Windham), chair of the Senate panel, says confidentiality is needed to protect complainants. But it works both ways.
"I see your point," Balint said, when asked if secrecy protects offenders as well. "If a case results in sanctions, it seems to me that the public has the right to know. This will be a source for very robust conversation."
On such issues, lawmakers tend to keep their own interests at the forefront. It may be happening again in this case.
Media Notes
We have four departures from the media scene to report, all pointing to a single fact: This is a tough business.
Reporter and editor Adam Silverman has left the Burlington Free Press after nearly 20 years to become spokesperson for the Vermont State Police. "I hope to help them be open, transparent and responsive to the public," said Silverman, who's also resigning the presidency of the Vermont Press Association. The state police could use a little help on the transparency front.
Silverman's not alone. Jennifer Costa, investigative reporter for WCAX-TV, has taken a government relations position for the American Cancer Society's Cancer Action Network. "I got a really great opportunity doing something I feel strongly about," Costa explained. Then she dropped the other shoe: "My husband and I had a child two years ago. It became more difficult to do TV news."
Also stepping away from daily journalism is former ABC 22/Fox 44 sports director Erin Cofiell, known for her "Darin' Erin" segments in which she took on challenges such as rhythmic gymnastics, ninja training and paddleboard yoga. She has taken a marketing job with Hall Communications, which operates multiple radio stations in Burlington. After years on the 3 p.m. to midnight shift, she wrote on Twitter, "I'm looking forward to finding a little more balance."
Last but certainly not least, Lisa Nagle is leaving WVMT AM 620, where she's been one-third of its "Charlie + Ernie + Lisa in the Morning!" show. She offered praise for "two of the best brothers and mentors in radio, Charlie Papillo and Ernie "The Legend" Farrar.
But those early mornings take a toll, and it was one of three jobs Nagle was holding down. She still works for Ronald McDonald House Charities and runs a personal chef and party-planner business. "I throw spectacular parties," she claimed.
Can I get an invite?