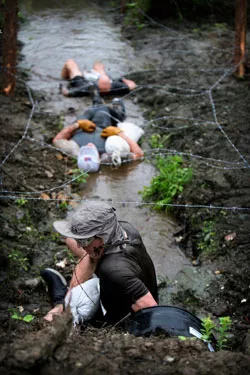 A 10-mile race: Pshaw. For the thousands of runners preparing to run 26.2 miles around Burlington for the Vermont City Marathon (VCM) at the end of this month, less than half that distance may seem like no big deal.
But what if those 10 miles were not on city paved roads and bike paths lined with spectators, but on an unknown course through the woods and fields of Pittsfield?
And what if, instead of Taiko drummers and Gatorade stations to urge you onward, those 10 miles were punctuated by extremely painful, grueling and mind-numbing tasks, such as mucking out stalls, chiseling marble, and crawling under barbed wire in the mud?
What if the organizers were actually trying to make you quit?
Then those 10 miles would be a different matter. They would take you up to 24 hours to finish — if you did finish (few do). And they would deserve their collective name: the Death Race. Rated the fourth-toughest race in the world, the ominously titled event takes place right here in Vermont.
"In a typical race, everyone says, 'You're doing a great job ... you can do it," says Joe Desena, a Pittsfield-based securities trader and ultra-distance racer who founded race-organizing company Peak Races and its networking and training offshoots, Peak.com and Peak Camps, with fellow ultra-distance runner Andy Weinberg of Middlebury. The Death Race is one of several the pair has devised.
"We're trying to talk people out of it," says Desena. "We're telling them they can't handle it; they should go home."
And go home they do. In 2007, the first year of the Death Race, just four people out of about 30 made it through. Last year, nine of 50 entrants staggered across the finish line. This year, there's a $1000 prize for the first five men and women who finish in under 24 hours. Most of us have about the same chance of finding a grand in cash lying on the sidewalk.
Part of the reason so many quit last year: The night before the scheduled start time, Desena and Weinberg called a pre-race meeting. Then they started throwing physical challenges at the racers then and there.
It's this kind of messing with your mind that defines the Death Race, and Peak Races in general. With names such as the "Funeral Run" and the "666 Bike Race," and courses even the fittest of folks don't like to contemplate, most Peak Races are designed to scare the sweat right out of you.
Yet, forbidding as they sound, these events are breathing new life into the off-road racing scene in Vermont. Thanks to the camaraderie they breed in the backwoods, Peak Races are, in some ways, far friendlier than traditional marathons and triathlons. And for competitors who do finish a Peak Race or participate in a Peak Camp, the experience can be life changing.
"Peak Camps and Peak Races have driven me to accomplish more goals; they have relieved stress and pushed me to be more disciplined and more efficient at my job," says 28-year-old Nuno Antunes, a New York City trader who's run the 50-mile Peak "ultra race" and its snowshoe marathon. "If it weren't for Peak, there are many shortcomings I wouldn't have overcome."
All this hype had me expecting something pretty harrowing when I tried my first Peak Race in April. But the only frightening thing about it turned out to be the weather. On a raw, rainy, windy Sunday, nearly 200 other racers and I huddled around our cars trying to stay warm before the start of the inaugural Middlebury Maple Run, a 13.1-miler that Weinberg and Desena call "The Sweetest Half." With a course that meandered around the Morgan Horse Farm and Middlebury College and featured none of the Death Race obstacles, it was sweet indeed — an aberration from Peak's typical suffer-fests.
Before the start, I met Desena and Weinberg, who didn't seem a bit bothered by the foul weather. And why should they be? Desena, who built swimming pools all over New York before going to Wall Street, took on adventure racing to relieve stress, then founded the Peak.com website to network with fellow "lunatics." After a bad car accident that dislocated his leg from his hip, Desena downshifted to racing Ironmans. And when he moved to Vermont in 2007, he ran here — 273 miles.
Weinberg, a former high school P.E. teacher from Illinois who arrived here last year and works as a Middlebury College swim coach, ran his first 50-miler in Wisconsin in 1996. He's since done 39 ultra-trail races, two double Ironmans and one triple Ironman, not to mention 15 triathlons and 11 marathons.
Ultra races (anything over 26.2 miles) differ from marathons in many ways besides distance, says Weinberg. "The camaraderie is different," he says. "You strike up a conversation and end up spending 12 hours with that person. And you're in the wilderness, surrounded by beautiful scenery, and you don't have to worry about cars. Plus, running on trails is easier on your body."
Desena and Weinberg connected through a mutual friend when they were all taking a midnight snowshoe around Desena's farm, and the pair decided to start putting on races. Working with Jason Hayden, who builds trails in the Pittsfield area, they've concocted back-breaking courses with "sadistic" twists and turns. Desena and Weinberg say they spend about a year planning the Death Race, which turns three when the next one begins, at 3 a.m. on June 27. (At least, they say that's the start time.)
The two stay up all night thinking of the challenges, many of which benefit farmers in the area. Last year, for example, each racer spent hours loading 30 buckets of sheep manure into a truck at one farm.
Once the event is under way, they watch Death Racers struggle, an experience Desena and Weinberg describe as emotional — and a ball. "We want to see that fighting spirit," says Desena. "It's mentally more difficult than anything they've ever come across."
To help athletes prepare for the Death Race, Peak offers a weekend Death Camp, one of several training camps now held at Amee Farm in Pittsfield. This year, the experience included running up a mountain with tires and sledgehammers, enduring kettlebell and plyometric workouts, pushing rocks in wheelbarrows, chopping and stacking wood, and hauling boxes. "Just a bunch of crazy, silly stuff," says Weinberg.
Jason Rita, a 42-year-old Australian who now lives in Delaware and was one of this year's Death Campers, says the experience was life affirming. "The weekend emphasized that it doesn't matter what you've done in the past or might do in the future," he says, "but what are you doing right now, and is it everything you can give?"
Rita is so rhapsodic about the Death Camp, I'm even considering giving it a go next summer. After my experience at the half-marathon — during which Weinberg cycled around to cheer on competitors — I'm convinced that Peak isn't out to kill anyone, just to have some serious, ass-kicking fun.
"The Death Race is super-extreme — on our waiver, it says you may die, which isn't true; we wouldn't let anyone die," says Weinberg. Then he pauses to consider the Funeral Run, a 200-miler held in November. "The Funeral Run ... well, you could possibly die on that."