Sally Pollak
Chocolate pig with 12 piglets from inside
Easter can sneak up on Pier Normandeau. "It is too early this year!" he declared. "You have to work all the time!"
Normandeau is a chocolatier in Mystic, Québec, where he is also chef-owner of a French country restaurant called L'Oeuf. In the weeks leading up to Easter, Normandeau makes about 1,500 chocolate pieces — mostly animals — in the workshop behind his café.
He crafts white chocolate bunnies with long ears, dark chocolate fish with shimmery scales, and milk chocolate pigs with 12 piglets inside. Normandeau fashions sheep that lie together in pairs, regal hens that sit on perfect little nests, and rabbits that hold aloft a form he appreciates so much that he named his restaurant after it: the egg.
Normandeau's shop feels like an Easter basket come to life, crammed with goodies in every corner: jars of housemade jams, an assemblage of painted wooden toys, a sweet-looking boy made of milk chocolate, wearing a chocolate tunic and holding a chocolate rose. But this collection's hidden treasure — toiling away in his shop until the day before Easter — is the menagerie's creator.
"I make enough to give a good choice on Saturday [March 31]," Normandeau said. "I want to give my customers a choice to the end."
Normandeau, 69, is the second of six siblings who grew up in nearby Bedford, Québec, on a small farm and apple orchard. (His parents had jobs off the farm.) The self-taught chef and baker opened L'Oeuf 40 years ago in the former Mystic general store. He had purchased the 1860 clapboard building, now painted barn red, in 1975 from its second owner.
A graduate of art school with an interest in design, Normandeau reasoned that he was starting with nothing — and therefore had nothing to lose. He ran his first business, selling antiques, for three years before changing his plan and launching L'Oeuf in 1978. He added chocolate-making to his business 34 years ago and has attended chocolatier school in Montréal and France.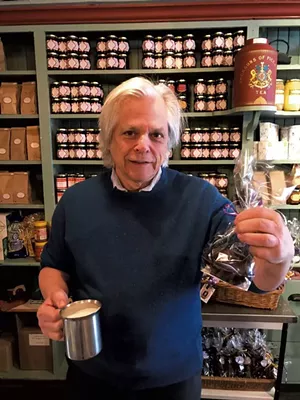 Sally Pollak
Pier Normandeau
"You have to take a chance in life," Normandeau told this reporter last week. He was talking at a table in his antique-filled dining room, drinking a late-morning espresso. "Every business, when you start, you go slow the first years," he added. "You have to keep going."
Normandeau chose the name L'Oeuf for aesthetic reasons. "It's a nice form," he explained. "It's a small name."
When it opened, the restaurant served crêpes and omelettes. But Normandeau expanded his menu over the years and now serves lunch and dinner four or five times a week, depending on the season. L'Oeuf offers soups, rabbit stew, duck confit, housemade pastas and sausages, terrine, and more.
"You change all the time," Normandeau said. "It's fun."
He and his wife, Monique Dupont, have two children and two grandchildren. She manages office work and reservations for the restaurant and attached six-room inn, and she runs the dining room.
Normandeau works in the kitchen at his 10-burner gas range preparing lunch and dinner for his guests. He built his own prep counters, and he makes and jars tomato sauce from the half ton of tomatoes he purchases each year from Montréal markets. He cooks in copper-bottomed stainless-steel pans from France, grows herbs in pots by the kitchen's bay window, bakes bread and cakes, and roasts his own coffee beans.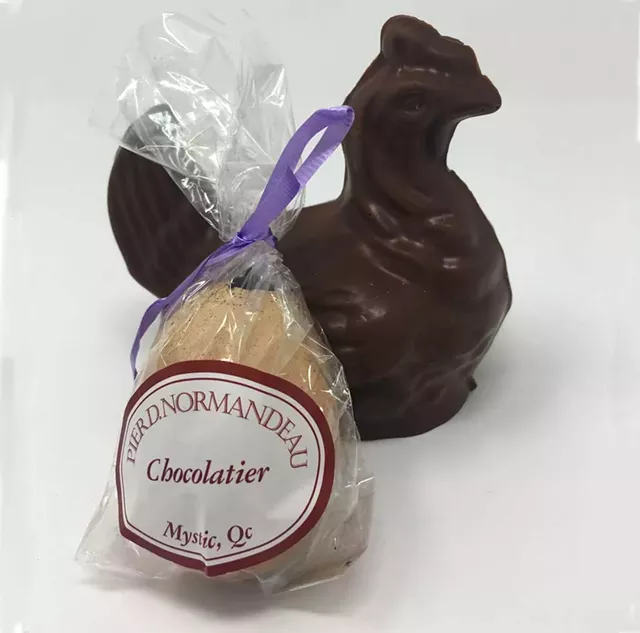 Sally Pollak
Crafted chocolates by Pier Normandeau
"There are not many places like this now," Normandeau said. "It's all fast food."
L'Oeuf is about 15 miles northeast of the U.S.-Canada border at Highgate Springs. The restaurant regularly draws customers from St. Albans and Highgate.
"It's like one country," Normandeau remarked.
In the eight weeks before Easter, he works in his chocolate shop before L'Oeuf opens for lunch, after diners leave at night and on the days when his restaurant is closed.
"I love everything," Normandeau said of his various undertakings. "First when I start, I like desserts. Then I like the meat. And when I go in my shop and I work all night, I don't mind. Because I work so much, I don't have time to get old."
In his chocolate shop, kept at 18 degrees Celsius, the work begins when Normandeau melts, in double boilers, chocolate drops imported from France. The process involves melting the chocolate to a certain temperature, cooling it and then reheating it until the chocolate achieves exactly the right temperature for molding.
"One degree too hot, it won't work," Normandeau said. "One degree too cold, no good."
Yet he doesn't use a thermometer to gauge the desired temperature. Rather, relying on decades of experience as a chocolatier and employing an artist's feel for his material, Normandeau removes a sample of chocolate from the pot with a spatula and watches it harden.
At the perfect consistency, he pours the chocolate into his molds. When the first coat starts to harden, Normandeau adds a second layer of chocolate. Larger, more fragile pieces get a third layer.
"I mold, I mold, I mold," Normandeau said. Then he lets the pieces set overnight. "I never unmold the same day," he noted, adding that a chocolatier could remove a piece from its mold after a few hours, but Normandeau has so many molds that he doesn't need to.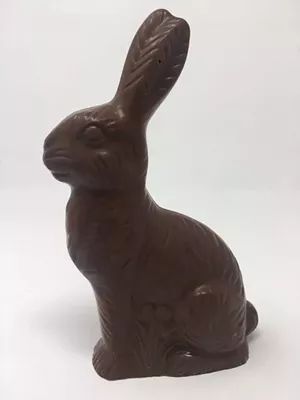 Sally Pollak
Crafted chocolates by Pier Normandeau
Over the years, the chocolatier has amassed a vast collection of molds, and he continues to collect them. Last year, he purchased about 100 molds — forms from the 1960s that had never been used — from a source in the U.S. that he wouldn't reveal. Recently, he bought molds from a retired chocolatier in Granby, Québec.
One natural form that is especially dear to him — the egg — is put to good use at Easter. Normandeau hollows out real eggs, washes the insides and fills them with a chocolate-praline mixture. White-shelled eggs are filled with milk chocolate, and brown eggs hold dark chocolate. Normandeau makes about 200 of these eggs, each wrapped and tied with a ribbon. They fill a basket on the counter of the shop.
When Easter is over, Normandeau returns to his usual chocolate-making task: crafting decorative bars, including pieces that depict a relief image of L'Oeuf.
"Since I was very young, the first thing I looked at was the drawing [on the chocolate], the flowers on top," Normandeau said, "not what was inside."
Easter, of course, heralds warmer weather. And that, in turn, means ice cream season is soon to come. As the sign on the front of Normandeau's shop announces, he is a chocolatier and a glacier. But no sign can convey all of the culinary and creative endeavors he brings to L'Oeuf.
"I'm still working because I love what I make," Normandeau said. "When I open it, I love it. And I still love it the same."