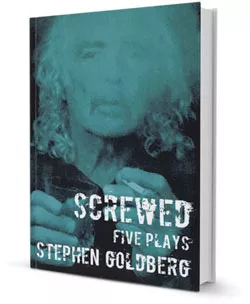 Thanks to the popularity of self-publishing and the proliferation of vanity presses, Seven Days receives a flood of books each year. Much to their authors' chagrin, and our frustration, we simply can't review them all. But the quantity is impressive, as is the variety — even if the quality is inconsistent.
The following four volumes — three from the increasingly busy Wind Ridge Books of Vermont or its imprint, Red Barn Books of Vermont, in Shelburne — illustrate the diversity of the releases we find in our mailboxes. With these brief descriptions and excerpts, you can decide for yourself who might like copies in their Christmas stockings.
High Tea at a Low Table: Stories from an Irish Childhood by Angela Patten
Wind Ridge Books of Vermont, 118 pages. $15.95
Why are Irish childhoods always so "colorful"? Time and time again, films and books prove it so, and Angela Patten's slim memoir is no exception. Born and raised in Dublin, the author — now a poet and teacher in Burlington — recites in straightforward yet often evocative prose memories of her family and growing up in Ireland. There is a twist: the later incident of her abduction, at gunpoint, as a young mother in Vermont. Patten weaves this story into the other one, and the transitions can be jarring. But there is no question the parallel narratives suggest not one but two cinematic treatments.
It dawned on me that I wasn't due to pick up my son for several days, so it would be a long time before anyone missed me. I was terrified, sitting there trapped in my own car as it rattled down the highway. But on another level, I was not surprised. My everyday life in America as a single mother newly separate from husband and homeland was so terrifying that being kidnapped at gunpoint seemed like just another unfortunate occurrence.
I Wish He'd Taught Me How to Shave by Dave Landers
Wind Ridge Books of Vermont, 105 pages. $16.95
A longtime college counselor, Dave Landers is the former director of the student resource center at Saint Michael's College and has been teaching a gender-studies course called Men and Masculinities for 12 years. According to his description in the book, the wildly popular class has a two-year waiting list.
Landers would likely tell you that's because, in his observation, young men often lack adequate role models of what it means to be a man. Their own fathers have failed to pass along that critical information, as did their fathers before them. Landers recounts the stories of a number of his students, incorporating some of their essays into the book, and "distills what he has learned about the generational damage done when society holds strict and limiting views of masculinity."
Is the measure of a man whether or not he plays catch with his son in the backyard? I suppose for some young men it is. I told Brian that it wasn't that his dad — my brother — didn't love him, it was simply that our father had never done that with us, and so perhaps my brother had never realized that this was something that should have been done. I tried to explain to this sweet ten year old that our father (his grandfather) had been a mailman who worked really, really hard, came home from work tired, and never had the time to go out and play catch with us.
Screwed: Five Plays by Stephen Goldberg
Fomite Press, 286 pages. $15
Born in New York City, Stephen Goldberg was a jazz trumpeter for years before he became a writer. While he was the musical director and composer for a dance-theater company called Nimbus, he had a residency at Johnson State College, where he met the playwright John Ford Noonan. It was Noonan, he relates, who encouraged Goldberg's own writing.
Since that time, Goldberg has penned more than 25 plays — five of them in this book — each of them dark, acidly funny and loaded with F-bombs. "I do write about the Underbelly of Humanity," Goldberg puts it in a brief introduction, in which he dedicates his plays to the "house wreckers and mind fuckers" he knew on the Lower East Side.
In Burlington, where he has long lived, Goldberg is cofounder of Off Center for the Dramatic Arts. This excerpt is from Arnie Gets It Good.
Arnie (aside to audience): I'm telling you I was just sitting here in the unemployment office. It's like the whole room is on fire, the light level is cranked, there's flames coming out of people's heads, like their heads are vessels of over-lit emptiness. It's one of those capturing moments and I realize I don't want a job, what I want is money and I want this scrubbed woman who's sitting behind her desk.
Morse's Doodles & Jots by Jim Morse
Red Barn Books of Vermont, 270 pages. $22.95
Here's a book that delivers exactly what it promises: Its pages are filled with what the author modestly and accurately terms "doodles." A tagline further explains, "A former Vermont Supreme Court Justice holds forth on Law, Philosophy, Religion, War and more."
Jim Morse was a justice for 14 years and in his retirement has turned to drawing. That is, we assume he did not bring colored felt-tip pens to the bench — but then, who knows what judges hide under those robes?
Morse reveals in a preface that he's kept a journal for years, jotting in it aphorisms "that just come to me in idle hours." Paired with drawings in the book, Morse's jots are variously witty, wise, silly and cryptic.