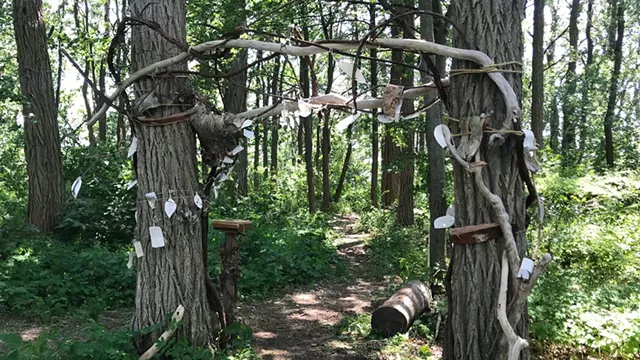 Chelsea Edgar
"Portal" installation in Burlington's New North End
Bummed about not being able to travel this summer? Consider the transportive possibilities of the humble portal, which can pop up virtually anywhere (the way to Narnia, after all, was through a closet filled with mothballs) and requires only that you completely disconnect from reality in order to obtain safe passage to your personal beyond.
Am I kidding? I don't know anymore, which is sort of troubling. But recently, I learned that a mysterious doorway had appeared in the woods behind the Cambrian Rise apartment complex in the New North End of Burlington. On a sweltering afternoon, I found it, about 100 yards down a trail that leads to the Lake Champlain waterfront.
Two trees, wrapped in vines and branches and adorned with bits of birch bark, formed the sides of the doorway; about 10 feet off the ground, a bough of branches, tied together with hemp rope, connected them to create a sort of arbor. (If you're having trouble visualizing this, google "fairy wedding Pinterest," and you'll get the idea.) The opening between the trees was slightly wider than an adult wingspan and could easily accommodate several hobbits. (I waited for Frodo to show up but, tragically, he did not oblige.)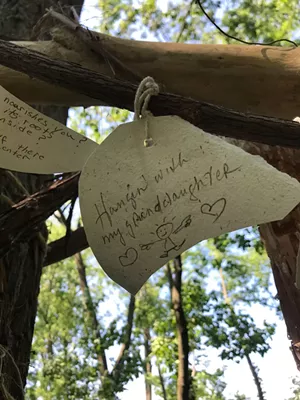 Chelsea Edgar
"Portal" installation in Burlington's New North End
Partially obscured behind one of the trees, atop a plinth fashioned from a log, was a slightly cursed-looking wooden box; someone had scrawled in pencil across the top, "I'm in the kitchen, I'm making it FUNK," which killed the vibe a little. In the box was an assortment of writing utensils and paper tags, hole-punched and tied with string so that passersby could respond to the prompt on the inside of the lid: "What's getting you through?"
The arbor was festooned with dozens of tags, fluttering in the breeze like tiny ghosts, on which people had anonymously shared their coping strategies for being sentient in the year 2020.
Plenty of normier ones — "family," "friends," "nature" — were basically kale salad for the soul. Scattered among them were a few bolder prescriptions, such as the admirably hedonistic "video games and cheese" and that ancient folk remedy, "walking, dreaming, and masturbation."
Other notes were heavier. On one tag, devastatingly punctuated with a period: "I have myself." Someone else wrote: "Suicidal vets have no access to treatment. No martial arts, no face to face therapy. The ones who don't off themselves are just waiting to die."
I felt as if I had tuned in to a secret radio frequency, a whisper network of private thoughts.
I attempted to track down the architect of this shrine to persistence with a post on the Facebook group Sensi-Babeington. In response, Cinse Bonino of Burlington wrote: "I do, but I'm not telling." Via Bonino, the artists (apparently, more than one was involved) told me that they "are choosing to keep the mystery, and [to] let the portal speak for itself." Narnia's PR team would applaud this communications strategy.