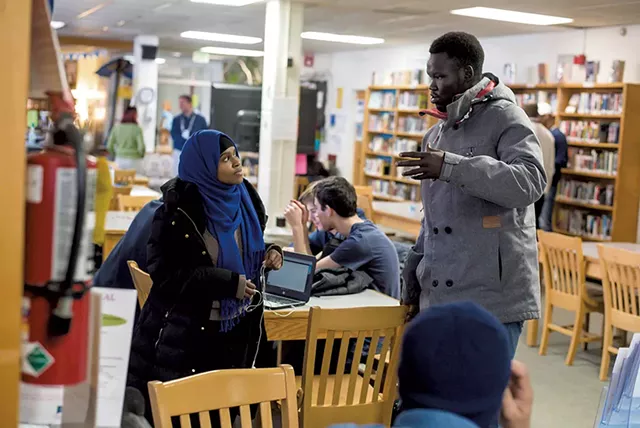 Glenn Russell
Yuol Herjok of Spectrum Youth & Family Services (right) speaking with Burlington High School senior Halima Said at the school's Spectrum Multicultural Help Desk
Rabin Dahal knows what it's like to have to grow up fast. When he and his family moved from a refugee camp in Nepal to Rochester, N.Y., in 2008, his older brother became the head of the household at age 16. Dahal was just 9. He watched his brother learn how to file taxes, translate letters and bills, take their parents to doctor's appointments, and complete the paperwork for Medicaid and food stamps.
"I could see that he had to go through a lot," said Dahal, now 20. "He was missing out on being a teenager because he had to be an adult."
In the summer of 2016, Dahal moved to Vermont. Today, he is part of a support system at Burlington-based Spectrum Youth & Family Services that aims to help young people — especially those new to the U.S. — achieve success without missing out on life experiences. As an outreach worker with the nonprofit's Multicultural Youth Program, Dahal helps locals ages 12 to 24 access resources, services and community programs.
New arrivals to the U.S. are at a disadvantage when they're unfamiliar with how things work or lack language skills or necessary support, said Daimeyon Williams, who manages the Multicultural Youth Program. And in today's society, in which "we deal a lot with implicit bias and white fragility," as he put it, white adult providers can't fully understand the challenges that youth of color face.
Williams' staffers, by contrast, share a similar experience with their clients. "We really try to find individuals that have been successful navigating the system and are from the demographics that we work with," he explained.
Williams supervises four employees, plus three interns from the University of Vermont and an AmeriCorps member. Most are younger than 25 and have their "finger on the pulse of what the youth are dealing with," he said.
Though staffers don't have to self-identify as New Americans or have culturally diverse backgrounds, it's "a big plus" to have some experience working with people of color, Williams noted.
Collectively, the Multicultural Youth Program staffers speak Dinka, French, Maay Maay, Nepali, Somali, Spanish and Swahili, in addition to English. They manage an array of activities, including indoor soccer, a girls' group, a leadership conference and a summer bike club.
Launched in June 2015, the program has an annual budget of about $200,000 funded by individual donors, foundations and corporations. It emerged from a confluence of factors, according to Spectrum executive director Mark Redmond. In conversations with community organizations, he heard New American parents express concerns about the challenges some of their children faced in their new country. He also noticed that very few New American youth participated in Spectrum's programs.
Research confirmed the center's low visibility among those young people. In 2014, Jody Kamon, a psychologist with the Center for Behavioral Health Integration in Montpelier, and UVM assistant professor of pediatrics Maria Mercedes Avila interviewed focus groups of New American youth in Vermont. When they told Redmond none of their interviewees had ever heard of Spectrum, he was appalled and asked how he could remedy the situation.
"You need to hire staff from that demographic and get them out into the schools and the community to engage with them and accompany them to the services they need," Redmond said the women told him.
Glenn Russell
Allison Bailey of the U.S. Committee for Refugees and Immigrants Vermont (left) and Rabin Dahal of Spectrum Youth & Family Services staffing the Spectrum Multicultural Help Desk
Today, along with a volunteer and AmeriCorps members from the U.S. Committee for Refugees and Immigrants Vermont, the Multicultural Youth Program team staffs a daily help desk in the Burlington High School library. Team members provide help with homework and finding part-time jobs, become reading partners for English-language learners, review college application essays and résumés, drive students to appointments, and teach driver's education.
Sometimes students take the initiative to approach the help desk; sometimes teachers refer them. Dahal goes to ELL classes to introduce himself and the Spectrum program. "We make an effort to build a relationship so that they feel comfortable coming to us," he said.
But he wants to do more. Dahal is especially keen on tutoring students with special needs.
Last week, BHS teacher Suzy King took her students to visit the Multicultural Youth Program's resource center on North Street. The space, which also serves as a computer lab and library, is decorated with motivational posters, fairy lights, a world map, and pictures of prominent black leaders such as Malcolm X and Nelson Mandela.
As they waited for the orientation to begin, some of the students chatted in Nepali while others listened to a Swahili song playing on a computer.
When Williams asked the high schoolers whether any had heard about or taken part in Multicultural Youth Program activities, a few hands shot up. After a short presentation by the staffers, King quizzed her students.
"Have you seen [the team] in the library?"
"What if you want a job? Can you go to them?"
"If you have mail from your house, can you go to them?"
King smiled when her students answered each question with a resounding "Yes!"
Aden Haji, another outreach worker, said he finds it easy to relate to the students at BHS because he's an alumnus. "They know me," he explained, "and [that] makes the connections a little more personal."
A BHS alum who holds a more senior position at Spectrum is Yuol Herjok Yuol, who works with the school district's multilingual liaisons. Some of his responsibilities include checking up on students, advocating for the Sudanese Dinka-speaking community and translating documents.
"Being able to help another person," said Yuol — "I take great pride in that."
Halima Said, a BHS senior, said she enjoys being part of the girls' group in the Multicultural Youth Program. Her childhood friend, who is an intern with the program and a BHS alumna, told her about the group.
"It's a nice space to talk about anything," explained Said, who will attend Champlain College in the fall and wants to major in psychology. "We talked about what it is to be a woman of color in America ... [and] life goals, where you see yourself in five years."
This school year, the Multicultural Youth Program team started a help-desk initiative at the Winooski middle and high schools, appearing at the library three times a week. The resource relieves teachers and home-school liaisons from having to provide social-work support as well, said Kirsten Kollgaard, the district's ELL director.
"The help-desk workers will really try to help," she said. "If they can't do it, they're connecting students to the organizations."
As the program has grown, demand for its services has, too. For instance, Burlington middle school administrators have asked Spectrum for help with youth who've become truant or gotten involved with negative influencers, Williams said. He added that he hopes his team can work more closely with court diversion.
While the program is focused on young people, it aims to shape the city's future adults. "It's about whatever their need is," Williams said.