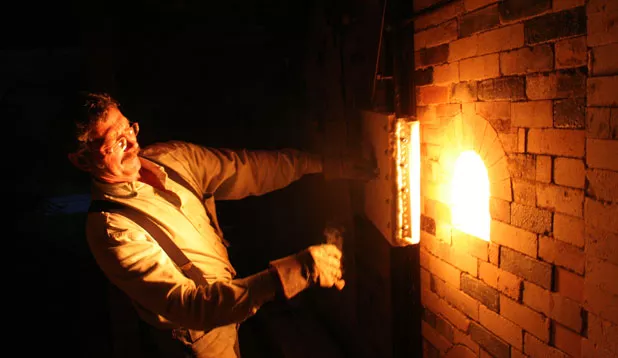 In 1972, potter Robert Compton set up shop in a Moretown studio. He hung out a sign advertising the "Mad River Potter" and let customers take what they wanted and leave payment in an "honesty pot."
For Compton, that was the start of a 40-year career that would swing wildly from high-end novelty ceramics — think psychedelic 1970s-era hanging fish tanks and distinctive water sculptures — to much smaller, functional housewares. The breadth of his career is evident at 152 Cherry Street in Burlington, where Frog Hollow has curated a monthlong retrospective of Compton's work with several studio lectures on the craft and business of pottery.
Compton has established a reputation as what Brad Rabinowitz, president of the Frog Hollow board of directors, calls a "potter's potter." Compton spent decades hopping around the globe teaching ceramics workshops. Long before Airbnb and other online house-swapping sites were de rigueur, he developed a network of potters willing to host other artists during their travels; the so-called "potters' bed and breakfast" program now includes roughly 800 potters in more than 20 countries.
Compton's sway in Vermont's pottery community was clear during the second of three craft lectures he is delivering this month at 152 Cherry Street. The gallery filled up quickly for the standing-room-only lecture, and the visitors — many of them potters themselves — talked shop about various firing techniques, studio space in Burlington and preferred glazes.
Compton's work has evolved from those fish tanks and water sculptures into more traditional functional pots. His products are decorated simply, with a focus on texture rather than painted ornamentation, and take their distinctive character from a labor-intensive firing process at Compton's studio in Bristol, which he opened in 1991. He's built more than 20 kilns during his career — including a large salt kiln that he now fires about once a year. Compton stacks it with as many as 1500 pots and stokes it over the course of about 40 hours, during which the 550-cubic-foot kiln blazes through six cords of wood. During the firing Compton adds salt to the kiln, which reacts with silica in the clay to form a glossy, orange-peel-textured glaze on the pots.
"The logic of wood firing is illogical," Compton admits — it's unpredictable, and a large portion of every batch runs the risk of being unsellable. Yet the results, when they pan out, are lovely — subtle in color, dappled in texture, with what Rabinowitz calls a "fairly sensuous" look. "They're exquisite to look at, exquisite to touch," he says.
The auxiliary Frog Hollow exhibition space still feels more like a retail space than an art gallery; Outdoor Gear Exchange was the most recent tenant before it moved to Church Street last year. This is the second time the craft center has ventured away from its own Church Street shop to stage an exhibition in the space. Earlier this year, 152 Cherry was the site of a Sabra Field retrospective.
For pottery buffs, Compton's retrospective provides a detailed look at one artist's experimentation — and hints at the complicated, changing business of craft pottery in the United States. The exhibit includes a reconstructed wooden craft-fair booth, much like those Compton used in the early days of his career. He recalls craft fairs in the 1960s and '70s that were "incredibly lucrative" — where, adjusting for inflation, he could sell a year's worth of goods for close to $60,000. "Things have really changed," he says. International imports can undercut a craftsman's costs, and the "back to the land" fervor that fueled the handmade goods economy in the '60s has petered out.
Yet, while Compton admits he knows fewer and fewer potters who are making a living producing ceramics alone, he's optimistic about the outlook. His roadside stand and "honesty pot" have given way to a thriving website, and he receives emails every week from people around the world — be they other potters curious about his craft, or laymen as far away as Africa looking to build their own kilns to fire bricks.
"In some respects, I think this is the best of times," Compton says.
Robert Compton's retrospective is on display through October 31, Thursdays through Sundays, noon to 6 p.m. at 152 Cherry Street. He delivers a lecture on "The Potter's Kiln" on Thursday, October 25, at 6 p.m.