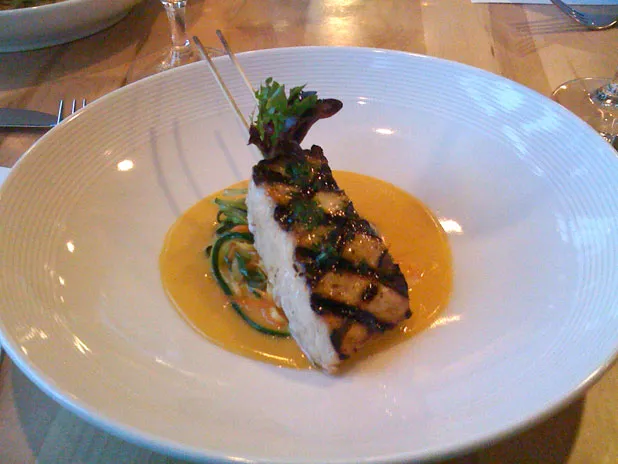 Unless you've got a view of the Mountain Road from your table, dining at Stowe's Santos Cocina Latina could fool you into thinking you're spending an evening in a hip urban restaurant in Latin America. There's upbeat Spanish music, edgy art and tropical flavors that burst on your tongue.
Last Thursday, communal tables were laid for a special meal featuring wines from Luigi Bosca in Argentina — the oldest family-owned winery in that country — paired with six courses of exotic fare.
The evening began in the bar with glasses of a nonvintage bubbly made with chardonnay and sémillon. Servers swept in with trays of spicy tuna tartare, deep-fried fish nuggets and golden empanadas filled with spinach, bits of chorizo and Manchego cheese.
It's always a good sign when a restaurant attracts other people who work in the industry, and on this chilly, rainy evening, they came out in spades. Owners and staffers from Vermont Wine Merchants, The Store in Waitsfield, Artisanal Cellars in White River Junction and Stowe's own Fine Wine Cellars affably critiqued the fare and threw around oenology terms as they ate.
In the main dining room, a sexy serving of octopus — thin slices overlapped on an oblong white plate — had a sauce packed with the bright flavors of tomato and caper. A glowing orange vanilla-bean-and-squash sauce was pleasantly aromatic. But the blue marlin swimming on top had been cooked long enough to become opaque and chewy, rather than translucent and tender.
The final three courses, though, were worthy of adulation. Well-seasoned risotto, made with coconut milk, frizzled strips of pork confit and pigeon peas, was an upscale riff on arroz con gandules, Puerto Rico's national dish.
A trio of coffee-and-pepper-crusted lamb ribs sat atop starchy mashed tanier root in a puddle of wine-laced ruby demi-glace. Served with a malbec, the juicy, medium-rare ribs were a delight. Bits of crushed coffee and pepper cracked between the teeth, and the sauce was lush.
Happily, after a couple of heavy courses and plenty of vino, the kitchen sent out a light dessert: a single scoop of mango sorbet and fluffy, nut-studded meringue.
Walking out into the drizzle, patrons were greeted with a big-city courtesy: valet parking. The service may seem unnecessary in temperate weather, given the size of the parking lot, but it's just one more of Santos Cocina Latina's elegant touches.