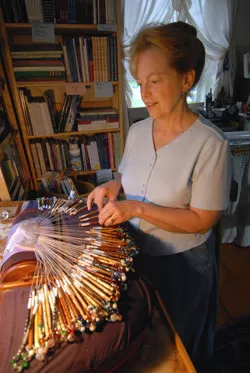 Jeb Wallace-Brodeur
Evelyn Gant
Lacemaking is weaving without a loom. So explains veteran lacemaker Evelyn Gant, owner of Fine Threads, as she manipulates 70 or so bobbins, each wound with a single thread, on a "roller pillow" on her studio table. Gant crosses the bobbins over each other to weave the thread into a recurring pattern held in place by dozens of tiny pins. As soon as the pins become superfluous, they are moved to the front of the next iteration. The completed lace, emerging ever so slowly, seems to be made of air.
Gant, of Putnamville, makes the real thing: handkerchiefs so minutely delicate they're meant only to be framed; silk-thread neck laces for wedding gowns which might go for "several thousand" dollars and take a year to make. She is also a historian of her craft, well versed in its origins and development in Europe. Using centuries-old methods, she creates two kinds of lace: bobbin, highly sought after by knights and nobility from the 1400s until the Industrial Revolution, she says; and tatting, a series of tiny knots created by shuttles, which she calls "the poor man's lace."
Gant works the history of lace into each of her fair demonstrations and classes, including lessons she gives one-on-one in her home studio. And she has collected enough antique lace and instruments to bring that history to life. She's got postcards, too, from friends, depicting elderly lacemakers bent over their work. Gant, 61, doesn't wear glasses, but, true to stereotype, she wears her strawberry-blond hair in a bun.
"In its heyday, bobbin lace was so valuable it was smuggled, sometimes in coffins or in jackets with secret pockets," Gant declares. Extracting from a drawer in her studio a large, pre-World War I collar made in Malta, she points to tiny stitched seams in the piece: Each of its four sections was made by a different person. "They didn't want any one person to have all the knowledge, because they might bring it somewhere else. Towns depended on that knowledge," she explains.
Lacemaking was spread by word of mouth, Gant continues, so each town developed its own distinct style, as in Chantilly or Bruges lace. Her collection includes several examples of pillows — the lacemaker's palette — from Denmark and England; some are roller pillows, which incorporate a bolster on a wheel for producing yardage. And there are antique "prickings," the patterns of pinholes in a strip of leather or heavy parchment that is wrapped around the bolster.
If the queen requested a tablecloth, Gant explains, her designer, always a man, would draw a pattern, but it was up to the women lacemakers to determine how to translate that design into a pricking. "It's a puzzle," she says of the process.
Gant is helping to catalogue and, eventually, publish Barre Historical Society's rare collection of more than 150 prickings made by Agnes Klavora, an Austro-Hungarian who immigrated to Vermont in 1906 and died in the flu epidemic a decade later. Klavora, a lace teacher in Barre, passed her patterns down to her students and, when the last one died, they were put in a box by the curb, destined for the dump. But a friend of Gant's spotted the box and brought it to the historical society, where Montpelier judge Merideth Wright discovered it in 1991 while doing research for her book, Everyday Dress of Rural America, 1783-1800. Gant ran into Wright the same day.
Gant was the logical person to assess the box's contents. With a degree in fashion design, the New Jersey native had moved to Putnamville in 1984 (where she and her husband bought Mr. Putnam's daughter's house, she says) and begun studying lacemaking under Katharine Dopp, whom she met at the Shelburne Museum, two years later. Since then, she has taken workshops around Europe and become a regular in the select world of lacemakers.
"We're a tight-knit group; there aren't many of us," she laughs. Gant hosts the Vermont Lacers, a group affiliated with the U.S.-based International Old Lacers, about once a month at her house, depending on whether its seven members can brave the weather.
Returning to a piece of edging she is making, Gant crosses groups of bobbins over each other in a system that looks baffling to an outsider. "People always ask me how I have so much patience," Gant says. "But to me, it doesn't require patience. It's fun and relaxing."
Click a photo above to see the location.