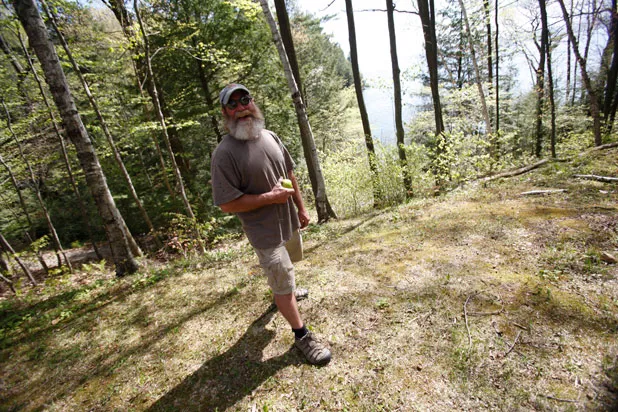 As a teenager at Burlington High School, Chuck Courcy used to "romp around" in the woods and beaches belonging to nearby Rock Point School. Now, as the school's live-in property manager, Courcy, 49, is the one policing teens who sneak onto the lakeside property for bonfires, cliff jumping and other summer fun. It's an irony Courcy chalks up to "karma."
Owned and run by the Episcopal Diocese of Vermont, Rock Point is a private school that serves 40 teenagers in grades nine through 12 with behavioral or academic challenges. The 130-acre private campus is a magnet for walkers, sunset watchers and whole classes of geology students who come to study a rare, ancient rock formation called an overthrust that presents in the sheer rock cliffs.
Sandwiched between BHS and North Beach, the property is also a draw for skinny-dippers and party animals — some of whom may not even realize they're on private land.
Courcy came to Rock Point School as a dorm parent in 1993. Before that, he cleared trails for Mad River Glen and the Green Mountain Club. He also did three years aboard a submarine, training to be a Navy diver. On the day before graduating from the program, however, Courcy was hospitalized with an illness that prohibited further diving, and his military career came to an end.
Seven Days caught up with Courcy last week at Rock Point, where he was breaking up a homeless encampment in the woods and leading student volunteers in digging a vegetable garden.
SEVEN DAYS: What does your job entail?
CHUCK COURCY: From the front gate to the end of the point is all my responsibility. In the winter, I'm the plow guy and shovel walks for four or five families who live and work here. We have a sugarhouse in back of the school, which the kids helped build, so we tap trees in March and make 40 or 50 gallons of syrup. We also keep bees, and the kids manage the apiary as part of their education and use the honey throughout the school.
SD: How do you handle having a private campus so close to public property?
CC: In the summertime, we actually post a person down at North Beach and meet the public that comes walking down and wants to just sneak through the fence and use the place. We have a pass system that enables people to use the property. They have to check in to the administrative office and get a walking pass. You have to be 18 years or older to get a pass, and it doesn't cost anything.
SD: People go cliff jumping off the point. Is that a problem for you guys?
CC: It's our Achilles' heel. I understand why they do it. Having the [guard] posted kind of deflects it.
SD: If you spot cliff jumpers, what do you say to them? What's your rap?
CC: I would say, "OK, guys. One more jump and then head back to the beach." I try and be as reasonable as possible, knowing that if I get into a confrontation with them, it's a lose-lose. If I show that I kind of get it, then they respect that.
SD: Have spring floods caused a lot of damage here?
CC: We're lucky that we're built on rock. There's something to be said for building your church on rock. I'm sure we're going to have erosion. The beaches that are usually swim areas are both underwater right now.
SD: What kind of wildlife calls this place home?
CC: We have at least five deer that have been cruising around this winter. And anything from fisher cat to fox. I saw a coyote run through my yard a couple years ago. Every once in a while there's a skunk that's rabid, and I'm the one they call. It's one of the parts of the job that's, like, arghhh.
SD: Is it hard for just one person to keep tabs on such a big property?
CC: I have a lot of eyes and ears in neighbors who use the place frequently. They'll tell me if there's a tree down or if there's a fire pit that has to be cleaned up.
SD: Is there a lot of lawn to mow?
CC: There is a lot of lawn. I would say eight to 10 hours of mowing a week. It'd be nice to have sheep and goats that could do part of our mowing. I've thrown away my gas push mower, and I do that with a traditional rotor mower for places where I can't get the riding mower.
SD: Does your military training ever come in handy doing this job?
CC: Not really. But it was one of those things where, I'm a way-left-leaning liberal, and having been in the service gives me a lot of respect for the guys who are doing it.
SD: What are your hours like?
CC: This time of the year I'm getting up at 4:30. I take the dog for a run around the property, and that gives me a handle on what I want to do that day. The day ends these days at 9 p.m., because I've got a big vegetable garden. The only reason I come in is because I have a family, and they're like, "Dad, stop working!"
"Work" is a monthly interview feature showcasing a Vermonter with an interesting occupation. Suggest a job you would like to know more about: news@sevendaysvt.com.