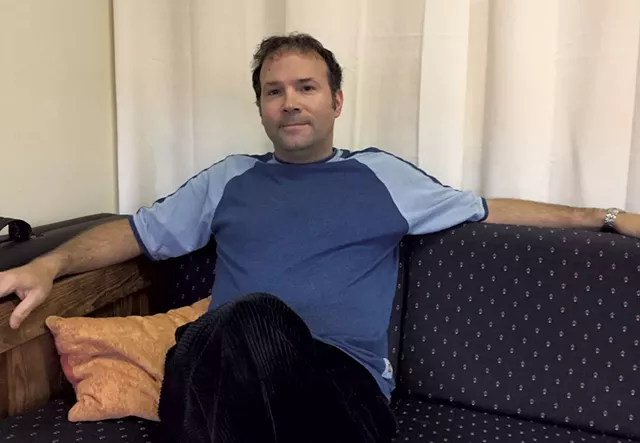 Sasha Goldstein
Paul Jerard
There's a new cannabis consultant in town.
Physician assistant Paul Jerard has launched the Vermont Cannabinoid Clinic, aimed at signing patients up for the state's medical marijuana registry or dispensing advice to those already on it.
A longtime University of Vermont Medical Center employee, Jerard said he became interested in cannabis as a pain relief alternative after seeing the negative effects of opiates firsthand while working in the emergency department. For a year, Jerard said, he learned as much as he could about cannabis before launching his clinic on Battery Street in Burlington.
Once a week since March, Jerard has met patients inside the bright, sparsely decorated office. Some are interested in getting signed up for the registry, while others already have a medical marijuana card but want more information. Those interested in signing up must keep two appointments with Jerard over the course of at least three months to meet the state's definition of a medical provider-patient relationship. Jerard said he reviews medical records and discusses treatment options, such as product dosing, with each patient.
There are nearly 6,000 medical marijuana patients in Vermont. "I know that a lot of them are wishing they had objective, evidence-based medical guidance on how to use these things," Jerard said.
Jerard isn't the first to launch a cannabis consultancy. A multistate operation, Canna Care Docs, opened last year in Burlington. But the practice closed recently, not long after state regulators expressed concern in a report that it was "not meeting the intent of the 'bona fide health care professional-patient relationship' as defined in statute."
So what makes Jerard's clinic any different? He pointed to his efforts discussing his business plan with Lindsey Wells, the state's marijuana program administrator, and his outreach to local medical providers to collaborate on getting patients the right care.
"I am part of the medical community here, and I'm striving to work with the medical community here," Jerard said.