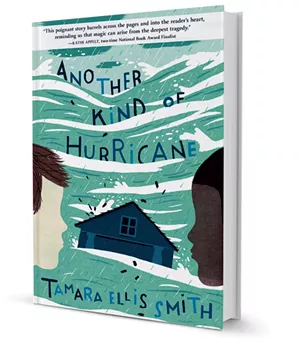 Another Kind of Hurricane: Random House/Schwartz & Wade, 336 pages, $16.99.
The seed for Tamara Ellis Smith's debut novel, Another kind of hurricane, was planted 10 years ago, when she was en route to the Vermont State Police barracks in Williston to donate food and clothes to a Hurricane Katrina relief drive. "Who is going to get my pants?" asked her then-4-year-old son, Luc.
"I don't know," she told him. But she started thinking, What if you could know?
This question grew into her middle-grade novel about two 10-year-old boys: African American Zavion, who lost his house during Katrina, and white Vermonter Henry, whose best friend died tragically. Linked by grief and a pair of blue jeans with a lucky marble in the pocket, they find each other.
The story hit home for Smith when, in the midst of revisions, Tropical Storm Irene flooded the basement of her Richmond home, destroying family photos, her children's artwork, old manuscripts and homemade Halloween costumes. "I felt like I was put in my story viscerally," she says.
Smith returned to her book and fine-tuned sensory details and the emotional arcs of both boys. A portion of proceeds from the book, set for release July 14, will go to lowernine.org, a nonprofit group rebuilding houses in New Orleans' Lower Ninth Ward.
Book launch party on July 15, 5 p.m., at Sweet Simone's in Richmond, followed by a book signing at Stargazer Gifts and Toys in Richmond. Click here for more information.