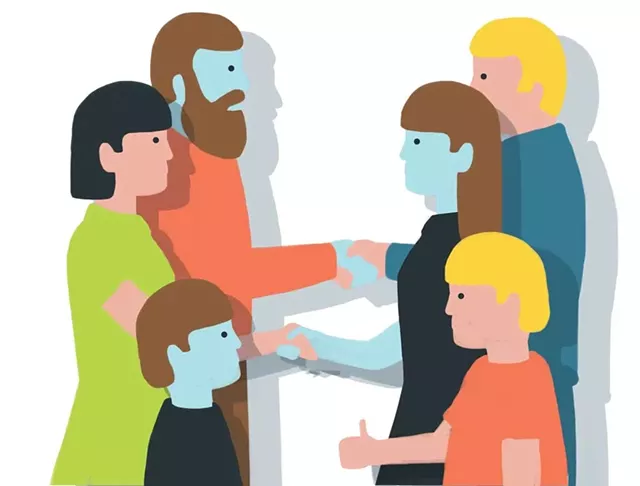 In 1895, the American poet, preacher and suffragist Mary Torrans Lathrap published a poem called "Judge Softly," which begins:
Pray, don't find fault with the man that limps
Or stumbles along the road.
Unless you have worn the moccasins he wears,
Or stumbled beneath the same load.
Lathrap's poem isn't well known today, but most people are familiar with the proverb it spawned: Before judging someone else, walk a mile in his or her shoes.
Kim Mergenthaler's life got a little easier after she met another mother who'd already "walked a mile in her shoes." Last February, Mergenthaler's 10-year-old son, Will, who is autistic, experienced what she called "a very traumatizing situation" at his school in Burlington. Will had had his "occasional ups and downs" in class, she said, but this time felt different. Fearing for her son's safety, Mergenthaler quickly pulled him out of school and opted to homeschool him instead.
Completing the necessary paperwork with the school district and the state wasn't difficult. But it soon dawned on Mergenthaler how many other responsibilities she hadn't anticipated.
"I realized I had to completely re-create a community, a support system, everything," Mergenthaler said. "I hadn't planned anything, and I was starting from scratch. So who could I call?"
Mergenthaler reached out to the Vermont Family Network, a Williston-based nonprofit which supports and advises families of children with special needs. There, a family support coordinator asked Mergenthaler if she'd be interested in talking to another Burlington mother who had faced similar challenges: Kele Bourdeau, whose 9-year-old son, Phineas, is also autistic.
Though Bourdeau doesn't homeschool her kids, the family support coordinator suspected that the two women might hit it off. She was right.
"The first time Kele and I talked, we were on the phone for an hour," Mergenthaler recalled. "Kele and I found that we were on the same page for so many things right from the start, and that was very encouraging."
Bourdeau remembered their first conversation somewhat differently. According to her, the two women chatted on the phone for two and a half hours. Like Mergenthaler, Bourdeau was pleased to connect with another mother who shared her parenting philosophy and approach to autism.
"It's so refreshing when you find someone else who doesn't want to 'fix' their child, but loves and supports them in any way they can," Bourdeau explained.
For parents of children with special needs, such as mental illness, genetic disorders or other lifelong conditions, feelings of uncertainty, fear, anxiety and isolation often can be eased by finding other parents who face similar challenges. Even compared with trained professionals, these parents often are the most educated, informed and experienced "experts" on their child's diagnosis, because they live with it 24-7.
That's the concept behind Parent Match, a program administered by the Vermont Family Network, which arranges free, one-to-one connections between the parents of children who have physical, mental, emotional or behavioral challenges. The goal is to provide the "referred parent," or parent seeking help, with a volunteer "support parent" who can offer guidance, encouragement and problem-solving skills to address the day-to-day challenges of parenting kids with special needs.
Jan Hancock is a Vermont Family Network family support consultant, who matches support parents with referred parents. Like all the family support consultants there, Hancock is herself the parent of a child with a special need; her son has mental health issues. Her coworkers include the parent of adopted immigrant children with traumatic upbringings, one whose child has Duchenne muscular dystrophy, and others whose kids have behavioral, emotional or learning disabilities. As Hancock put it, "We've all walked the walk."
Despite its name, the Parent Match program is available to anyone who has assumed the mantle of parenting a child with special needs, including grandparents, foster parents or other legal guardians.
Parent Match began as Parent to Parent of Vermont, a statewide organization founded in October 1987 by Nancy DiVenere. The Essex Junction mother, whose son, Brett, had suffered a birth injury, went on to cofound Parent to Parent USA, which now has chapters in 36 states. In 2008, Vermont Family Network incorporated Parent to Parent into its roster of programs.
As Hancock explained, Parent to Parent USA's nationwide database enables her to match referred parents in Vermont with support parents, regardless of where they live. Though most support parents and referred parents live in the same state — Mergenthaler and Bourdeau are only a two-minute drive from each other — sometimes it's difficult or impossible to find another family within Vermont whose child has the same disease or congenital condition.
Regardless of the distance between matched parents, there are very few obligations put on each family. Both parents agree to speak a few times by phone, maintain strict confidentiality at all times, lend an empathetic and nonjudgmental ear, and refrain from offering advice, unless it's requested. Though some support parents, like Bourdeau, have undergone a daylong training session through Vermont Family Network, Hancock said that's no longer a prerequisite to volunteer. She also pointed out that it's never required that parents meet in person or introduce their families.
Families seek out the Parent Match program for a variety of reasons, she continued. Some people have specific questions about a particular medication, therapy, medical procedure or assistive technology and want to talk to another parent who's already tried it. Other parents are searching for a new pediatrician, psychologist or medical facility.
"And, it's not just anecdotal advice. These parents really are experts in their children's situation because they've lived with them and kept them alive," Hancock added. She noted that many support parents have attended national conferences to learn more about their child's condition and keep themselves informed about the latest drug trials, medical studies and journal articles.
But the Parent Match program isn't just for parents seeking recommendations on, say, the latest motorized wheelchair or cystic fibrosis drug. A referred parent may want advice for dealing with an insurance company, a state agency or a special education program. Or, he or she may want suggestions on how to best parent the sibling of a child with a special need. To that end, Vermont Family Network has recreational programs, called Sibshops, that are tailored to the brothers and sisters of kids with special needs.
Other times, a referred parent simply wants to find other parents who understand, implicitly, their child's unique way of moving through the world, without having to explain or justify it.
"If Phin wants Cheerios and we're out of them, I'm sending a kid to school who's going to have a bad day. That's just part of the autism," Bourdeau said. "It's important [for parents] to be heard and understand that you're not the only one with a child who eats just seven foods. You're not."
For her part, Mergenthaler said that she initially reached out to Bourdeau to get recommendations for resources and activities for kids who are autistic. Very quickly, however, their relationship blossomed into something more substantive.
Shortly after their initial phone conversation last spring, Bourdeau and Mergenthaler decided to meet in person at Ethan Allen Park in Burlington. While they chatted, Phineas and Will found each other on the playground even before their mothers had a chance to introduce them. Within minutes, the boys announced to their moms that they were all going on a hike together.
"They clicked right away... I hadn't seen Will do that," Mergenthaler recalled. "To see them get each other that way was really impressive."
"It was a beautiful thing," Bourdeau added. The families have since gotten together for several more outings.
Bourdeau, who's served as a support parent for other parents, acknowledged that such friendships don't always blossom. "Some parents I really connected with, like Kim," she said. "Other parents, they just needed someone to hear their story, and that's all they wanted from me."
At times, Bourdeau has been matched with parents whose attitude and approach toward their child's autism differed significantly from her own, to the point where she recommended they seek out a different parent match.
Bourdeau, a special education paraeducator who has a master's degree in disability and family studies, described her son's autism not as a disability but as a reflection of the neurodiversity of the human species, similar to variations in race, ethnicity or hair color.
"Phineas hates it when people say he 'has' autism ... It sounds like he's carrying a bag," she said. "It's not what he carries. It's who he is."
Mergenthaler echoed that sentiment.
"I don't think either of us are the kind of parents who see autism as a tragedy or a burden in our families," she said. "We weren't mourning for this typical kid that we didn't have. We really accept our boys for who they are and help them embrace their autistic identities."
In the parlance of the advocates and experts, Parent Match enabled Will and Phineas to "find their tribe." And, they weren't the only ones to benefit from it.
"For parents, we're finding our tribe, too," Mergenthaler added. "There are a lot of ways that families like ours are isolated from schools and communities. So, to find someone else whose atypical life is normal is really a rare thing, but it's so important to us."
To learn more about the Parent Match program, contact the Vermont Family Network at 1-800-800-4005 or visit vermontfamilynetwork.org.