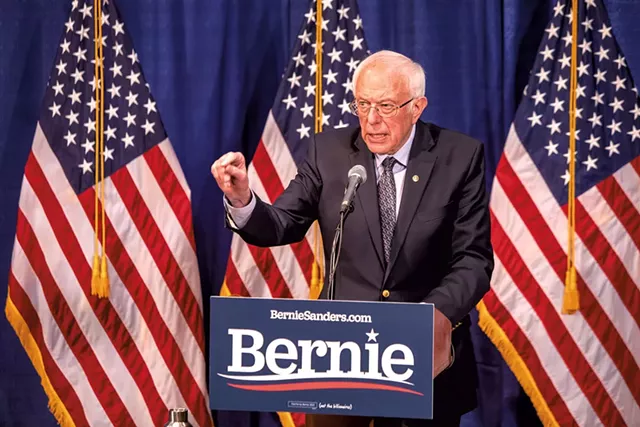 Jim James, the bushy bearded leader of My Morning Jacket, stood onstage Monday night in a full-length, baby-blue jacket and performed a solo acoustic set for thousands of enthusiastic supporters of Sen. Bernie Sanders' (I-Vt.) presidential campaign. It was, in a way, a standard election-eve rally for Sanders, featuring impassioned speeches from campaign cochair Nina Turner and a sprinkling of activists, actors and musicians — including the celebrity couple Neil Young and Daryl Hannah.
"We're here for you, Bernie," Young said after strumming his 1972 classic "Heart of Gold." "We support you 100 percent."
There were, however, a couple key differences between this event and its predecessors. Rather than crowd into an arena in Chicago or Phoenix, the socially distanced audience tuned in to Sanders' "digital rally" from laptops and phones around the country. James played his set to a largely empty Avalon nightclub in Hollywood. Turner gave her speech by video selfie. Young and Hannah appeared from their home in California, with a dog roaming in and out of the shot. And when Sanders finally spoke, he did so from his campaign office in Washington, D.C.
"I don't have to tell you that we're living in a very unprecedented and strange moment in the history of our country," the senator said.
Indeed. As the global coronavirus pandemic upended life in America last week, an already unusual presidential campaign became that much stranger. The remaining major candidates for the Democratic nomination — Sanders and former vice president Joe Biden — canceled rallies, avoided voters and debated one another in a D.C. TV studio standing a full six feet apart.
Hours before Ohioans were scheduled to go to the polls on Tuesday, Gov. Mike DeWine ordered his health director to keep them closed. Sanders, meanwhile, canceled his typical get-out-the-vote efforts in the three states that proceeded with their primaries: Arizona, Florida and Illinois. "We are making clear to voters that we believe going to the polls amid the coronavirus is a personal decision and we respect whichever choice they make," campaign spokesperson Mike Casca said.
Even before the outbreak cast a shadow over the campaign, Sanders' electoral prospects had begun to fade. His poor performance on Super Tuesday was compounded last week when he lost critical primaries in Michigan and Washington State. As Seven Days went to press on Tuesday night, the outcome of this week's elections looked even worse for him.
In Florida, where 219 delegates were on the line, Biden was leading Sanders by a whopping 62 to 23 percent. In Illinois, the former vice president was up 59 to 36 percent. He was also on track to victory in Arizona.
For the second week in a row, Sanders declined to address the results on election night. Instead, he delivered a speech from his D.C. campaign office outlining a series of policy recommendations to respond to the outbreak. He did not even mention the election.
Mark Longabaugh, a senior adviser to Sanders' 2016 campaign, said he wasn't sure how the senator could reclaim momentum when he couldn't even hold a rally.
"His most robust form of campaigning is off the table. The enthusiasm and energy of those rallies can invigorate a campaign even as it's struggling. That's not there, so I do think it limits his options," said Longabaugh, who parted ways with the senator at the start of the 2020 campaign. "He's gotta figure out how he wins something."
According to Nick Carter, who served as Sanders' political outreach director in 2016, the campaign faces twin challenges: a public health crisis and a perception that Sanders can't reclaim the lead.
"People's immediate focus has shifted to the health and well-being of their families, businesses and livelihoods. The primaries have taken a back seat," he said. "I also think that was impacted by Super Tuesday. A lot of casual observers may have tuned out after that."
But Carter thinks those challenges also present political opportunities for Sanders. The bungled response to the outbreak may prompt some voters to come around to the senator's health care reform proposals. And Sanders' longtime focus on digital campaign organizing may pay dividends as in-person tactics go by the wayside.
Last Thursday and Friday, the campaign was scheduled to host office openings in five Pennsylvania cities, but as the threat of coronavirus became more apparent, the events were replaced with online events. Those who attended the "digital office openings" signed up for more than 600 volunteer shifts, according to Sanders spokesperson Rosemary Boeglin. "We're taking advantage of the fact that our huge volunteer base can be redirected to phonebanking," she said.
After working for the campaign in Iowa and North Carolina, Brooke Adams moved to Pennsylvania two weeks ago to serve as state coordinator. But now that the campaign has closed its offices and turned to remote work, she's leading the charge from a friend's house in D.C. Of the 20 Sanders staffers assigned to Pennsylvania, which is scheduled to vote late next month, only four or five are physically in the state, Adams said.
Rather than convening volunteers at an office in Scranton or Pittsburgh, Pennsylvania staffers are hosting "digital organizing parties." During the three-hour events, a few dozen supporters are trained, share tips and actually phonebank together.
"People are very isolated right now," Adams said. "Organizing is all about bringing people together in moments of crisis." The parties, she added, allow Sanders supporters to "be a part of something even if they're sitting on their living room couch or in their bedroom and not going outside."
According to one former senior staffer who declined to be named, Sanders' digital organizing program is second to none — but whether that can really make a difference in such turbulent times is questionable. "It's a really big lift to get people to vote," the person said. "It's a bigger lift to get people out the door when they're afraid they're going to get a disease."
Sanders' own movements have been severely restricted. After canceling an election-night rally in Cleveland last week, he returned to Burlington and hunkered down at home — emerging for daily press conferences at Hotel Vermont and making one trip to New York City to appear on NBC's "The Tonight Show Starring Jimmy Fallon."
On Saturday night, Sanders hosted a livestreamed "fireside chat" from his home in the New North End. Featuring a sweater-clad senator and his fleece-wearing campaign manager, Faiz Shakir, it was one part Franklin Delano Roosevelt and one part Wayne's World.
"Senator, there is a great debate online about whether this is a furnace or a stove," Shakir said at the start of the show, referring to the woodstove behind them. "What is this?"
"Why are you asking me a hard question?" Sanders responded with mock exasperation. "It's an old stove, and it really is amazingly efficient. It really warms up the whole house. And right now spring is coming to Vermont, but it's still nippy out there, so it's nice to have the fire."
According to the campaign, the program was viewed more than 1.8 million times. The Monday night event featuring performances by James, Young and the Free Nationals garnered 1.6 million views. And a policy talk before Sunday night's debate drew 1 million views.
When Sanders has addressed the public in recent days, he has not sounded like a candidate who plans to fight until the bitter end. During his first press conference after last week's drubbing, he pledged only to remain in the race through Sunday's debate. In his remarks at Monday's "digital rally," he sounded a valedictory note.
"We have in many ways won the ideological struggle," he said.
In fact, Biden has made some public overtures to his final foe. "I want to thank Bernie Sanders and his supporters for their tireless energy and passion," the former vice president said last Tuesday after winning five of the six states that voted that day. "We share a common goal, and together we'll defeat Donald Trump."
Before the debate, Biden's campaign announced that it had adopted a tuition-free college proposal similar to what Sanders had advocated years earlier and a bankruptcy plan proposed by Sen. Elizabeth Warren (D-Mass.), a fellow progressive who dropped out of the race after Super Tuesday.
According to Middlebury College political science professor Matthew Dickinson, Sanders appears to have two competing objectives: to stay in the race long enough to win more such policy concessions from Biden, and to get out of the race before he damages the eventual nominee's chances of defeating President Donald Trump.
"It takes a lot of time to face the reality, which is that this is just a slow slog to the Biden nomination," he said. "Psychologically, I don't know if anybody's there yet because, literally, the national narrative was 'this is anybody's race' not more than two and a half weeks ago."
Part of the challenge, Dickinson believes, is how Sanders will convince his die-hard supporters to vote for Biden in the general election. "It's the five stages of grief," he said. "Before you can move them to Biden, they have to accept that Bernie can't win."
In 2016, Sanders remained in the campaign long after most political observers thought he had a chance, endorsing eventual nominee Hillary Clinton only in July of that year. This time around, those who know Sanders best think he'll drop out far sooner, citing several factors: Biden holds a wider lead than Clinton did; Democrats are more fearful of a Trump victory than they were four years ago; Sanders is friendlier with Biden than he was with Clinton; and the focus on the pandemic will rob the race of media coverage.
Then again, making predictions in such an unpredictable time is surely unwise.
"Conventional wisdom would say the momentum is definitely with Biden, and it's hard to see how Bernie comes back," Carter said. "But that's assuming we're operating in normal operating conditions, which clearly we're not."
Said Longabaugh, "I've been in politics for 30 years, and I don't have anything to compare it to."